Samsung Reclaim Reviews: Design, User Interface, Features and Performance
Samsung Reclaim
Given the increasing public awareness of green living, green gadgets have suddenly become popular - from environmentally friendly televisions to cameras. Samsung has cashed in on the green bandwagon with the Samsung Reclaim, made from recycled plastics and delivered in a recycled box.
Design (5 out of 5)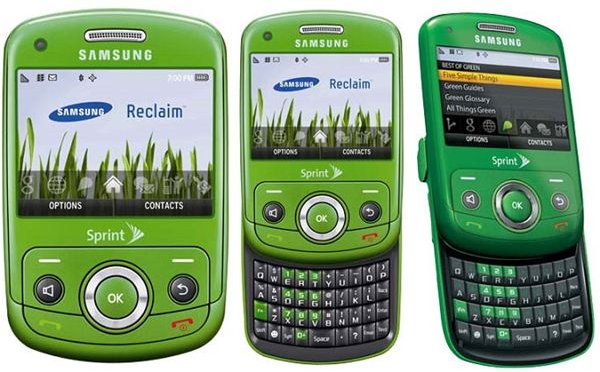 The Samsung Reclaim has a square design that is similar to the Samsung Propel. The odd slider shape may not be popular with many users, but it can grow on you quite quickly. Samsung Reclaim reviews indicate that the design was made to be functional and not to be pretty. It accommodates a full QWERTY keyboard and has a size of 3.9 inches in length, 2.37 inches in width and 0.59 inches in depth. It weighs just 3.5 ounces. The portability is a great plus factor, while the slider mechanism makes the phone feel sturdy. Of course, the phone comes with a green design in accordance with its environmentally friendly make-up.
The phone comes with a 2.6 inch screen capable of supporting 262,000 colors with a resolution of 320 x 240 pixels.
Features (4 out of 5)
The Samsung Reclaim comes with a phone book capable of storing up to 600 entries, with each entry having provision for six phones, email address, instant messaging name, URL, birthday, and even job title. Users can also assign ringtones and photos to an entry according to their preferences.
The phone comes with basic features such as vibrate mode, multimedia and text messaging, alarm clock, calendar, world clock, memo pad, and calculator. For those wanting more advanced features, there is a USB transfer and storage option as well as Bluetooth, voice dialing, voice memo recorder and instant messaging.
Most Samsung Reclaim reviews also highlight the applications offered by the phone such as Facebook quick access, Social Zone, ScanLife, Sprint Navigation and Google based applications like search, map and the popular YouTube. There are also specialized apps like Green Guide and Green Glossary.
The phone supports other services like PO3 email for Yahoo, Gmail and Hotmail. Users may also access their IMAP 4 email through the device's integrated Outlook Web Access.
The phone also comes with a music player capable of supporting music formats like MP3 and WMA. Demanding users may be turned off by the limited modes on offer, and the MP3 files cannot be used as ringtones. The phone is also capable of supporting Sprint apps like Sprint TV and Sprint Movie.
The 2 megapixel camera can take pictures in five different resolutions. The user can also adjust quality settings. There are editing features in the camera like self time, digital zoom, 10 frames, brightness that is adjustable, night mode, spot metering, and white balance. There are shot options like series, panoramic, and mosaic. The camcorder also has a set of similar editing options.
User Interface (5 out of 5)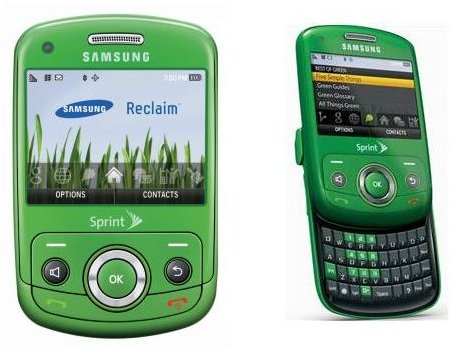 The phone comes with a simple, icon-based menu which users will find very easy to explore. The navigation is also easy, with a circular toggle and a central OK key, two soft buttons, buttons for Talk and End, a shortcut for the speaker phone, and back control. The spacious design of the keypad also makes each key accessible and easy to reach.
On the left side of the phone is a headset jack for 3.5 mm headsets plus a large volume toggle control. On the right side are the microSD port, camera shutter and the port for the charger which uses a regular micro USB connection. On the rear of the phone is a self portrait mirror and camera lens.
With its amazing user interface, the Samsung Reclaim deserves to have a perfect score.
Performance (4 out of 5)
The phone can be relied upon to deliver clear and crisp audio when making voice calls. The phone also supports above average streaming video, with some distortion in pixels and audio that is not in sync. The Samsung Reclaim can expand the size of the frame during streaming video. The quality is good enough compared to most streaming video phones available on the market.
The Samsung Reclaim's camera churns out acceptable photos, not different from those taken using other mobile phones. Colors of images looked natural, although in video clips, image noise is noticeably present.
The phone's manufacturer advertises the device as having a battery life of up to 6 hours when in talk time. Actual use of the phone suggests that the phone can last up to 7 hours.
Verdict (4 out of 5)
The Samsung Reclaim may be cashing in on the green craze among US consumers, but there's no doubt it delivers in terms of features and performance. The design is nice, but what makes the phone valuable is the great array of connectivity, multimedia and messaging options. Those who are in the hunt for a mid-priced phone should consider getting this handset. The Samsung Reclaim's best feature, however, is the very user friendly interface and design making it popular with people of all ages.
For the overall performance, the unusual Samsung Reclaim receives a good score.