A437 Samsung Cell Phone Detailed Review
Samsung A437
The Samsung A437 is another mid-priced, slim and lightweight phone that eerily looks the same as other previous Samsung models - the Samsung SCH U340 and the Samsung SPH-M500. The phone comes with standard features like Bluetooth, VGA camera and speakerphone.
Design (3 out of 5)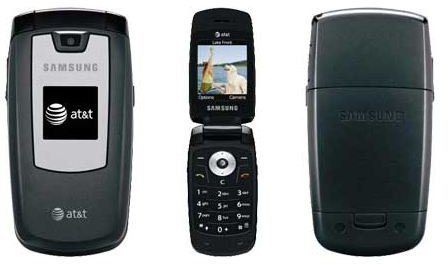 The Samsung cell phone is a flat and slim flip phone that has smooth lines and a minimalistic design without an external antenna. It is not an attractive phone although it comes in three colors - black, red, and gold.
The compact A437 has a length of 3.7 inches, a width of 1.9 inches and depth of 0.6 inches. It weighs just 2.9 ounces, meaning this phone can be easily slipped into a pocket or bag. The phone feels sturdy enough when held in hand, but the plastic casing obviously looks and feels cheap.
The screen does not show photo caller ID, although it displays essential information like battery life, signal strength, time, and date. On the left spine of the device is the volume toggle while the camera and headset and charger port are on the right spine. The screen has a size of 2 inches and supports up to 65,000 colors. The resolution however is disappointing, with colors pale and dull and the graphics fuzzy.
For this design, Samsung A437, gets a score of only 3 out of 5.
User Interface (4 out of 5)
Although the A437 Samsung cell phone has an exterior that is similar to the U340 and M500, the interior is a lot different than the two mentioned models. The A437 features fully flat controls. The A437 also comes with a large circular toggle that is quite difficult to use, with an OK key that automatically activates the phone's web browser. There are two soft keys - Talk and Power buttons, and the large Clear controls.
The user can set the toggle as a shortcut for four defined features according to his or her preferences, and there is a secondary pop up menu catering for the more popular features. The phone's keypad buttons feel flat, but the keypad numers are large and have bright backlighting.
Features (4 out of 5)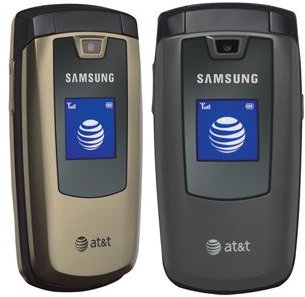 The phone's address book can store up to 1000 contact, with room for four number storage in every entry as well as storing of notes and email address. Users also can organise their contacts into groups and assign any of the available 10 polyphonic ringtones.
Other basic features of this phone include text and picture messaging, alarm clock, voice memo, calendar, calculator, stop watch, world clock and a timer. The phone also has speakerphone support as well as instant messaging. It also comes with Bluetooth support which is quite uncommon in most mid-priced mobile handsets.
The phone's VGA camera is capable of taking images in four different resolutions. Users can select from three settings - normal, fine and superfine. The phone camera also has a self timer, digital zoom, night mode, five color tones, exposure metering, and settings for brightness and white balance. There are also three shutter tones available in the camera phone. Users also have the option of storing the images in the phone's memory of about 3.5 MB, or uploading them to their Internet database, and of course sending them as a multimedia message.
The Samsung A437 can also be personalized as users can change color themes, wallpaper, and even alert sounds. More options are available for download from AT&T with the phone's web browser. There are also demo versions of popular Java games - Tetris, Jamdat Bowling and Midnight Pool. Users do, however, have to purchase the full versions to enjoy extended gameplay. Also incorporated in this phone is an application dubbed My Cast which can provide weather reports.
Performance (4 out of 5)
The A437 can be relied upon to deliver good quality voice calls. Call quality is above average in most areas, with voices sounding natural and volume making the audio quality superb.
On the other hand, the phone camera is not so great and some images may be blurry. Overall, pictures using the camera are bright, but one downside is that the phone camera does not support video clip recording.
The phone also comes with a battery life lasting up to 5 hours of talk time and up to 10 days of standby time. In actual use, the phone battery can last up to 8 hours of talk time, which only underscores how reliable and high performing this phone is.
Verdict (3 out of 5)
The Samsung A437 gets a lot of flak for its simplistic design and poor screen resolution. In this day and age, most phones are expected to have large touchscreens and excellent resolution, and the handset fails miserably in that category. However, it does have a good number of positives, including a standard but reliable VGA camera, expanded phone book, and good voice call quality. No mobile phone is perfect, and the Samsung A437 isn't the best but overall, this is a pretty solid device for those wanting a basic handset.