Samsung Factor Review: Basic Budget Phone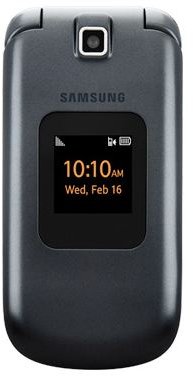 Sometimes, you just need a phone that does the basics, and doesn't break the bank. The Samsung Factor is one such phone, it comes on Sprint's prepaid BOOST service, and costs $50 on pay-as-you-go service.
So the question here is – is the Factor worthy of the cheap $50 price tag? Does the phone deliver good texting capabilities, clear call quality, strong battery life and a good screen? We're here to answer those questions and more, so buckle your seat belts as we begin our Samsung Factor review.
Design (3 out of 5)
The Samsung Factor is as plain as a flip phone can get, it is also made of a rather slippery plastic so be careful when handling it. The phone measures a total of 7 inches when fully open, it weighs a light 91 g and with dimensions of 97 x 48 x 18 mm it sits perfectly well in the palm.

With the phone shut, at the front we have a 1.2 inch CSTN screen with 65,000 color support, the display shows the time, date, signal strength and any message alerts you might have. Also a long press on the camera shutter key turns the screen into a self portrait mirror. The right side houses the microUSB/ headphone jack port, sorry no 3.5 mm jack here, and camera shutter key. The left side houses the short, but easy to press, volume rocker.
The flip mechanism feels really strong, the hinges are solidly built and very tightly compacted together. The main screen is a 2 inch QQVGA, QQVGA screens are simply not acceptable in this day and age, no matter what price the phone comes at. The screen resolution support is 128x160 pixels, far below the accepted standard of 240x320, at least color support is good at 262,000 colors.
The navigation pad is simple and functional, you have a square four-way directional button with a big OKAY depressed into the center, on the left you have a soft key, the camera button and the Talk button, to the right you have another soft key, Back and End buttons. Nestled between the Talk and End buttons is the Speaker button, which activates the loudspeaker.
The dialing pad itself is raised and has excellent travel and feedback, the keys are perhaps a bit close to each other, but thick fingered people will have no issues using the navigational or dialing pads at all. The back is plain except for the barely perceptible loudspeaker grill.
User Interface (2 out of 5)
The user interface is a complete nightmare to look at, the QQVGA display has taken its toll here. Text appears grainy and so do pictures, this is not a phone you want to spend time surfing the web or chatting on, just send your SMS and clam it shut.
You can purchase or download wallpapers and JAVA apps for the phone, if your wallpaper is bright and consists of strong colors all the better, light colors are not well displayed on the screen. Having noted all the above, the interface does move about quickly and there are no lags, everything is in a logical place and it's pretty easy to navigate around.
The phone book supports only 600 contacts, you get picture tagging, photo tagging and ringtone tagging, plus multiple field entry, no syncing with Facebook or anything fancy here. Dialing is symphonic, so there is a lot of music as you dial along, you cant opt to turn off the sound option.
Text capabilities consist of SMS, MMS and E-mail, the T9 dictionary combined with the dial pad makes texting pretty quick and easy, plus e-mail set for IMAP and POP3 is automatic.
Features (3 out of 5)
This being a $50 phone, means there isn't going to be much to talk about in terms of features, particularly connectivity. Firstly you only get the 2G GSM dual network frequencies of 800 and 1900, local connectivity is handled via Bluetooth 2.1 with AD2P and EDR, plus microUSB 2.0.
The Factor has 128 MB of RAM and a 256 MB ROM, despite this you only have access to 28 MB of memory, and no option to add any amount of external memory, there is no microSD card slot.
The VGA camera is pretty bad, in terms of picture quality. Shots turn out grainy and with almost no detail to account for, taking indoor pictures adds noise to the mix. At least you have quite a few options to tinker about with, such as multi-shot, night mode, optional grid and white balance, hopefully playing around with them will turn out better pictures. Oddly enough, you cannot send photos using Bluetooth.
The music player is bare basic, you do not get album art or equalizer settings, and with the lack of a 3.5 mm jack things might get awkward if you ever lose the provided earphones, or if a baby tries to eat them. The only supported audio format is MP3. There is no video player.
Other miscellaneous items include; an alarm, a calendar, a calculator, a world clock, a memo pad, voice recorder, voice commands and JAVA.
Performance (4 out of 5)
This section of our review is the defining moment for the Samsung Focus, it is a basic phone, so has it mastered the basics of call quality, web browsing and battery life?
Call quality on the Factor is excellent, calls sound natural and clear, signals hold well, even in low areas, with very little effect on the overall excellent call quality. The loudspeaker is not as loud as some phones in the same category, but is satisfactory for a chat indoors or inside a cab.
The web browsing experience is obviously nothing to look forward to, the QQVGA screen simply does not do the HTML/WAP 2.0 browser justice. Speeds are nothing to get excited over with pages taking up to a minute to load, pictures are badly rendered and appear grainy, long pages require a good amount of scrolling, so do not search for Buddhism in Wikipedia, or you'll be forever stuck scrolling downwards. Just treat the browser as an emergency situation browser.
Battery life is pretty good, the Li-Ion 800 mAh battery can produce 5 hours of talk time and roughly seven days of standby. Heavy users will be charging their phone once a day, though using this phone regularly is quite a feat as there is no video player or powerful browser to drain battery life, so realistically it'll die in two days of normal use, and stay alive for six days on absolutely minimal use.
Verdict (3 out of 5)
If you need a back up phone, or if you want a phone that can only cope with the bare essentials, or you wish to purchase a phone for your child that is family friendly, the Samsung Factor is a pretty okay choice.
But the screen will eventually frustrate your eye and the 600 contact limit might prove to be too little, you can probably get the Samsung Star free on contract, or pay $90 for a much better phone.
Overall, if all you do is send texts and receive or make phone calls, then the Factor is a satisfactory phone, if you do anything else it might start to grate on your nerves.
References