Introduction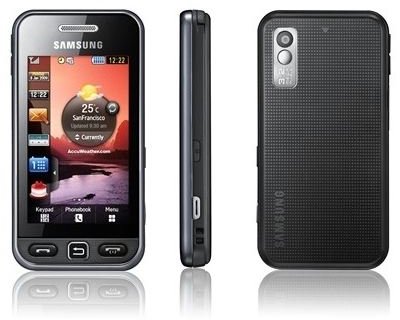 The Samsung Star sold over 30 million units worldwide and was the spark to the mass production of cheap feature phones today, which has in turn evolved into the race for cheap smartphones we are now seeing.
The Star was one of the first affordable feature phones that had pretty much everything you could ask for in a $90 feature phone, later variations of the Star introduced a TV Star and a Wi-Fi Star, both of which sold millions all over the world, particularly the Samsung Star TV. So today we're here to see what all the fuss was about, and in case you wish to purchase the phone, just as a sort of cheap $90 emergency touch phone, then you're in the right place. Join us as we put the Samsung Star S5230 through its paces.
Design (3 out of 5)
The Star has a pretty rectangular shape, considering the fact that it is made of the cheapest possible plastic, it feels pretty solid and well fitted, nothing creak or feels loose. The phone weighs a relatively light 93.5 g, and with dimensions of 104 x 53 x 11.9 mm it sits comfortably in the palm.
The front is, of course, dominated by the 3 inch TFT resistive screen, color support is 256,000 while the supported resolution is 240 x 400 pixels. Beneath the screen we have the Call, Back and End call/Power buttons. The left side consists of the small and difficult to press volume rocker, proprietary microUSB and audio jack combination. The left side houses the Lock button and camera shutter, the back has the 3MP camera lens and self portrait mirror.
The phone attracts fingerprints and smudges by the ton and you'll pretty soon have a very dirty phone on your hands, no thanks to the glossy plastic.
User Interface (3 out of 5)
The Star comes running on the TOUCHWIZ 2.0 incarnation, the same one offered on the Samsung Jet. The resistive screen is not as smooth or as responsive as the Jet's, it's actually rather clunky and requires a strong swipe to elicit any response, so overall the screen is not as good as it should have been. But neither is it the worst resistive touch screen out there.
You are provided with three home screens, which you can fill with various widgets from the sliding widget tray to the left. The keypad, Contacts and Menu are the only other touch features on the home screens. The main menu itself is divided into three non negotiable or customizable screens. Scrolling through the screens sometimes feel like quite an effort due to the resistive touch screen
The phone is limited to 2,000 contacts with photo tagging, multiple field entry and ringtone tagging. You also get a unique feature called Photo Contacts, which lets you tag pictures onto contacts and then access them via a semi-3D view. It's a gimmick rather than a practical way to dial your contacts, plus if you have already tagged the photos in your phone book, you have to re-tag them for Photo Contacts.
Messaging is perfectly handled, you can send an SMS, MMS and E-mail or download an IM client if you don't enjoy the inbuilt Palringo. Text output is handled via D-pad, a comfortable QWERTY keyboard and handwriting recognition. Despite the resistive screen, the QWERTY and D-pad work perfectly well, it seems like Samsung have done some very specific sensitivity calibrations when it comes to the text output. The e-mail setup is not automatic, you have to enter your IMAP4 or POP3 information, then your password and username. Companies such as LG and Nokia outstripped this old e-mail set up system a year before the Star's release.
Features (4 out of 5)
The phone has no high-end features, no 3G or Wi-Fi, although a Wi-Fi inclusive model was introduced later called the Star Wi-Fi.
Right, connectivity here is handled by 2G GSM network of 850, 900, 1800 and 1900, local connectivity is handled via Bluetooth 2.1 with AD2P and microUSB 2.0. Internal memory is limited to 50 MB, so you'll be needing an external microSD card, the phone can stomach a 16 GB card without a problem. Unfortunately the microSD slot is behind the battery cover.
The 3.2 MP camera takes nice shots, colors are natural but there is a pronounced presence of noise suppression, outdoor pictures do have a slight negation of detail around the color white as well. Indoor close up shots are a complete nightmare, there is a strong brown coloring and noise presence is overwhelming. But it's not a bad camera in terms of available features, you get smile detection, panorama view, ISO and scenery shots. Videos are shot in QVGA resolution at 15 FPS, there only worth viewing on the phone itself or sending as an MMS, other than that just stick to your camcorder.
Music is where the Star comes into its own, the phone has DNSe (Digital Natural Sound Engine) and displays album art (not full screen though), has preset equalizers and the Wi-Fi model has fake 5.1 surround. On board is an FM radio with RDS and the much appreciated FM recoding option, seriously Samsung has one of the best radios of any phone company. Last but not least is the Find Music service, ten seconds of any song and the server will pop the who and what of the song. There is a problem though, the lack of a 3.5 mm jack means you have to use the proprietary charger port to listen to music. Supported audio formats are MP3, WMA and AAC.
Now the video player is rather disappointing, you can only play QVGA quality videos at the phone's maximum resolution, and videos tend to stretch and appear pixelated as a result. You can only watch MP4 (H.263 or H.264 encoded) and 3GP videos, at best it is suited to watching short funny clips of a farting Panda.
Other miscellaneous but important features are; organizer, document viewer (Word, Excel, PowerPoint, PDF), Shazam Find Music service, JAVA, accelerometer sensor, handwriting recognition, smart unlock, alarms, calender, stopwatch, world clock, calculator and memo.
Performance (3 out of 5)
Now, the Star has absolutely no place in today's world of cheap smartphones and its own younger sibling , the Samsung Star 2. But if you ever need a quick, cheap, temporary touch phone, then here is where we find out if the Star is worth buying.
Call quality on the Star is pretty good, not excellent, but voices sound natural and relatively clear, in low coverage areas there tends to be a break in the words and some background noise. The loudspeaker is of particular note, it is very, very loud. It ranges at 77.1 decibles and at 92.9 decibels for an incoming call.
The web browsing experience is very good for a low-end phone, you get limited Flash support, one-finger zoom, tabbed browsing (five tabs) and what's best of all is that you don't run into the dreaded "out of memory" message. Actual kinetic scrolling is rather choppy and so is the zoom function, not to mention the fact that the page re-flow is too slow.
Battery life is not too shabby either, the Li-Ion 1000 mAh can produce up to 9 hours of talk time and last a week on standby, on average heavy users will be charging it once a day, medium users once every three days and light users once a week.
Verdict (3 out of 5)
The Samsung Star will serve your basic needs well, whether it's calling, texting or browsing, the Star will shine brightly as your energetic, quick pick up phone. But you should consider buying the Star TV or Star Wi-Fi, apart from the additional aerial to catch local TV stations, the Star TV is identical to the original Star. Same goes for the Wi-Fi version.
However, if watching local TV on your phone is not something you enjoy doing, then you're better off spending a little extra and buying the Star 2, or better yet simply buy a cheap smartphone.
References