Samsung Star 2 Review: Budget Touch Screen Feature Phone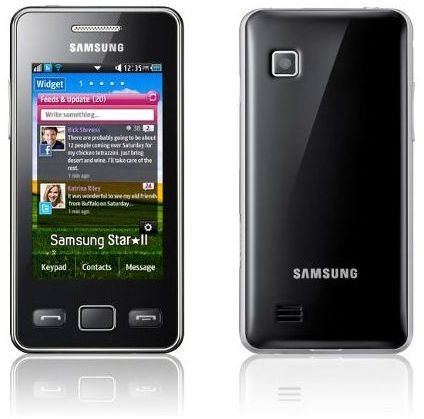 Today we review a long awaited phone, the Samsung Star 2, sequel to the original Samsung Star. With over 30 million units sold and probably one of the finest low-end feature phones ever made, the Star 2 has a prestigious reputation to live up to.
Once you take into consideration the massive onslaught of cheap smartphones, particularly on Android, and a few from Samsung itself running on Bada, the Samsung Star 5260 has its work clearly cut out for it. So can the Star 2 hold its own against low-end smartphones? Honestly, no it can't. Though the only true difference between the Star and most low-end smartphones is the lack of apps, but JAVA does have a large (if scattered) number of apps, so the Star 2 makes a perfect introductory phone for touch screen first timers who want a good phone that is also cheap.
Design (4 out of 5)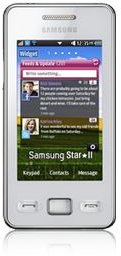 The Samsung Star 2 is an almost perfect rectangle, and you'll notice it looks like a slim iPhone or Samsung Galaxy Ace. Although the phone is cheap, it is well built, it almost feels like it's carved out of a single block of plastic. It weighs 94 g and has dimensions of 107.5 x 54 x 12.4 mm, it feels like it was custom built for your palm and never, ever weighs down your pocket or really small purse.The entire phone is surprisingly fingerprint resistant, especially when you consider how glossy the back cover and screen is.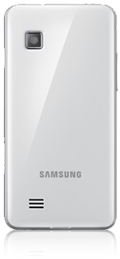 Speaking of screens, at the front we have a 3 inch 400x240 WVGA capacitive touch screen capable of supporting 256,000 colors, a marked improvement over the original's resistive screen. Under the screen we have the Call, Back/Home and End call buttons, in the white version of the Star 2 they look beautiful. All physical buttons are comfortable to use and very thumb friendly.
The left side is occupied solely by the volume rocker, while the right side has the power/lock button and hot-swappable microSD card slot! If there is one reason to buy the Star over the Star 2 it is the easy access microSD slot. The top of the phone has the microUSB port which is protected by a sliding shutter and 3.5 mm jack.
The back consists of the square 3.15 MP camera lens and loud speaker grill, there is nothing to protect the camera lens, so do not place it on its back often.
User Interface (3 out of 5)
The UI is an carbon copy of the UI running on budget Bada phones, as matter of fact you can be easily duped into thinking this is a smartphone.
It's not, it's a feature phone, please remember that. TOUCHWIZ 3.1 was purposely built to be simple and mimic Bada, the Star 2 has some pretty tough competition, so Samsung are not pulling any punches. The UI is very plain and ugly, colors schemes are very garish and tasteless, although simple, there was no reason to make it look ugly, but if looks don't mean much then the Star 2 will do just fine.
You are provided with three home screens, you can add or subtract any of the three screens by tilting the phone into landscape mode, you can fill up any screen with as many widget as you dare, if one screen is full the last widget falls into the next screen. There are 12 pre-loaded widgets, and the only option for adding more widgets is via the Samsung Store, so no JAVA items on your homescreen. Then we have the main menu itself, which is organized in a 3x4 grid, here you have three screens as well, and you can re-arrange them as you wish (again by going into landscape mode).
The phone book is as limited as your internal memory is, at 30 MB it's not much really, at best you'll be able to add 2,000 contacts. You can assign them a picture or a ringtone, multiple field entry is available and swipe left to call or right to send an SMS feature, which is a complete ripoff of Android's phone book.
The phone runs out of memory when you have three apps running simultaneously, a long press on the menu button brings forth the task-manager/killer. It's a life saver on the Star 2
Messaging is heavily focused on social networking, almost every social network app of almost every major social network company is available; Facebook, Twitter, Bebo, Photobucket, Buzz, Myspace, Yahoo!, Friendster, Flickr, Picasa, Gtalk, AIM and finally Palringo. You can update or post a message to all of the websites at once. If you're uploading a picture though you'll need to upload it individually to each site.
User Interface Continued (3 out of 5)
You share an editor for SMS and MMS, E-mail has its own editor. The file upload limit has been upgraded from the last Star, from 5 MB to 10 MB. The old Star had one advantage over the new one, it had three text composition options, the Star 2 only has two. They are the traditional keypad, and when tilted into landscape mode you get a QWERTY (the original Star had hand writing recognition) , both keypads will prove difficult for people with large finger tips. One final Android ripoff is the pull down bar, yes the Star 2 has a "tap" down bar, once tapped you are presented with options such as Wi-Fi, Bluetooth, battery life, music player etc. To close just tap it again.
Features (4 out of 5)
Now this being a cheap feature phone, Samsung have cut out some features to keep the cost down. So far the only significant cut has been 3G connectivity , that's about it.
For calling and surfing the web you are saddled with GSM 850, 900, 1800 and 1900, plus GPRS/EDGE class 12, which should give your surfing speed a slight boost. Local connectivity is handled via the rare Bluetooth 3.0, Wi-Fi b,g,n and microUSB 2.0, the Bluetooth does not really give any extra speed, it's really just insurance against the future.
The phone has a truly Scrooge-like 30 MB of internal memory, you'll definitely be needing a microSD card if you listen to music or play videos, the Star 2 has serious memory management issues, so please load everything onto the memory card, the phone will need every internal MB it can muster to surf the web or run JAVA apps. It can handle a 16 GB card trouble free.
Now for the camera, the 3.15 MP camera has no flash, shutter key or auto-focus, shooting options are pretty much limited to smile shot, preset scenes, viewfinder grid-lines and panorama. Pictures are, however, presentably sharp and colorful, there is a decent amount of noise suppression in outdoor shots, this is really a very good 3.15 MP snapper. Move indoors though, and things start to go downhill. Pictures start to have pronounced brown shading, noise suppression becomes very evident and the pictures are very unsatisfying in terms of quality.
Video recording quality is a pitiful QVGA shot at 15 FPS in MP4 format, seriously the videos are only worth viewing on the phone itself.
Now music is definitely one of the strong points of this phone, you get preset equalizers, fake 5.1 audio surround, DNSe (digital natural sound engine). Plus you get full album art display and a service named Find Music, this allows you to record ten seconds of any song, and it looks up the artist and song name for you. Gone are the days of asking the waitress what song is playing in the cafe, and just receiving a blank stare in return, if that's not enough you also have an FM radio with RDS and the option to record broadcasts. Supported audio formats are; MP3,WAV, WMA and AAC+.
Now for the video player, which has a feature called mosaic search, it creates thumbnails of anything being watched, about 30 seconds apart, just tap a thumbnail and the video will resume play from that point, definitely beats having to fast forward. Only MP4 (H.263 or H.264 encoded) or 3GP movies can be viewed, both at the phone's native resolution.
Now for the all important miscellaneous list of features, we have - an organizer, document viewer (Word, Excel, PowerPoint, PDF), voice memo, predictive text input, calendar, alarm, world clock, timer, stopwatch, calculator, voice recorder, To-Do, memo, dictionary and Google Maps. There is no GPS, and if you view a PDF file larger than 2 MB the document viewer freezes.
Performance (4 out of 5)
Now we come to the most testing part of our review, where we see if the phone's call quality, web browser and battery life are up to scratch.
Call quality on the Samsung Star 2 is decent, calls come through clear and sound natural, the signal holds on well in low coverage areas, though at the cost of sound quality. The really problematic issue with calling is the loudspeaker, it is just too quiet, especially when compared to the original Star which was like a small megaphone.
The web browsing experience is average, it is really no competitor to Opera Mini. Though it does support kinetic scrolling and Samsung's patented one-finger zoom, which under better circumstances is found to be preferable by some people to the ever famous pinch-to-zoom, here it is just too slow and choppy.
But unlike almost every other phone in its class the Star 2 does support Flash 4.0, which allows limited viewing of Flash elements in webpages. You also get auto address suggestion, RSS feeds, history and your most visited websites displayed as thumbnails. Loading more than two heavy pages renders the "out of resources" message, this is particularly prevalent when using Wi-Fi to surf. For the best browsing experience just keep it to small, simple, sweet sites like Wikipedia, or Bright Hub!
Now for the battery life, which is truly excellent. The Li-Ion 1000 mAh battery can last for two days on heavy usage, five on medium and ten on absolutely minimal use.
Verdict (4 out of 5)
Now that we have come to the end of the review, one simple question remains. Is the Samsung Star 2 worth it? The answer is yes, should you buy it? No.
The plain, cold, hard, truth is, there is no place for a feature phone like the Samsung Star 2 anymore in a world dominated by smartphones. There are much cheaper phones available with much better performance, most of them from Samsung itself. What is the point of buying the $200 Star 2 when a $150 smartphone will outperform it by leaps and bounds? And let's face it, you don't want to be the person wielding a cheap feature phone when all your friends are packing cheap smartphones.
But if you do decide to purchase the Samsung Star 2, it is a pretty good phone for its price range, you can call it one of the best phones of a dying breed. The only environment this phone would thrive in when compared to a smartphone, is the utopia of on-the-go social networking options it presents, your addiction to social networking will be fully satisfied by the Samsung Star 2.
References