Samsung Champ C3300K Review
Introduction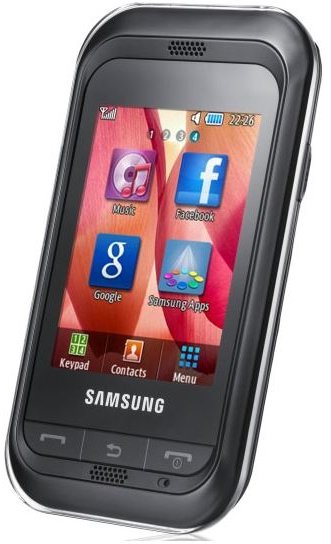 Cheap feature phones – they were once the craze of the town, but now smartphones are booting them out. In such an environment does the Samsung Champ C3300K have what it takes to survive? In short, the answer is no. But not everyone knows how to use or is comfortable with a smartphone, for parents who are buying their tween his or her first mobile phone, the Champ is a good choice as it has all the modern features of a phone. It is also both cheap and simple. Besides, it's a touchscreen, so that makes it cool right?
Design (4 out of 5)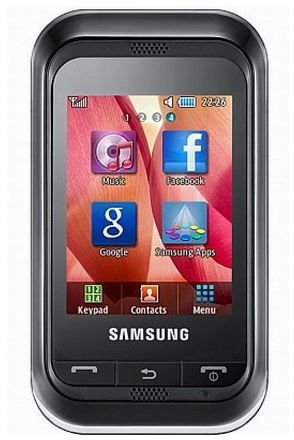 The Samsung Champ is the very personification of the candy bar design, it almost resembles a bar of chocolate. All of the Champ's buttons are flat, but they do depress very solidly into the phone when pressed and there is a satisfactory click sound, so all is well in the button department. The Champ is being promoted as a mainly music oriented phone and it does perform very well in that department, it has a fake 3D surround sound system, hence the two earpieces at the phone's top and bottom. This is very beneficial, most phone companies tend to put their loud speaker grill at the back, as a result, when laid upon a surface sound gets muffled. This won't happen with the Champ, unless you lay it down on its front of course.
Let us start with the screen, it is a small 2.4 inch resistive QVGA screen with a resolution of 320x240 pixels, capable of supporting 256 thousand colors. Despite the fact it is a QVGA screen, colors are all bright and clear, with the only complaint being its terrible sunlight legibility, if you ever need an emergency mirror, just stand under the sun and the Champ will do the rest.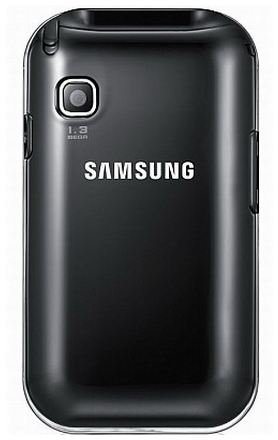 Underneath the screen we have three physical buttons, receive call, end call and back. On the right we have the single lock button and to the left the volume rocker, both buttons feel small and difficult to press. At the top we have a slightly elongated depression which houses the microUSB port, the stylus compartment (with a stylus in it) and the 3.5 mm jack. The back of the phone houses the 1.3 MP square camera lens.
Unfortunately, Samsung have put the microSD card slot under the battery cover. The Champ is also a true fingerprint fanatic, it is a very glossy phone and every swipe or touch shows.
User Interface (4 out of 5)
The Champ uses a light version of TOUCHWIZ 2.1, called…TOUCHWIZ LITE. It is a stripped down OS/UI designed specifically for the Champ, it consists of seven home screens each housing one widget, with the exception of the last two as they house four predesignated widgets each. The fact that the Champ is aimed at kids to early teens cannot be missed, with the inclusion of its famous Cartoon UI. So there are actually two user interfaces to choose from.
Overall the entire UI is smooth and fast, with no real lags or stutters. Though this might be hard to notice when you take into account the very resistive screen. If this is your first time with a touch screen or you are used to capacitive touch screens, the Champ will be a bit difficult to get along with in the beginning, though over time it becomes second nature.
The phone has a limited phone book capacity of 1,000 contacts, This is sufficient for most people and photo call, ID tagging, and ringtone assignment are all available options. Plus there are multiple entries for each contact including two numbers, e-mail, work and home address.
The phone does not have a QWERTY keyboard or accelerometer, But it does have handwriting recognition, for English and Chinese characters and a normal D-pad for normal text entry method. The phone handles SMS, MMS and E-mail text types, with the e-mail client being a native part of the Messages section.There is a slight inconvenience when using the home screens, when a call or message or missed an event tab pops up, it overlays the current widget, which can be rather annoying as you have to move the tab aside to access the underlying widget.
Features (4 out of 5)
Now features, please keep in mind this is a phone that costs no more than $90. As such, it does come with a pretty decent set of features, actually the only missing feature is high-speed connectivity. For international traveling we have the following 2G GSM set of frequencies; 850 / 900 / 1800 and 1900. No 3G or Wi-Fi. For local connectivity we have Bluetooth v2.1 with AD2P and a microUSB slot, the phone's internal memory is limited at a stunningly low 30 MB, so this means you will definitely need a microUSB card. The phone's external memory limit is 8GB, it can support a microSD card or a microSDHC card.
The camera is a 1.3 MP snapper, capable of shooting a maximum resolution of 1280 x 960 pixels. The entire interface is very well organized and aimed very deliberately at children, there are no advance shooting modes, only frames such as Santa Clause, Clown, TV Set etc. there is also Mosaic shots and a continuous frame shooting mode. Pictures turn out dull and completely lacking in fine detail, but this is a measly 1.3 MP snapper. Don't forget. Videos are shot at a paltry 15 FPS QCIF, not even worth MMS purposes.
The video player is rather useless, it plays only 3GP and MP4 files, take care to play videos one resolution beneath the phone's native resolution, or videos will be choppy.
The phone's music player is where the Champ comes into its own, The phone has a relatively simple, but good player. Album art is supported and so are equalizer features, also on board is the fake 3D surround sound with the uniquely placed ear pieces. The loud speaker is very loud, plus the Champ has an inbuilt antenna , so no more need for those pesky earphones to fire up your radio.There is no GPS or A-GPS.
The Champ comes with a full organizer, which has; Alarm clock, Calender, Stopwatch, Calculator, Java, Voice Recorder, Facebook, Twitter, Image Editor and finally the Memo app. The Champ comes in the following colors, all of which do look very appealing; Deep black, Espresso brown, Sweet pink, and Chic white.
Performance (4 out of 5)
Now we come to the main event, as we check the phone's call quality, browser and battery life.
The Champ does its main job well, making and receiving phone calls. Call are clear, slightly low on volume, but in areas with strong coverage everything works just fine. Areas with low coverage, on the other hand, tend to suffer from a lot of white noise and call drops. The Champ has a good, but not outrageously loud speaker. It's good enough to carry outdoor conversations.
The phone's browser is between adequate and sloppy, the Champ uses the now aging NetFront 3.5 browser. You are strongly advised to dump it and simply use Opera Mini 4, the phone does not handle Opera Mini 5 as well. Mobile web pages load well with most text and images rendered, however, heavier sites simply do not open with the phone displaying an "out of memory" message. Zooming, panning and swiping are all very slow, zooming is actually done using the volume rocker. So the Champ does not offer one of the best browsing experiences out there.
Battery life on the Champ is good, it has a Li-Ion 1000 mAh battery capable of 28 days standby and 12 hours of talk time, both estimates are accurate. On average most heavy users will be charging the phone once every 2 days and light users once every 5 days.
Verdict (3 out of 5)
The Champ is a basic phone, it is meant for children, as the buttons are actually very adequate in the hands of a child but rather small and hard to press using adult hands. It comes at a basic price tag – it is a basic phone. Major inadequacies on the Champ are the resistive screen, video player, Web browser and low internal memory.
Other than that everything works fine, on a phone with a release price tag of $90 contract free, that's a bargain. It makes a great first phone for the kid who has been bugging you to buy them a "cool touchscreen phone".
References