Read Our Samsung SGH-T259 Review: Simple & Affordable Mobile Technology
The Samsung SGH-T259 is a phone designed to be simple and affordable, if not the most practical in terms of design. T-Mobile has a large selection of flip phones in its range, most are rather pitiable. But the SGH-T259 is here to change all that.
This clam-shell phone comes at a very pocket friendly price of $119 and has all the connectivity options generally assumed to be the territory of slightly higher priced phones. The phone does have some rather baffling design elements to it, such as the squared off edges which give the phone an unfinished look, and the shared headphone and charger USB port, which unfortunately requires a headphone adapter.
The phone does, however, perform from spectacular to average in most other departments, such as call quality, battery life and speed.
Design (3 out of 5)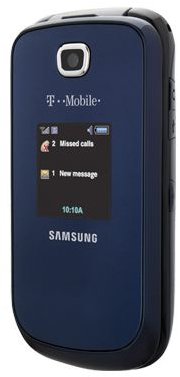 Now, the Samsung SGH-T259 is a flip phone, there is not much to wow the user in terms of design. The phone is completely unassuming in every facet of its design. Having said that, the most voiced complaint about the phone is the squared off edges, as they tend to detract from the phone's rounded corners.
Other than that the SGH-T259 is slightly chunkier then most of its cousins with dimensions of 98 x 49 x 17.3 mm. Also slightly heavier with a weight of 92g, so you will definitely feel the phone's weight in your pocket. This could either be a comfort or hindrance depending on your preference with mobile phone weights.

Now with the phone shut, at the front we have the rather large and square 2MP camera lens. Directly beneath it is the external 112 x 64 screen with minimal color support. Now we flip open the phone, and we have a TFT 240x320 QVGA resolution screen with 65,000 thousand color support. The control panel consists of two soft keys which serve as the select/back buttons, beneath them we have two shortcut buttons, namely the messages and home screen buttons. Between all four buttons we have the big square D-pad navigational buttons, with a big O.K. in the center.
Then we arrive at the dialpad itself, we start with the receive call/end call buttons on either side and between them the C button which stands for cancel. Other than that the dialing pad is completely standard with the only noticeable feature being the red number 9.
On the right side we have the combined headphone/charger slot and beneath it the dedicated camera button. On the left side we have the microSD card slot and above it the volume rocker. Behind the phone we find the lonely loudspeaker grill and on the top the microUSB port.
User Interface (4 out of 5)
The Samsung SGH-T259 comes running on a propriety OS, unnamed as yet, but it does work very well. The phone comes with three color schemes for the menus and sub menus. Full color, elegant and plain black/white.
The phone is a shortcut enthusiast's dream, everything on the phone can be made into a shortcut, including calls or the SMS center. Menus can be reached by simply pressing a number on the dial pad once the main menu is open, and there are three physical keys on the phone to simply facilitate going backwards in menus.
The phone's main menus are; Gallery, People, Music, Browser, Messages, Call log, Settings, Organizer and Games. The People tab is where the social networking hub is. The SGH-T259 comes with complete social networking integration.
All menus and folders move smoothly and Java games play perfectly without hitches, even when the music player is turned on. The phone book has a limited capacity of 1,000 entries only, however, there is photo tagging available, as well as multiple field entries to each contact and ringtone assignment as well.
The phone supports SMS, MMS and E-mail messaging capabilities, there is also a rich T9 dictionary available. There is no native e-mail client so to check up on your e-mail, you will be required to enter the web browser.
Features (4 out of 5)
The Samsung SGH-T259 has a well balanced sheet of features, some perform outstandingly while others are rather disappointing.
First off let us begin with connectivity, for international roaming we have a GSM 2G network with the following frequencies supported, 850 / 900 / 1800 / 1900 and a single WCDMA 3G frequency of 1700. Local connectivity is supplied via Bluetooth v2.0 with AD2P for music transfers and microUSB for mass storage usage. However, the phone has a very measly 80MB of internal memory, so you might want to consider buying a microSD card, the phone can support up to 32 GB of additional memory.
In the camera department we have a 2 MP camera with a maximum resolution of 320x240 pixels, very poor indeed. The camcorder does not fare much better with only a 12 frames per second shooting speed. Pictures are grainy and have a very distinct shade of yellow present throughout.
Music is well catered for with the following formats supported, MP4, ACC and WMA. Videos formats are only MP4 and 3GP.
The browser could have been better, but it does try its best to please. It comes with some widgets for Weather, Time, News and various other types of information in-built. However, the phone browser should only be used if you need it on the run, it loads pages in about 8 seconds on a 3G network and 12 second on a 2G network. Regardless of the network being used, pictures turn out badly rendered and sometimes text elements are missing. YouTube videos are very pixelated.
Other features not be missed are Java and the A-GPS support utilizing Google Maps and TelenNav.
The SGH-T259 comes with a full organizer – including a Stopwatch, Calculator, Calendar, Alarm clock, Notes, To-do list, World clock, Converter and RSS reader.
Performance (5 out of 5)
When it comes to the core functions of a phone, calling, sending messages and a good battery life, the Samsung SGH-T259 is a gold medalist.
Telephony in well covered areas easily compares to that of a land-line phone, while in areas with low coverage the phone still holds clear if slightly muffled. The loudspeaker is very loud indeed, you can easily hold an entire conversation on the loudspeaker. Voices sound slightly hollow but clearly audible nonetheless.
Battery life is another great performer. The phone quoted talk time is 4.5 hours on 3G, it actually manages an amazing 6 hours of talk time, while on a 2G network the phone easily does 8 hours of talk time. It has an 800 mAh Li-Ion battery that works very well, standby time is 12.5 days or 300 hours, whichever you prefer. On average heavy users will be charging it once every three days and average users once every 8 days.
Verdict (4 out of 5)
The verdict for the Samsung SGH-T259 is very simple, it is a good basic phone on a basic price tag. The phone gives everything that is expected from it considering the price tag.
To summarize the good, the phone has a simple but smooth UI, excellent call quality, good loudspeaker, long battery life, a well stocked messaging department, hot-swappable microSD card slot, easy and comfortable controls and is filled to the brim with shortcuts.
To summarize the bad, the phone has a bare basic MP3 Player, terrible camera, poor camcorder, inefficient WAP based browser, unfinished look to the whole phone, limited 3G frequency and low internal memory.
The phone is basically a good back up phone, it works very well when doing basic tasks, tries to perform well with its more advanced features but ultimately fails.
References