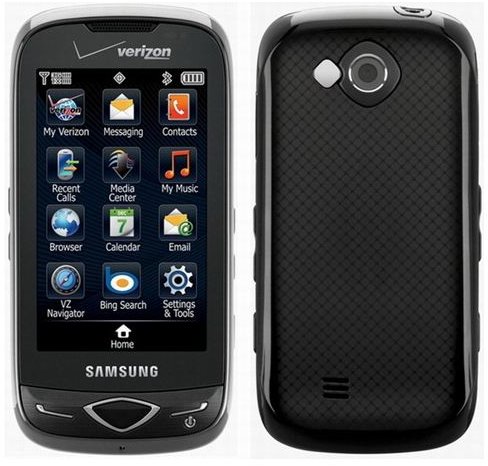 It seems Verizon have finally realized that their cheap, sliding QWERTY keyboard phones, designed to appeal to the never ending masses of text fanatics out there, are starting to look and feel too much alike. As such, they are introducing the Samsung Reality into the market, to give their customers a bit of variety.
As a result, it feels exactly like the phones it was supposed to differentiate itself from. So yes, at first glance the Reality seems like any other sliding QWERTY phone made by Samsung for Verizon. However, it does come with some nifty and very welcome features, a comfortable and functioning keyboard and strong call quality.
Design (4 out of 5)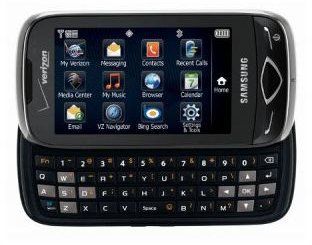 The Reality is indeed a well designed phone. Despite its completely plastic body, it does not look or feel cheap. It does pick up fingerprints though, thanks to the glossy plastic it is made from. The back has a nice matte criss-crossed pattern which provides grip and gives the phone a cool look.
The full four-row keyboard is fitted a bit loosely, but feels smooth to slide shut or open. Furthermore there are no clicking noises or loud snapping sounds when the keyboard is being opened or closed. Also the keyboard buttons are slightly raised and have a good travel, even if they are rather cramped. The Reality's keyboard does make typing a comfortable experience.
Further inspection of the keyboard shows that the W, A, S, D, Z, and UP, DOWN, LEFT, RIGHT and OKAY buttons are marked in grey, these are marked for gaming purposes, so if you're a person who enjoys playing Java games on their mobile phone, you are fully catered for.
Now that we have inspected the keyboard, let us move on to weight and dimensions. The phone weighs a solid 130g and is not a phone you will forget about when it's residing in your pocket, this is not an ideal phone for people who enjoy wearing phones around their necks via lanyard either.The phone dimensions are 107 x 53 x 15 mm and are perfectly acceptable for a full QWERTY side-sliding keyboard phone.
At the front of the phone we have a TFT 3 inch resistive screen with a resolution of 240x400 pixels, capable of showing 256 thousand colors. Beneath the screen we have three eye catching buttons. The receive call to the left, the end call/power button to the right and the back button in the middle.
To the left we have the microUSB port, volume rocker and lock/unlock buttons. To the right we have the camera, voice recognition, speakerphone/zoom buttons and the microSD card slot. So if shortcuts are your cup of tea, it is tea-time with the Samsung Reality.
At the back we have the 3.2 MP camera with a diamond shaped self-portrait mirror next to it. At the bottom we have the small loud speaker grill. On the top we come across the singular 3.5 mm headphone jack, only.
User Interface (3 out of 5)
The Samsung Reality comes running a specialized version of its propriety operating system called TOUCHWIZ, designed for Verizon. Unfortunately the resistive screen just kills the joy of using the Reality as a touchscreen. Since the Reality does not support handwriting recognition the resistive screen is rather pointless.The UI experience is further dampened by the fact the phone is rather slow to recognize commands when using the web browser or checking e-mail, there is no multi-task support and if music is running in the background games or apps tend to slow down or start to lag.
Other than those few issues, the UI moves smoothly when pressed hard enough, but the Reality has a very unresponsive resistive screen. You will eventually get used to it, but most likely you will simply flip open the keyboard and use it rather than the touchscreen itself.
The home screen has only three panes and a side bar that houses all the widgets, you can use and put back various widgets and download more widgets from Verizon. The main menu flips into landscape mode if you slide open the keyboard, however, the phone does have an inbuilt accelerometer that works in specific situations only, such as when using the web browser.
The phonebook is limited to a thousand contacts only but there are plenty of options to play around with, each contact can be assigned multiple numbers, photo tagging, ringtone assignment and caller groups. Unfortunately there is no video tagging available.
Messaging, texting, instant messaging, e-mailing. These are the phone's forte. The native e-mail app is unfortunately not one of the best out there, and can lag or stutter at times. But sending a normal SMS, MMS, e-mail and any other text based function is a breeze… with the keyboard, tapping the D-pad on the Reality's resistive screen is rather annoying and slow.
The best way to use the Samsung Reality is to flip it to the side and slide open the keyboard, everything reacts quickly and you don't have to go through the torture of having to flick and tap on a very resistive… resistive screen.
Features (3 out of 5)
Now, as for features the Samsung Reality is not badly off, it has everything you need from a phone of its pedigree, but nothing more.
Let's kick off with connectivity, this phone is not really designed for international travelers, it comes on Verizon, and stays in the U.S.
The Reality has two CDMA frequencies of 800 and 1900, while for high speed connectivity we have the slower EVDO REV.o instead of the faster EVDO REV.a, things are still pretty fast. A 3MB MP3 song usually downloads within 1 minute and 30 seconds from Verizon's network. For local connectivity we have Bluetooth v2.1 with AD2P and HSP, for hands free usage. We also have microUSB connectivity for mass storage and phone charging via PC. The phone cannot be used to make or receive calls when it is being used as a mass storage device. There is absolutely no Wi-Fi.
There is a microSD card slot capable of supporting both microSD and microSDHC type cards. Unfortunately the phone's internal memory is capped at a pitiful 168 MB, you will need a memory card if you listen to more than 10 songs. The phone's maximum supported memory expansion via a card is 16 GB.
In the music department we have a fully fledged MP3 player skinned in the traditional Verizon version of TOUCHWIZ. It can support MP3, AAC, WMA, and AAC+ file formats. Songs can be organized through various filter including Most played, Recently added, Album, Artists and various others. The sound quality on the loudspeaker is rather sharp and squeaky, while on the headphones it is actually above average. It's clean, crisp and reacts perfectly to any pre-rendered music equalizer such as Rock, Jazz etc. There is also a music-only mode in which the phone's signal gets turned off, you can listen to music while conserving battery life or if you are in an airplane.
Now the video department, is a crying shame really. The phone struggles to play anything above 240x400 pixel resolution, and can only play MP4 and 3GP formats. Video sounds are crackly and overly sharp on the loudspeaker. While on the headphones they are decent but far from stellar. Videos streamed from Verizon's network on the other hand are actually rather clear and sound very good on the headphones
Now, the photography department. Photos from the 3.2 MP camera are far from awesome but they are actually very decent, pictures come clear and without too much noise. Although there is a slightly yellowish tinge to pictures, which becomes even more pronounced in the dark, but it is not really a deal breaker.
Videos taken from the 3.2MP camera barely qualify for MMS purposes, forget YouTube uploading, speaking of which, there is no inbuilt direct uploading function available on the Reality. The most you can do is send pictures and videos via MMS. The frame rate for videos is 15 FPS.
The organizer is fully stocked with everything you could want. It has SYNC services, Calendar, Stopwatch, Calculator, Tip Calculator, World Clock, Notepad, Converter.
Location based features are GPS but no A-GPS for some reason. However, there is E911 service so at least that is a plus.
Social network integration is complete with Facebook, MySpace and Twitter services all supported via apps and in the browser.
Performance (4 out of 5)
We'll be covering three basic performance categories here, the call quality, the battery performance and the web browsing experience.
At first we must say the Reality's call quality in well covered areas is excellent. It does manage to maintain a good level of coherence in areas with low coverage. Calls that are received on the loudspeaker have a slight echo to them on both sides, but it is indeed slight. The Reality does come with a proximity sensor that works well, so using in-call features is a breeze.
Battery life on the Reality is also a good scorer. It has a Li-Ion 1080 mAh with official talk times of 5 hours and 300 hours stated standby time. Realtime tests conducted turned out an average of 4 hours and 46 minutes talk time and 12 days standby time.
On average heavy users will be charging the phone once a day and average users will be charging it every four days.
Now our good performance streak ends at the browser section of the review. While actually a feature packed HTML browser, with features such as; full page view, search, copy, paste, send, RSS and the famous Samsung one touch zoom function, the browser has difficulty in loading heavy web pages. Sometimes it renders even simple pages without text, has an inconvenient way of entering URL's, and despite the EVDO connection speeds is actually slow with websites such as Bright Hub taking nearly a minute to load.
You are definitely better off downloading and using Opera Mini.
Verdict (2 out of 5)
So we have reached the end of our review, what is our verdict about the Samsung Reality? Well let us sum it up this way, it seems like the technician in charge of making the Samsung Reality left his task half way to go eat lunch and never really bothered again with the phone.
The Samsung Reality has some things that were not really necessary, how much could it have cost to put a capacitive screen instead of a resistive one? Why didn't they fine tune the resistive screen so that it was easily usable? In the end it seems like they just could not be bothered with fine tuning important aspects of the Reality. Such as the video playback, web browser, loudspeaker, screen, direct uploading and e-mail app.
Our advice is save up some money and consider buying the Samsung Rogue. It has better features, a bigger keyboard, great screen, comes on Verizon, has Flash Lite support, EVDO REV.a and all the other features that the Reality can only dream of.
Ultimately the decision to purchase the Reality is yours, it has some good features, but keep in mind that the day to day uses of the phone are mostly a let down with the exception of the call quality, texting (as long as you avoid the native e-mail app) and battery life. The best way to use the Reality is through the keyboard, which in turn renders the touchscreen pointless.
In the end only two things will happen, you will either get used to it or hate it. There are many better sliding keyboard phones out there worth your money and time. Most of them happen to be on Verizon.
References