The Samsung Entro SPH-m350: A Joint Venture of Samsung and Bell Canada
The Samsung Entro SPH-m350 is yet another exciting joint offering from the houses of Samsung and Bell Canada after the successful release of the Samsung Wave S8500. Although not powerful enough to be classified as a smartphone, the Entro is considered a hybrid model that combines the beauty of a touchscreen with the practicality of a fully functional cell phone. Let's roll on to the detailed review of the Samsung Entro SPH-m350 to learn about the details of the device.
Design (4 out of 5)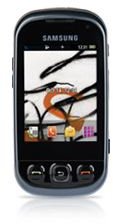 The Samsung Entro, also known as the SPH-m350, comes in a compact and sleek design with dimensions of 104.9 x 53 x 14.8 mm and weighs around 109 grams. Additionally, the Entro features a QVGA touchscreen TFT display at 2.6-inches with a 240 x 320 resolution and support for 65k colors. This touchscreen mobile phone device is further boosted with a spacious slider QWERTY keypad, a 3.5mm headphone jack, multimedia player, USB 2.0, a 1.3 MP built-in camera with flash and a memory card slot supporting an expandable memory of up to 32GB. The stylish Samsung Entro gives you everything you want at your fingertips.
User Interface (4 out of 5)
Even though the Entro is not as noteworthy as the Samsung Wave S8500 with its TouchWiz user interface and Bada operating system, it is still a good phone. It features the underwhelming L4 opertaing system but it does have a full touch user interface and a QWERTY sliding keyboard as the input interface. The Entro's full featured and spacious keypad allows you to type with full comfort.
Features (4 out of 5)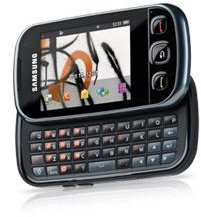 With loads of features such as, a full HTML browser, multimedia player, convenient keyboard, Bluetooth 2.1, A-GPS system, EVDO support and a multi-tasking texting feature accessible while listening to music, the Entro is a mobile device that combines fun with functionality. The Samsung Entro comes with a phone book supporting 600 entries, 100MB memory and extra SMS memory space is available too.
Be it video browsing, photo checking or simply experiencing the web – the Entro's brilliant touchscreen lets you experience good picture quality. The sliding, handy keypad of the phone is just another amazing feature of the handset offering a spacious keyboard along with a range of messaging options from e-mail and IM to media and text messaging. You get 64 polyphonic ringtones along with the Entro with MP3 ringtones supported as well.
More Samsung Entro Features
The Samsung SPH-m350 has a multimedia player supporting MP3, AAC, AAC+, e-AAC+ file formats and memory that can be expanded up to 32GB. Be it your favorite movie or the latest musical hits of your choice, the Entro allows you to carry a library of your favorite media wherever you go. The phone also features a built-in 1.3 megapixel camera that allows you to capture and upload photos directly from your Samsung Entro mobile phone. The integrated camera is capable of taking shots up to 10 levels and features single shot, continuous shot and mosaic modes along with 3 photo quality levels.
The Samsung SPH-m350 also comes with a fully featured HTML browser allowing you to access your favorite sites and connect to friends through social networking sites such as YouTube, Facebook, and Twitter. You can also share photos and videos. Additional basic features of the Samsung Entro include speakerphone, scheduler, calculator, contacts, memos, calendar, instant messaging, tasks, clock, alarm, stop watch, picture and text messaging, e-mail, to-do list, worldtime, countdown timer, media player along with voice recording and a backup manager. The Entro also comes loaded with embedded JAVA™ games along with download support for JAVA™ and embedded wallpaper.
Performance (4 out of 5)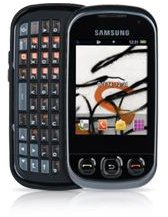 Although it can't be described as extraordinary, the Samsung Entro SPH-m350 is undoubtedly a good performing touchscreen mobile phone which offers fun and functionality. The call quality is nothing unique or special and is exactly what you can expect from Bell. The Entro is powered by a 1000 mAh Li-Ion battery offering a talk time of up to 6.7 hours and standby time of up to 25 days.
The Verdict (4 out of 5)
It may lack the features to gain smartphone status but the Samsung Entro SPH-m350 is still value for money with a price tag of $29.95 with a three year contract. If you want to make it a little shorter, you can go for Entro's two-year agreement of $79.79 or a one-year pricing of $99.95. The Samsung Entro is also available free of contract for just $149.95. In short, it is indeed a good value for money phone and bags a good rating overall.
References and Images
Nexus 404, https://nexus404.com/Blog/2010/07/08/samsung-entro-now-available-with-bell-priced-on-contract-at-29-95-bell-canada-now-offering-the-samsung-entro-will-feature-2-6-display-a-gps-qwerty-keyboard/
Samsung, https://www.samsung.com/ca/consumer/mobile/mobile-phones/all-phones/SPH-M350ZAABMC/index.idx?pagetype=prd_detail&tab=specification
Images, https://www.samsung.com/ca/consumer/detail/productPreviewRead.do?model_cd=SPH-M350ZAABMC&group=mobile&type=mobile-phones&subtype=all-phones