Introduction
Tough phones are reliable, heavy duty communications devices which rarely feature good looks, extra connectivity, high end features, bright screens and all the many other luxuries we have come to call necessities on today's ordinary phones.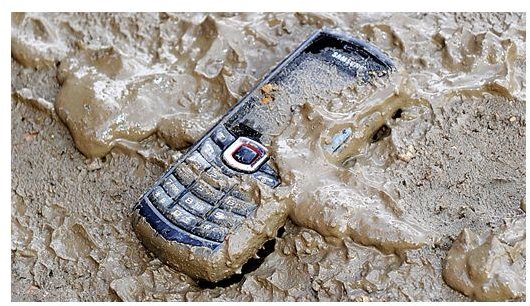 But not anymore, the Xcover B2710 from Samsung is a tough phone with some good looks, great features and a rugged exterior that can withstand water, wind, snow, mud and almost anything humans can throw at it or run it over with. Even a Hummer.
Design (4 out of 5)
The Xcover B2710 looks almost like every other candy bar format phone you have ever seen, the only noticeable difference is on the sides, which have thick rubber coating to protect the the ports from water and shock.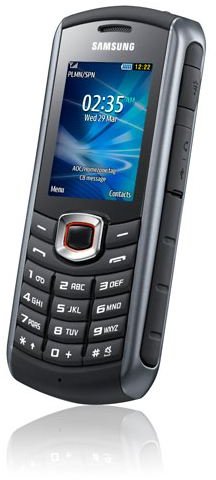 The phone is made from a combination of polyurethane, plastic and heavy duty glass for the screen and camera lens.
One major design flaw exists, and that is the lack of a microSD card slot on the outside, the slot is inside the battery cover and you have to open it to insert the card.
The phone scores well in the weight department as it weighs only 115 grams, light enough to carry around your neck or pocket without feeling cumbersome.The dimensions are also well rounded at 120.7 x 53 x 17.9 mm, with the only complaint being the rather intrusive lanyard eyelet.
On the front we have a 2 inch tough glass screen with 256 thousand colors supported and a pixel resolution of 240 x 320. Beneath the screen we have a traditional keypad topped by central a D-pad for scrolling which in turn is surrounded by four buttons, namely the forward, back, receive call and end call buttons.
To the right of the phone we have the microUSB and charger ports, while the left is solely occupied by the volume rocker. Which is actually very enjoyable to press as it is tactile and rubbery at the same time.The back has only three things, the lock mechanism that keeps the back cover in place, a coin is required to open it.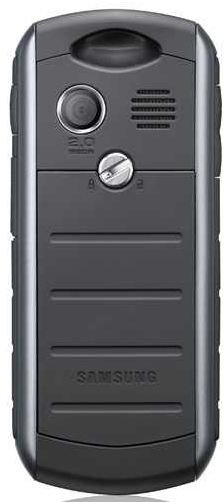 Then we have the loudspeaker grills which are waterproof and finally the very large 2 MP camera lens, and you can't miss the fact it is a 2MP camera because Samsung have written "2 MEGAPIXELS" directly underneath the lens.
Finally at the top we find a big eyelet so you can hang the phone around your neck and next to it the flashlight. That's all there is to the top, nothing more.
User Interface (4 out of 5)
The Xcover B2710 has a smooth UI and comes with customizable fonts and text size. There are some in built themes to select from but unfortunately there are none available to download at all. Java apps run smoothly and are organized into a sub folder on the phone. While pictures, videos, documents, recordings and other types of media are automatically allocated to the correct folder without a hitch.
The phone's alarm volume is rather low compared to the rest of the phone's audio such as the polyphonic ringtones or MP3 files and various others. There is a full suite of manager apps such as voice recorder, organizer, calendar, sync manager and everything else you would expect.
The inbuilt apps consist of Facebook and Twitter applications as well an IM application named Palringo. Along with the social networking apps comes Google Maps, running with the phone's A-GPS support.
The web browser is WAP 2.0/xHTML based and can do mostly simple surfing. Wikipedia, Gmail, Bright Hub and other text based sites are rendered excellently and the zoom option works perfectly. There is no Flash support, but YouTube videos can be streamed to the phone in 3GP format.
The MP3 player is bare and basic but functional, songs can be organized by Artist, Genre, Album, Most played and Podcast. Videos can be viewed in either MP4 or 3GP formats, both run well as long as they are kept within their respective pixel rates of 240 x 320.
Features (5 out of 5)
The phone comes packed with great features, some are unique while others are general purpose. Let's start with the unique. Here is a good time to mention the phone's IP67 certificate, the first time Samsung has managed to achieve this rating for a tough phone. This means the phone is dust and water proof as opposed to merely resistant like other tough phones made by Samsung. It also has a pedometer, digital compass, noise cancellation, GPS and A-GPS.
Now we come to the all purpose features, let us start with network coverage.
The phone has a complete 2G GSM set of frequencies on it, namely; 850 / 900 / 1800 / 1900.It also has a UMTS 3G network with the frequency of 900 / 2100 only.
Audio files that are supported are; MP3, WAV, eAAC and WAV. Supported video files are simply MP4 and 3GP. It should be noted that the phone's internal memory is only a measly 30MB, you will need a microSD card. The phone has an RDS supported FM radio, headphones are mandatory as they act as the antennae.
Performance (5 out of 5)
The main gauge for this phone's performance is its ability to survive abuse, and it performs excellently.The phone suffers from no drop in voice or call quality if it is dunked in salt water, fresh water or alcohol.
It can survive being run over by a Hummer, Trailer truck and ordinary saloon car. The best thing about the phone being waterproof is if it gets dirty, you can simply wash it. The phone's call quality is excellent in areas with high coverage and average in areas with low coverage. It never dips towards the awful end, ever.
The phone battery performance is very good, not startling but very good nonetheless. It has a standard Li-Ion 1300 mAh battery that has a 600 hours talk time limit on a 2G network and is reduced to 500 hours on a 3G network. On average most users will be charging it only once a week, and every 5 days on heavy usage.
Verdict (5 out of 5)
Samsung can proudly say with the Xcover B2710 "We made it!". It is a phone that looks good, works well, is fully packed with features that all perform excellently and it can survive the hardy outdoors user or the clumsy indoor dropper.
The phone is well worth its list price of $241, and well worth the buy for anyone who has the budget and a mountain to climb.
The phone's few faults so far are the small internal memory, low alarm volume, single 3G range and lack of theme support. Other than that, it is good to go…anywhere.
Images
References