Review of The Samsung Sunburst: Featuring AT&T's Cloud-based Services
Introduction
The Samsung Sunburst is yet another Samsung phone in AT&T's series of messaging devices announced at CTIA 2010 - the other one being the Samsung Strive. Even with just a touchscreen and no keyboard, the Sunburst looks very familiar to other Samsung touchscreen handsets. Hosted with loads of messaging features, it is one of the first cell phones featuring the online cloud services of AT&T, such as AT&T's Address Book.
Design (4 out of 5)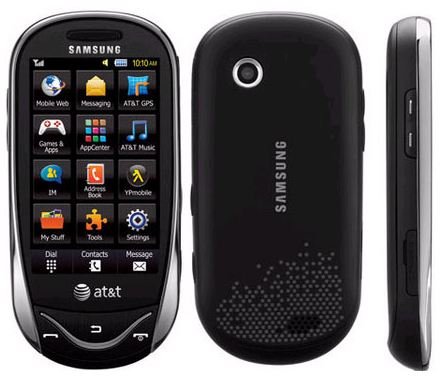 Despite its name, the Samsung Sunburst does not actually bear any sunny look; it is designed in simple matt gray and measures around 4.3x2.1x0.5 inches in dimension. However, the phone is quite comfortable to hold, with a soft finish and rounded edges, making it look very similar to other Samsung touchscreen phones, like the Samsung Caliber.
The front surface of the Sunburst is dominated by the 3-inch display, which is slightly smaller than a standard touch-screen. The QVGA screen of the phone supports 262,000 colors, which makes it a really colorful and vibrant display. The greeting message, brightness, font type, transition effects between page swiping, and backlight time of the phone, can all be easily adjusted. You can even add feedback, if you want your handset to vibrate when you select something. On the left side of the home screen is the very familiar TouchWiz interface of Samsung, consisting of a collection of shortcuts and widgets.
The Sunburst features three home-screens, all of which can be customized with your choice of shortcuts and widgets. Swipe your finger over the screen, and you can switch between them, with different backgrounds for each. The bottom row of each home-screen contains shortcuts to the contacts list, main menu and dialing pad.
The virtual dialing pad of the Samsung Sunburst contains nice, large keys - just to prevent you from mistyping. Moreover, the dial pad also has quick access to a new text message and contacts list too. For sending a text message, you can enter it using handwriting recognition, a T9 keypad, or a virtual QWERTY keyboard. Because of the built-in accelerometer, the QWERTY keyboard appears automatically when the phone is rotated sideways. The keyboard is spacious and easy-to-use, although it feels a bit slower than a physical keyboard.
Below the display there are three physical controls such as the Send key, the Clear key, and the End/Power key, placed in a somewhat curved alignment. The left spine of the phone contains the microSD card slot and the volume rocker, while the screen locking key, the charger jack and the camera key sits on the right spine. The camera lens is placed on the back of the phone.
User Interface (4 out of 5)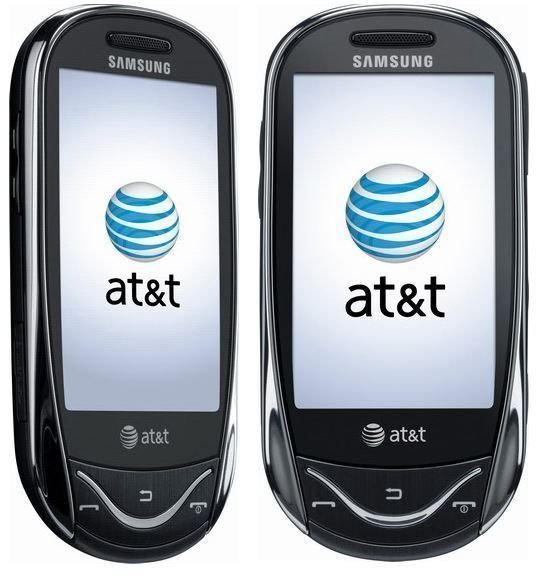 There's nothing new in the Sunburst's interface, other than the touchscreen might feel a bit slower to respond at times. The Web browser in Samsung's Sunburst is not fully featured like most you see on a smartphone either; the tabs are missing, and the interface is a bit clumsy in form and manner. However, it is perfectly functioning and dependable for a simple phone like the Sunburst.
Features (4 out of 5)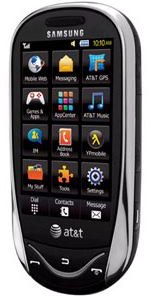 The Samsung Sunburst features a 1000 entry phone book, with room in each of the entries for four numbers, a nickname, two email addresses, a company name, a URL, a job title, a note, a birth date and street addresses. You can further organize each entry into caller groups, and pair them with caller ID photos and one of 17 polyphonic ringtones. Moreover, you can set your own music, or recorded piece of audio, as a ringtone. Other basic features of the phone include a speakerphone, an alarm clock, multimedia and text messaging, a tip calculator, a calendar, a calculator, a unit converter, a memo pad, a stopwatch, a task list, a timer, a world clock, a vibrate mode and a sketchpad too.
Some of the more advance features of the Sunburst cell phone include, voice recording, PC syncing, voice command, mobile email, stereo Bluetooth, GPS (along with turn-by-turn directions of AT&T Navigator), and instant messaging via AIM, Yahoo Messenger and Windows Live Messenger. However, mobile email only allows you to access some of the selected web email services such as Gmail and Yahoo Mail, with a monthly payment of $5.
As you may already know, the Sunburst is among the first phones to utilize a variety of AT&T's cloud based services. The phone includes AT&T's Address Book to manage your address book on your PC, and an Online Locker to store your photos and upload them to social networking sites. You can of course purchase additional ringtones, apps and more from AT&T's App store.
Although the phone is lacking in 3G, the Sunburst still has a full HTML browser, with the basic favorites list, URL location bar and zoom in/out capability.
The Sunburst is compatible with AT&T's Mobile Music too. It also features a music player, that actually acts as a gateway to AT&T's Mobile Music Store. The music player is similar to those on other AT&T phones with create, repeat, edit playlists, and shuffle options. The phone has an internal storage of 189MB, however it can support a further 16GB using microSD cards.
The 2-megapixel camera on the Sunburst comes with three quality settings, and is capable of taking pictures in five resolutions. Additional settings include, five white balance presets, brightness, a self-timer, six shooting modes, video capture mode, and up to 4x zoom. Photo quality is average.
The Samsung Sunburst cell phone can also be customized with a selection of ringtones and graphics that are available in the AT&T AppCenter. However, the phone already comes with few games and applications such as, Bejeweled, Tumbling Dice, AT&T Social Net, WikiMobile and more.
Performance (4 out of 5)
The Samsung Sunburst has good call quality, although not great when tested using AT&T's services. The callers on the other end could be heard well, but with a harsh voice and kind of crackling in between - at the other end, callers were faced with similar quality. However, the speakerphone call was good.
The Sunburst's rated battery life is 5 hours of talking time with a standby time of 10.4 days. The tested talking time is 6 hours and 13 minutes.
The Verdict (4 out of 5)
Even though you cannot expect a groundbreaking performance, the Sunburst is still a good performing, simple touchscreen phone, with decent features for a price of only $59.99, with a new two-year service agreement. On the whole, the Samsung Sunburst cell phone grabs a good score.
Reference
References:
https://www.phonearena.com/news/Hands-on-with-the-Samsung-Strive-and-Sunburst_id10361
https://www.digitaltrends.com/cell-phone-reviews/samsung-sunburst-review/
Image Credits:
https://www.unwiredview.com/2010/03/15/att-intros-samsung-strive-samsung-sunburst-pantech-link-pantech-pursuit-new-services/