Review of the Samsung Xplorer B2100
Introduction
The Samsung Xplorer B2100 is a low end, cheap and rugged, water, mud, weather, shock and bump resistant phone with a bare basic spec sheet. The perfect phone for any outdoor enthusiast or someone who just wants a phone that does not break easily.
Proven to be able to survive in up to one meter of water for 30 minutes, being run over by a car and unscathed in a two meter drop onto a concrete pavement, this phone can take all the punishment dished out and then some more. It is truly a tough Samsung phone.
Design (4 out of 5)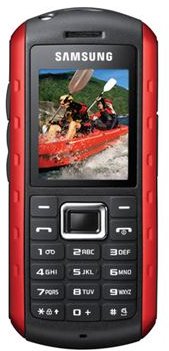 Two features are always important when handling the design of a phone, first is how it looks and second is the practicality of holding and using it in everyday life. The Xplorer scores very well in both departments, with average looks, which is a relief as most rugged phones would make an ogre vomit, and a solidly tactile build with a rubbery and responsive keypad with slightly stiff navigation buttons.
The phone is completely air tight with an anti-shock polyurethane rubber covering that comes in three colors, namely red, green and blue.
The Xplorer is rather heavy at 102.8 grams with dimensions of 113 x 48.9 x 17.4 mm, which is fine in your pocket but can become difficult to wear around your neck, which is an option as it comes with a lanyard eyelet.
The front is made up of the keypad and the 1.77 inch screen that has a resolution of 120x160 pixels and supports 256 thousand colors.
The phone's right side has only the USB port with all other relevant ports housed on the left, at the top comes the rather powerful flash light which has a dedicated button and lanyard eyelet.

The back is home to the 1.3 MP camera and loudspeaker grill. There is not single part of this phone that is smooth or leveled, every part has dents and lines.
User Interface (3 out of 5)
The user interface is bare basic and is arranged in icons across the single menu screen, and there is a lot of digging through menus. Luckily it operates smoothly and has three basic modes to choose from: black and white, elegance and full color. The 256 K color support plus Java makes it easy to play games and use various applications.
The camera interface is a bit squeezed together and not so intuitive as higher end model camera interfaces by Samsung, but is easy enough to get used to with a bit of digging. Taking a quick snapshot on the default settings is a snap.
Features (3 out of 5)
The phone's features are basic but complete, and the only noticeably missing feature is 3G. Otherwise the phone comes sporting a IP54 certificate which means it's, mud, water, shock, weather and alcohol resistant. It also has a flashlight with a dedicated button and a very loud speaker, whether you use it for music or speaker calls.
Its 1.3 MP camera is capable of recording videos at 15 FPS and is good enough to be viewed on the Samsung B2100 itself, don't try uploading it to YouTube though. Pictures are taken at a resolution of 1280 x 1024 pixels with no flash but the quality is decent, especially on outdoor shots of distant objects.
Connectivity wise the phone comes running on 2G/GSM network that supports all major international frequencies (850/900/1800/1900) so you're good-to-go anywhere in the world with this phone.
There is Bluetooth version 2.1 with A2DP support so transferring music and other files is a breeze. Also PC connectivity is available with a microUSB port.
The phone also has a built in radio that uses the headphones as an antenna, unfortunately there is no RDS which means the names of the radio stations are not displayed. The Samsung B2100 comes with a music player that supports all major types of music formats and a MP4/3GP player of terrible quality. Other useful features include noise cancellation with a dedicated microphone, voice memo and a stopwatch.
Performance (4 out of 5)
The performance of this phone is excellent, although it is specified as water resistant, for all intents and purposes it is actually water proof. It also can survive being run over by a car, and contact with rain or black cotton soil.
However, the phone suffers from muffled phone quality due to the microphone all being sealed to keep it water tight. Dunking it in water or any liquid further deteriorates the sound quality in slightly but noticeable ways nonetheless .
Web browsing on the Xplorer is a total nightmare, regardless of whether the inbuilt browser is being used or Opera Mini. Pages render with elements missing and pages designed for PC are not able to load with the phone showing a "document too large" message. Only small pages designed specifically for phones are eligible and only as long as they are are simple pages such as Wikipedia.
Other than the loss of voice quality and the terrible browsing experience the phone performs wonderfully on every other front including battery life, it can last for five days on heavy use and has 10 hours of talk time.
The Verdict (4 out of 5)
The Samsung Xplorer B2100 is a very well made and very cheap phone. Everything performs relatively well, with the exception of the muffled sound quality, which gets worse if dunked in water.
The good points include a strong battery life, powerful flashlight, rugged build, 1.3 MP camera, loud speaker and excellent resistance to the elements.
The bad parts are of course the awful web browsing, video playback and lack of 3G.
The phone is a good secondary back-up phone for adventurers or for someone who is accident prone with their mobile phone. It also looks good enough to take out and use without being ashamed of its looks or attracting undue negative attention due to the design.
References