Best Rugged Samsung Phones
Introduction
In the modern world most of us rely heavily on our mobile phones for a variety of important functions, from asking your friend about recipes while cooking to closing the next financial deal. While mobile phones have become more sophisticated they are also very fragile, not to mention rather expensive.
The following phones by Samsung aim to resolve most of these issues, they are cheap, very rugged, and sophisticated enough to perform most mobile phone functions perfectly. These rugged Samsung phones are designed primarily for people who enjoy hiking, skiing, trekking, desert tracking, mountain climbing or are just plain clumsy with their phones.
Samsung Rocky E1130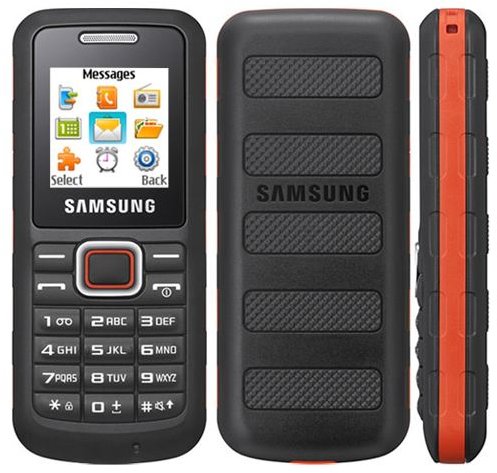 The cheapest of the tough Samsung phones with the least features, this is a phone designed to do the basics - receive calls, receive text messages and send them back.
It has an IP54 certification standard, which means it can withstand shocks or bumps and being submerged in water for up to 30 minutes and it is dust resistant. It is made of hard plastic and polyurethane on the sides to make it difficult to break or damage.
It comes in the set colors of orange and black, and the key-pad buttons feel individual and very tactile to press. The phone weighs a very light 81 grams and has a 65 thousand color support 1.52 inch screen with a resolution of 128x128 pixels.
Unfortunately the network support for this phone is limited to 2G GPRS capable GSM 900/1800 network and the browser is WAP 2.0/ xHTML capable only. MP3 ringtones are supported and the phone has a built in radio. The phone book supports 500 names while the call log shows the last 20 dialed, received and missed calls. The phone is capable of SMS, MMS and has a T9 dictionary.
Pros:
10 hour talktime.
Bluetooth V2.0.
Flashlight.
IP54 certificate.
Organizer.
Voice memo.
Vibration duration can be customized.
Cons:
Low sound output.
Inefficient file transfer system.
Syncing system is ineffective.
Navigation button and call/end call buttons lack backlight.
Only 20 characters allowed per name entry.
No 3G.
Limited GSM network frequencies.
No built in SOS system.
Samsung B2100 Xplorer
The Samsung B2100 Xplorer is essentially an upgrade of the Samsung Rocky, and a good one.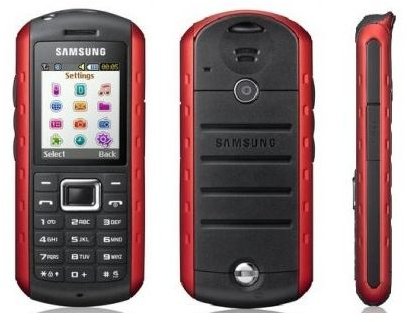 The same looks feature a completely new phone under the cover. Major hardware improvements include a loud speaker, powerful torch, good quality 1.3 MP camera with a camcorder built in and a neck strap extension. This rugged Samsung phone also comes in a choice of three color combinations green/black, red/black, blue/black. The phone comes with the IP54 standard certification that can deal with water, dust, shocks, drops and also mud.
The battery lasts up to two weeks with average use. The phone has a slightly larger screen at 1.77 inches but with lower resolution at 120x160 pixels. However, the phone does have a significantly upgraded color support of 256 K (thousand). The phone has a microSD card slot that can support 8GB, a built in FM radio that can record songs and Bluetooth 2.1 with AD2P support and a micro USB port.
Network support has also received a major upgrade with all major frequencies (GSM 850/900/1800/1900) supported on the 2G GSM network, so you can use this phone absolutely anywhere in the world. Also the camera can shoot videos at 15 FPS and take photos at 280x1024 pixels. Sadly there is still no 3G available.
Water submergence test were conducted with the phone fully emerged in 1 meter of water for 30 minutes, later on there was reported loss of voice quality and this phone cannot stand up to being dunked in alcohol. The phone book can store up to 1,000 contacts with the call log showing 50 missed, dialed and received calls. Internal memory is only a very measly 7MB so you will definitely need a memory card.
The phone also has a complete suite of apps for organizing your life from calendar to stopwatch, voice memo and JAVA MIDP 2.0 protocol so you can play games or use apps.
Pros:
Strong flashlight.
Very loud speaker.
Mud resistant.
MicroSD card slot.
MicroUSB slot.
Polyphonic/MP3 ringtones.
Cons:
Low internal memory.
Dodgy water resistance capabilities.
Unreliable PC connection.
No 3G.
Screen is prone to scratching.
Call quality is terrible to average depending on signal.
Read our full Samsung B2100 Xplorer review to learn more.
Samsung Xcover B2710
The Samsung Xcover brings the tradition of upgrading tough Samsung phones to completion, simply think of it as the perfect Samsung Xplorer.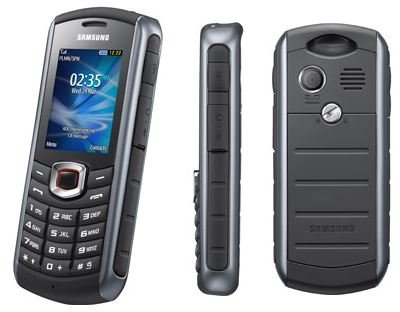 Major upgrades include 3G, a bigger 2 inch screen with 240 x 320 pixel resolution, GPS, AGPS, 2 MP camera, upgraded IP67 standard certification making it completely water and dust proof as opposed to simply resistant.
It has a very bright screen and comes in only blue/black coloring. Battery life is very good averaging 5 days on heavy usage. Phonebook is very generous at 2,000 entries with multiple fields supported, as is photo call and loudspeaker functionality during calls. Messaging has the added benefit of supporting emails now with POP and IMAP protocols used.
The entire system organizer has a completely smooth flow and never feels clumsy or awkward to use. New and welcomed features include a digital compass, noise cancellation, Pedometer and integrated Facebook/Twitter support. The camera shoots videos at 15FPS and photos at 1600x1200 pixels. Internal memory is good enough for this type of phone at 30MB, however, an 8GB memory card is supported so no real memory issues.
Pros:
3G.
2MP camera.
GPS.
AGPS.
Digital compass.
Pedometer.
Email support.
Cons:
Slow image gallery.
Slow image zooming.
Read our full Samsung Xcover B2710 review to find out more.
Samsung B2700
The Samsung B2700 is a tough phone and slightly cheaper than the Xcover with almost the same specs.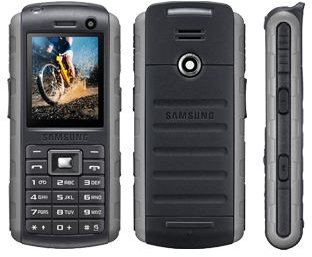 Featuring a 3G network that only supports one frequency (UMTS 2100) but supports a full suite of network frequencies on its 2G network so it's compatible anywhere in the world. Phone call quality deteriorates if the phone is dunked in water for too long.
Its screen is 1.9 inches at 176x220 pixels while its camera is a 2 MP snapper with a resolution of 1600x1200 pixels, videos are shot at CIF 15 FPS and are of terrible quality, but as a boost over the Xcover, this phone features a secondary video call camera in the front.
The phonebook has a generous capacity of 2,000 names, while the call log shows the last 50 dialed, missed and received numbers. Internal memory is capped at 29MB but an 8GB card is supported so no worries storage wise. Polyphonic ringtones are supported as are MP3 ringtones and of course there is radio with RDS and FM recording. The phone feels nice and smooth to use, and everything is well organized and in logical order. The phone has an IP54 standard certificate which means it's water, dust and mud resistant.
The usual features such as flashlight, digital compass, Bluetooth, Java, stopwatch, pedometer and organizer are all there plus there is also a handy altimeter. Ultimately this phone is simply a cheaper alternative to the Xcover with lower, but similar, specs, so if someone is in a hurry or is low on cash but does not want a rock bottom tough Samsung phone specs wise then the Samsung B2700 is a good alternative.
Pros:
Alitmeter.
microSD card.
Secondary video conferencing camera.
Full GSM frequencies supported.
Cons:
3G supports only one frequency.
Terrible video quality.
References