Read a Review of Samsung Profile SCH-R580: The Entry-Level Messaging Phone
The Samsung Profile SCH-R580 is a decent looking, entry-level messaging phone from the portfolio of U.S. Cellular. This affordable mobile device is especially created for cell phone customers on a tight budget. The Samsung Profile is bestowed with all the features needed to meet the requirements of social networking fans, such as instant messaging, and is closely related to Sprint's Samsung Restore and the Samsung Messenger III from the house of Metro PC.
Design (4 out of 5)
The slim, sleek and lightweight Samsung Profile SCH-R580 measures 2.1x4.6x0.6 inches (width x height x thickness) in dimension and weighs only 3.7 ounces. Although the Samsung's Profile is not technically too good, it is equipped with a 2.4-inch QVGA display with a resolution of 320x240 pixels and smart navigation. The phone further features two soft keys, Talk and End buttons, Clear button and a speakerphone shortcut. In the center is placed a four-way directional pad with a Select button in the middle. The SCH-R580 flaunts a full-featured QWERTY slide-out spacious keyboard with scaled-edge dial pad and wider buttons.
The Profile has a smooth, bare chassis with a camera trigger, micro-USB charging port, 3.5-mm headset jack, volume rocker and a 2 megapixel camera, along with a self-portrait mirror sitting on the spines. The phone is designed to accept flash memory of up to 16GB and you just need to remove the back cover of the device to get to the microSD card slot.
The Profile has a 4-row sliding keyboard following the curvature of the phone. The buttons are dome shaped and slightly raised from the surface to avoid mistyping. The soft key functions of the landscape mode are controlled by two oblong-shaped buttons placed right beneath the screen.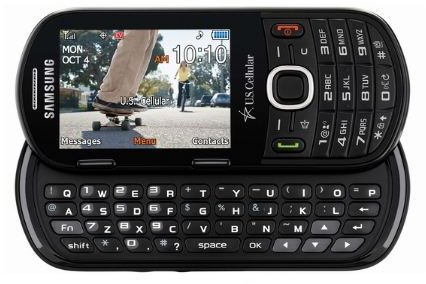 User Interface (4 out of 5)
The Samsung Profile SCH-R580 comes with a simple and easy-to-operate user interface. The Profile features the familiar One-Click user interface of Sprint with a slide-out QWERTY keypad. However, the navigation is not up to a satisfactory level and might feel a bit uncomfortable at times.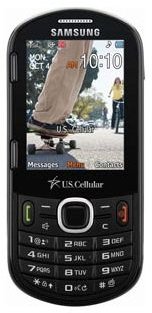 Features (4 out of 5)
The Samsung Profile SCH-R580 mobile phone features an address book of 1,000 entries and room in each entry to hold multiple phone numbers, caller group, email address and a custom photo. You can choose from a database of 22 polyphonic ringtones along with a silent mode too. You can further download ringtones and ringback tones from the online Tone Room store of U.S. Cellular. Like any other entry-level messaging phone, the Profile also contains some of the basic essentials such as an alarm clock, a unit converter, a world clock, a tip calculator, a memo pad and a calculator supporting 3G EV-DO connectivity, Bluetooth, voice commands and speakerphone.
As you all know that texting is the main attraction of a messaging phone, the Samsung Profile also features picture and video messaging. The phone also contains some of the social networking features along with shortcuts to uploading of videos, photos and status updates to Myspace, Twitter and Facebook. The handset further comes with the stock Samsung player as seen in other basic mobile phones and you can access the music player with a memory card. The onscreen controls include the most basic play, pause, forward and back options. You can also repeat, shuffle and create playlists in the music player. For a medium range mobile phone, the quality of the SCH-R580 was fine with no volume issues on medium range headphones. There are optional viewing modes on the phone to display lyrics or equalizer and album art.
The built-in camera of the Profile is not much different from other similar models from Samsung featuring four resolutions from 320x240 to 1600x1200 pixels. Other options of the camera are five white-balance presets, three shooting modes, a night mode, three quality settings, self-timer, shutter sounds and six color effects. The photo quality on the Profile is, however, not very good with washed-out colors and no tools for image editing. Camcorder settings are also on the average side with slightly pixelated playback. The Samsung SCH-R580 has an internal memory of 100MB that can be expanded with up to 16GB of flash memory. You can further load your Samsung Profile cell phone with extra wallpapers, games and apps that are downloadable from U.S. Cellular's online store, the EasyEdge storefront.
Performance (4 out of 5)
The Samsung Profile SCH-R580 cell phone came out with a strong and loud call quality with clear and natural voices, when tested with the roaming network services of U.S. Cellular. However, there can be slight break-ups in between, but not frequently enough to cause much interruption. The speakerphone performance is also good and loud.
The rated battery life of the Profile is 6 hours of talking time and 12.5 days of standby time and the FCC radiation test results in a digital SAR of 1.0 watt per kilogram.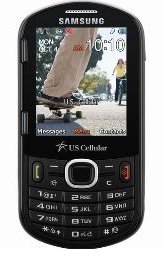 The Verdict (4 out of 5)
The Samsung Profile SCH-R580 bears a very familiar look with a wide and spacious keyboard, 2MP camera and further messaging options. Overall, it is a decent and affordable entry-level messaging cell phone for only $39.99 with a two-year service contract after getting a mail-in rebate of $50.
Reference
References:
Image Credits: