Top Ten Samsung Galaxy S Apps

The Samsung Galaxy S series of smartphones is quickly expanding, with the recent additions including the Mesmerize and the Continuum, and becoming a dominant force in the world of smart devices. These smartphones come packed with a ton of features and basic applications, but if you want to get the most out of your Galaxy S, you'll need to get onto the Android Market and get some applications for your phone. There are thousands of useful Samsung Galaxy S apps in the marketplace, so it can be difficult to find the right ones for you. To help you out, I've put together this list of the ten best applications available for your Galaxy S device. No matter what your needs or desires are, you are likely to find at least one of these apps helpful or interesting.
If you want to download any of these Samsung Galaxy S apps, you can search for the name on the Android Market, or you can follow the provided link which will give you a QR code that you can scan to access the app on the Market.
10. Root Explorer
Root Explorer is a no-nonsense application that opens up the file system on a Galaxy S device. Root Explorer includes a SQLite database viewer, text editor, APK binary XML viewer and more. If you need quick and simple access to your file system, this application is the answer. It should be noted that you will need to root your Galaxy S before you can use this application.
9. 3G Watchdog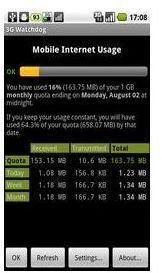 If you have unlimited data on your Galaxy S smartphone, you can skip this application, but for anyone who has a data cap, 3G Watchdog can be a lifesaver. 3G Watchdog is a free application that will record all of your data usage and give you instant updates on how much you have used. The application will let you set your plan start and end points, and it will tell you how much data usage you have for your billing period. For those who download a ton of things this is one of those must-have Samsung Galaxy S apps.
8. Lookout Mobile Security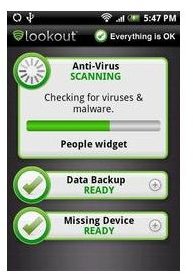 Lookout Mobile Security is a free comprehensive security application for your Galaxy S smartphone. The security application will scan every program that you download or install, to check for malware and viruses. The security software also lets you backup your contacts online, so you don't lose them if you lose or break the device. Finally, the application will locate your phone on a map, as long as the phone is on, in case you lose it, and can also make the device ring, to help you locate it. There is also a premium version, which costs $2.99 a month, and can lock and wipe your device remotely, along with backing up your photos and call logs.
See Lookout Mobile Security here.
7. Adobe Photoshop Express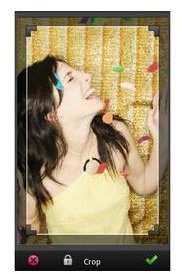 Adobe Photoshop Express makes this list of the best Samsung Galaxy S applications because of the excellence of its two main functions. First, Adobe Photoshop Express will let you edit your pictures right on your Galaxy S device. You can crop, rotate, add soft focus, add effects and color correct, all by using nothing but your finger and your smartphone. Second, this application lets you upload and store your photos online, and can even be set to automatically backup new photos. Not too shabby for a free application.
See the Adobe Photoshop Express app here.
6. Barcode Scanner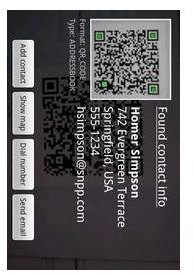 The Barcode Scanner application turns your Galaxy S device into a scanner capable of reading both barcodes and QR codes. You can use it to scan barcodes on products, and then cross-reference the quoted price with other prices for that same barcode in the database. The application can also read URLs and contact information from the square QR codes, and can even create and display QR codes containing your information on the screen, so other users can scan the code with their phones. As prevalent as these QR codes are becoming, this application is looking more and more like a must-have.
See the Barcode Scanner application here.
5.Skyfire 3.0 with Facebook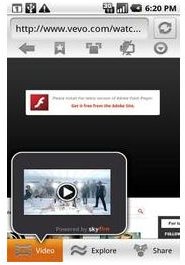 The stock web browsers on Android devices, like the Galaxy S phones, keep getting better and better, but they are still behind Skyfire when it comes to features and usability. The browser includes tabbed browsing, tremendous performance in loading full desktop webpages, and finger-friendly controls. One you start browsing with Skyfire, you'll never go back to a basic browser again. Skyfire 3.0 offers even more as it fully integrates with Facebook, including a fireplace feed reader which lists the links from your Facebook feed. The browser even includes Flash support so you can watch movies and access games on the Internet.
See the Skyfire application here.
4. NYTimes for Android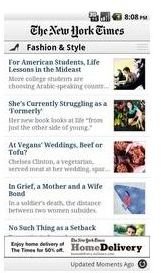 The New York Times is one of the most trusted and respected newspapers in the world, and now you can have access to its award-winning journalism for free on your Galaxy S device. The application not only gives you information formatted to be viewed on your screen, but will download stories in the background, so you can use the application even when you don't have a connection on your device. The NYTimes application also lets you send stories to other people through email or Facebook, all from within the application. If you want to stay updated on everything going on in the world, this free Samsung Galaxy S application is a must.
See the NYTimes for Android app here.
3. Angry Birds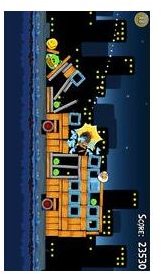 Angry Birds is one of the best-selling iPhone applications of all time, and it is now available for free on Android devices. The Android version does come with advertisements, which is a little annoying, but they don't really take away from this otherwise outstanding game. The premise to the game is simple, help some angry birds get revenge on some pigs by flinging the birds into structures, causing them to topple on the pigs. It's a fairly well-established genre of game, but Angry Birds really does it right, with good physics, funny moments and interesting abilities that make Angry Birds one very addictive game.
2. ESPN Score Center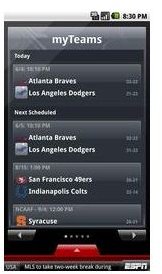 For legions of sports fans, keeping up with their team while on the move is one of the most important functions of a smartphone. While web access can get you the information you are looking for, it is often buried in complicated web pages that take forever to load. Enter ESPN Score Center. This Samsung Galaxy S application gives you up-to-the-minute scores for all major American sports, and a number of major International sports. Never again will you have to search the web for a mention of a sports score. ESPN Score Center is a free application, and is thus a must-have for any sports fan.
See the ESPN ScoreCenter app here.
1. Kindle for Android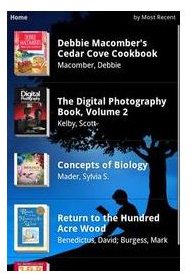 The battle for ereader superiority is on, and the Kindle's integrated applications help move it to the top of the heap. This free application lets you access all of your Kindle books that you downloaded or purchased through Amazon's website. Even if you don't have a Kindle, you can purchase books from Amazon and read them on your Galaxy S device. The best part is that these books are recorded on your account, so if you change smartphones in the future, you don't lose access to any of your purchases. On top of all of that, the Kindle application lets you search for specific text in your books, as well as highlighting sections and allowing you to add and edit notes. The Kindle application is so popular and useful, it is starting to show up as part of the basic package of applications, like on the Samsung Fascinate, so if your Galaxy S doesn't have this app, you should get it now.