Samsung Gem Preview - Samsung's Venture Coming Soon to Verizon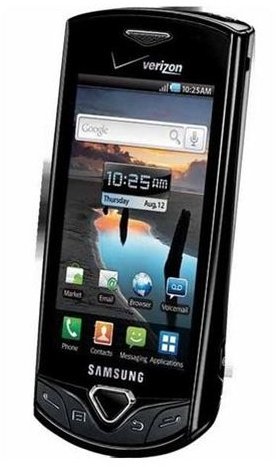 Samsung Gem Preview
After the successful launch of the Samsung Fascinate, aimed at the high end market, Verizon and Samsung hope to capture another market, the lower to mid-tier market with the Samsung Gem. The Samsung Gem is an Android powered smartphone, that's rumored to be less powerful than the Samsung Fascinate but supposedly has what it takes to meet the needs of the target audience, the lower to mid-tier customers looking for a smartphone. The Samsung Gem has an interesting design to match the name of the phone. The Samsung Gem has the familiar candy bar shape but at the bottom of the phone is a gem shaped button, which is rumored to be an optical trackpad. All specifications are based on speculation and are open to change at a moment's notice.
Rumored Samsung Gem Specifications
OS: Android 2.1 with TouchWiz UI 3.0
Processor: 624 MHz (Unknown company, most likely Qualcomm)
Display: 3.2 inch TFT capacitive touchscreen, 240 x 400 pixels
Camera: 3.2 Megapixel camera
Memory: External expandable microSD up to 16 GB
Connectivity: CDMA dual band (800/1900 MHz)
Data: 1xEV-DO rev.A
Bluetooth: Bluetooth 2.1, Stereo Bluetooth
GPS: GPS with A-GPS
Samsung Gem Expectations
Samsung laid down the gauntlet with the Samsung Galaxy S series of phones in the competitive U.S. market. The Samsung Gem may very well signal Samsung's ambition to dominate in every segment of the market. Originally rumored to be released in September, 2010, the Samsung Gem has yet to get an official launch date. Best Buy recently advertised that the Samsung Gem was 'coming soon' but had to retract the statement in error. Verizon has not commented on whether or not the Samsung Gem was coming soon but judging by Best Buy's retraction, one can only assume that the Samsung Gem will be released, most likely in Q4 of 2010.
It's possible that the Samsung Gem is waiting for the release of the Samsung Galaxy Tab, giving Verizon a device for every market. The Samsung Galaxy Tab, aiming for the high technology market, the Samsung Fascinate aiming for the high end smartphone consumers and the Samsung Gem aiming for the lower to mid-tier smartphone customers, which possibly includes the teen (ages 13 – 18) market.
There's always a bit of worry that a phone may be cancelled. With Verizon's lackluster results from the Microsoft Kin, they may feel that the market isn't ready for a phone such as the Samsung Gem. Their competitor, AT&T has already possibly axed the Motorola Flipout, which the Samsung Gem would most likely have competed against. However, with Samsung's track record, and their continual push of the Samsung Galaxy series of phones and devices, including the Samsung Galaxy Tab, Verizon will most likely take on the Samsung Gem and offer a trifecta of powerful Android powered devices.