Ten Most Popular Samsung Cell Phones Round Up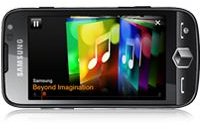 The Samsung Omnia II is a worthy successor to the original Omnia and also possibly one of the best Windows Mobile phones released in the market. It boasts of a large, spacious, sharp and high-resolution AMOLED touch screen which is just about perfect for the nice looking Samsung TouchWiz 2.0 UI. This UI also provides users with several customization options to fully personalize their Omnia II smartphone. The Samsung Omnia II also features Wi-Fi, Bluetooth, 3G, GPS and Windows Mobile 6.1 OS. The only issue that you might have with this phone is its bulky profile. Other than that, the Samsung Omnia II pretty much delivers what it promises to do.
Samsung Innov8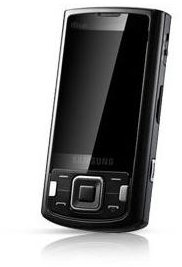 With an 8MP camera, the Samsung Innov8 put other smartphones to shame when it was released. It was like having a point-and-shoot camera with phone features. Aside from this, the Samsung Innov8 also brought some nice smartphone features including a 2.8-inch TFT LCD, Symbian OS 9.3, aGPS, media player and more. It's very seldom that we encounter a Symbian OS-powered smartphone that can possibly compete with the more advanced smartphone platforms in terms of features and usability.
Samsung Wave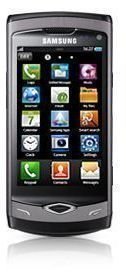 The Samsung Wave is Samsung's first smartphone to run on its own Bada OS. This, together with a 3.3-inch super AMOLED screen, 1 GHz processor, slim profile, and a very responsive touchscreen feature makes it an attractive device. What's great about the Samsung Wave is that it gives you two home screens. The first home screen gives you live widgets while the second one contains the usual options you'd get from a Samsung smartphone. The Samsung Wave also features a 5 megapixel camera with some decent features including touch-to-focus controls, smile and blink detection, image stabilization and more. 3G, EDGE, GPRS and Wi-Fi connectivity sum up the Samsung Wave's connectivity features, enough to make you stay connected with your social networking friends.
Read our full review of the Samsung Wave.
Samsung Corby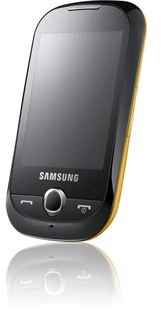 Many of you might raise your eyebrows and cringe about the fact that we're including this affordable and mass-oriented Samsung cell phone - the Corby. Well, hear us out first. The Corby is Samsung's youth-oriented offering and considering the aims Samsung has for the Corby it has done quite well. The Samsung Corby is a very useful and functional phone that will appeal to the younger crowd. It's also a fresh take on the usual consumer phone market and Samsung has tried to introduce touchscreen functionality to this phone category. And to reiterate what I just said, Samsung has achieved all these objectives with the Samsung Corby. It's a great phone for youngsters who can't get enough of social networking. It's a great entry-level touchscreen phone as well for the mature smartphone user.
Samsung Pixon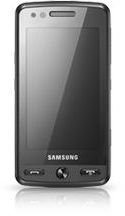 The Samsung Pixon is another Samsung take on the touchscreen smartphone market. This is a pre-Android Samsung smartphone so don't expect the same interface as current Samsung Android phones. Here's another camera-centric smartphone banking on its high 8MP camera feature to entice users. Its touchscreen feature is decently responsive and will not disappoint you most of the time. Design-wise though, the Samsung Pixon is clinging to the ugly side. It looks masculine with solid edges and the black design is not really that appealing. But then if you prefer a rugged and sturdy look, the Samsung Pixon is a good choice.
Read our full review of the Samsung Pixon.
Samsung Galaxy S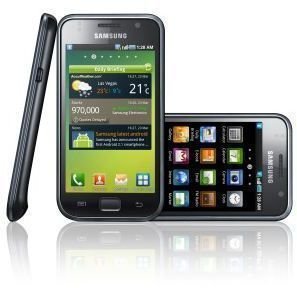 Now, it's time to look at the Samsung Android phones and see how far Samsung has already gone when it comes to developing great smartphones. First on our list is the well-loved and well-praised Samsung Galaxy S. Many have hailed this phone as an iPhone 4 competitor, and a solid competitor it is. Overflowing with advanced features and specs, it really is great, which made me think that if it were made by Apple, it would be as successful as the iPhone. But then it is from Samsung, and many would not be convinced that this smartphone is on a par with the iPhone, if not even better.
The Samsung Galaxy S runs on Android OS with Samsung's very own Touch Wiz UI running on top. So, you basically have two home screen options. Whichever you use, you get the same vibrant display on the phone's 4-inch screen. The phone also features HD video recording, a fast processor, great audio quality and a slim form factor. Despite the slim form factor though, the phone does not sport the same classic and industrial design of the iPhone. But if you don't mind this minor flaw, the Samsung Galaxy S is a great smartphone indeed.
Read our full review of the Samsung Galaxy S.
Samsung Epic 4G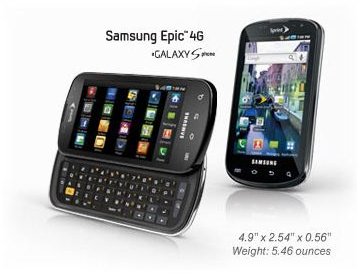 Also known as the Samsung Galaxy S Pro (on Sprint), this CDMA phone is already gathering some hype and buzz pending its release this month. Like the other Samsung smartphones in the Galaxy S series, the Samsung EPIC 4G will sport a 4-inch Super AMOLED screen, Android OS, TouchWiz 3.0 user interface, accelerometer, touch sensitive controls, proximity sensors and Swype text input. Aside from touchscreen input, the phone also features a slide-out QWERTY keyboard. Most importantly, this smartphone supports Sprint's 4G network.
Check out our Samsung Epic 4G preview.
Samsung Vibrant
To be released by T-Mobile USA, we have to say that the Samsung Vibrant is possibly the best looking among the many Samsung Galaxy S series phones. It sports a slim profile with rounded edges that will remind you of the iPhone. Feature-wise, the Samsung Vibrant has much to boast about. It has a large 4-inch super AMOLED screen, 16GB of internal memory, Android 2.1 OS, multiple input methods including touch input, standard Android keyboard and the standard Samsung keyboard. The touchscreen feature of this phone is also worthy of note as it is responsive and accurate. The phone's accelerometer features also instantly rotate the screen from portrait to landscape. Samsung may have possibly built a worthy opponent of the iPhone 4 in the Samsung Vibrant smartphone for T-Mobile.
Read our full review of the Samsung Vibrant.
Samsung Captivate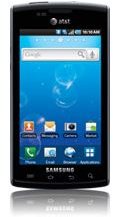 The Samsung Captivate is another smartphone in the plethora of Samsung Galaxy Series smartphones. This time around, the Samsung Captivate will be released through AT&T which is very much in need of a good Android phone. Fortunately, the Samsung Captivate is probably what AT&T customers have been waiting for so long, especially those who were disappointed with the iPhone 4. With its super AMOLED touch screen, the Samsung Captivate can very well compete with the iPhone 4's retina display. It is also packed with a 1GHz Hummingbird CPU as well as a slew of decent smartphone features including - Android 2.1 OS, touch sensor, aGPS and more. When it comes to design though, the Samsung Captivate is a little bit on the off-side and may not be liked by many smartphone users. Nonetheless, it is still a great Android phone and deserves a place in the smartphone market.
Samsung I7500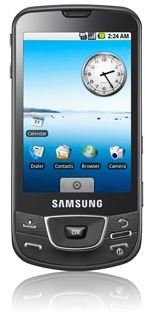 Before we end this list of top Samsung Android phones, it's just proper to include Samsung's first ever take on the Android market - the Samsung I7500 aka Samsung Galaxy. When it was launched by Samsung, it was a cutting-edge smartphone, back then boasting of a 3.2 AMOLED full touch screen and 3G and Wi-Fi connectivity. The phone also boasts a 5MP camera, 40GB internal memory and external card support. Unfortunately, the Samsung I7500 didn't get much leverage when it was released in the European market, hence the international release was not successful.