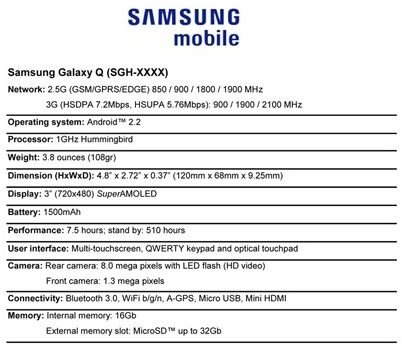 Samsung is on a roll these days. They have been delivering hit after hit. Their newest release, the Samsung Galaxy S is a bestselling Android smartphone and has received really good reviews. Together with the Motorola Droid X, it is one of the top Android smartphones in existence today. The older Samsung Galaxy Spica i5700 has also been quite a hit among Android enthusiasts on a budget. Even the new Samsung Wave has seen quite a good response and is one of the best budget smartphones. Now rumors suggest that Samsung is working on a QWERTY smartphone called the Galaxy Q.
All the details about the Galaxy Q haven't been revealed yet, but I will post whatever we know so far.
Here's the image of the leaked specification sheet for the Samsung Galaxy Q.
Design
The Samsung Galaxy Q will have a hardware QWERTY keypad and is a very compact device. It is slimmer and shorter than the Samsung Galaxy S but is a bit wider, which makes me wonder if it will be a candybar phone instead of a slider.
It has a weight of 108 gms and sports a Super AMOLED capacitive touchscreen display with a resolution of 480 x 720 pixels. The display size is 3 inches diagonally and supports up to 16 M colors.
It will have an optical trackpad and an accelerometer for auto rotation of the UI.
Features
It will have a lot of nice features, just what you would expect from a new Android phone by Samsung.
It will have a 1 GHz Hummingbird processor and should come with about 512 MB RAM going by the current trend. It has 16 GB internal storage and supports microSD cards up to 32 GB. It will also have an 8 MP camera with an image capture resolution of 3264 x 2448 pixels. The camera will come with autofocus and LED flash and will support 720p video recording at 30 FPS. It will also have a secondary 1.3 MP camera for video calls.
It will also have all the usual connectivity options: GPRS, EDGE, 3G HSDPA, Wi-Fi, Bluetooth 3.0 with A2DP etc.
On the OS side, it will run the new Android OS 2.2 Froyo with the TouchWiz UI. The Galaxy S will also receive the Froyo treatment soon.
It also has a stereo FM radio with RDS and a GPS transceiver with A-GPS. On the multimedia side, it will have HDMI out and will support HD video playback.
It has a 1500 mAh battery, the same as the one in the Samsung Galaxy S.
It is expected to launch in early 2011. More details will be updated as soon as they are released.