Preview of Samsung Galaxy 5 I5500: Budget Android Smartphone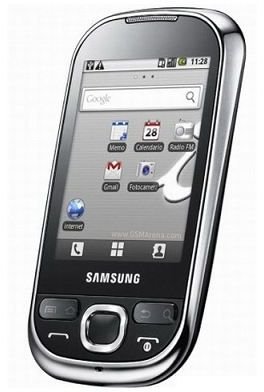 Samsung is continually rolling out new smartphones especially at the budget end of the smartphone market. After the Samsung Galaxy i7500, Galaxy Spica i5700 and the Samsung Galaxy i5800, it has now announced the Galaxy 5 i5500. The Galaxy 5 i5500 has nice hardware specifications and runs on Android 2.1 Eclair. It will compete with the likes of the HTC Tattoo, Sony Ericsson Xperia X10 Mini and others.
Design
The Samsung Galaxy 5 i5500 has a design which is very similar to the Corby range of phones. It is compact and light with dimensions of 108 x 56 x 12.3 mm and a weight of 102 gms. The build quality feels good and sturdy, despite being plastic.
It has a 2.8 inch TFT capacitive touchscreen display with a resolution of 240 x 320 pixels and 256K colors. The display is a bit small compared to the recent Android releases which have 4 inch displays, but the display quality is good and the capacitive touchscreen is very responsive.
OS and Hardware
The Samsung Galaxy 5 i5500 runs Android 2.1 Eclair, when most of its target competition runs on Android 1.5 / 1.6. With the Galaxy Spica i5700 and the Galaxy i7500 being updated too, all the Samsung phones will now have Android 2.1. The higher end phones will also get an upgrade to Android 2.2. It has a 600 MHz processor and 170 MB internal memory.
The Galaxy 5 i5500 sports the TouchWiz 3.0 interface too which runs on top of Android. The Galaxy 5 i5500 has a number of homescreens and widgets and shortcuts on each one of them. The TouchWiz UI also displays icons in pages instead of a scrolling grid. The UI is visually very attractive and is nearing the HTC Sense UI in terms of form and function. Unlike the Xperia X10 Mini, the Samsung Galaxy 5 i5500 supports the QWERTY keypad in both landscape and portrait mode.
Multimedia
The Samsung Galaxy 5 i5500 comes with the standard audio player and video player apps on Android 2.1. It also has a 2 MP camera with no autofocus or flash which takes shots at a resolution of 1600 x 1200 pixels. The image capture quality is bad, especially when compared to the current breed of 5 MP+ camera phones.
Connectivity
The Samsung Galaxy 5 i5500 sports all the standard connectivity options - GPRS, EDGE, 3G HSDPA, Wi-Fi 802.11 b/g with DLNA, Bluetooth 2.1 with A2DP and a microUSB slot. It also has a stereo FM radio with RDS and a GPS transceiver with A-GPS.
It has a standard Li-ion 1200 mAh battery which has a rated talktime of around 8 hours.
It is a great deal considering the price and the fact that all its competitors basically suck.