Recommended Websites: Where Can You Download Free Ringtones for Samsung Mobiles?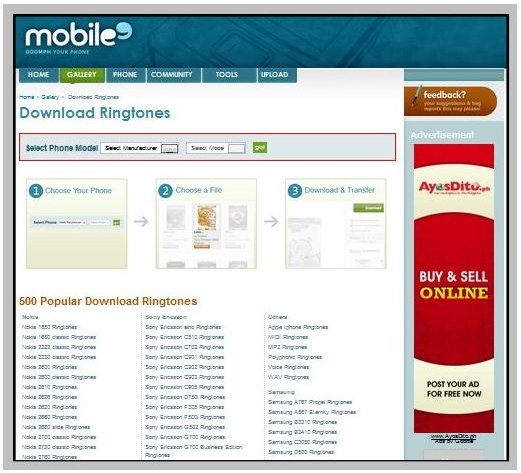 Samsung Free Ringtones
With mobile phone carriers often blocking downloads of free ringtones, users are only left with one option. They need to download ringtones to their computers and then transfer them to their phones. If you have a Samsung phone, here are 5 great sources for free ringtones Samsung phones can play.
Mobile9
One of the best sources of free mobile content in existence, Mobile9 offers a huge gallery of ringtones. This gallery is broken down into categories for each phone manufacturer and sub-categories for each phone model. They have an extensive selection of free ringtones for Samsung phones. The list of free ringtones Samsung phones can play can be filtered by age, popularity, category and featured status. You can also use tags to get filtered search results.
Mobile Toones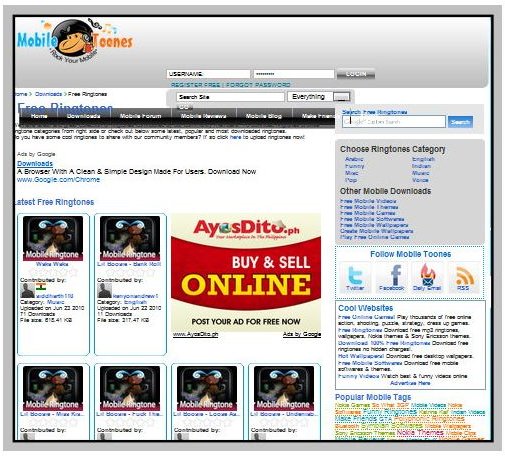 Mobile Toones has an extensive library of ringtones that are compatible with Samsung phones as well as other types of cell phones. Each ringtone can be bookmarked, shared and forwarded. Users can sign up for an account to use some of the site's features like file ratings. Mobile Toones has a WAP site that users can use to directly download content from the site to their mobile phones.
Free Ringtones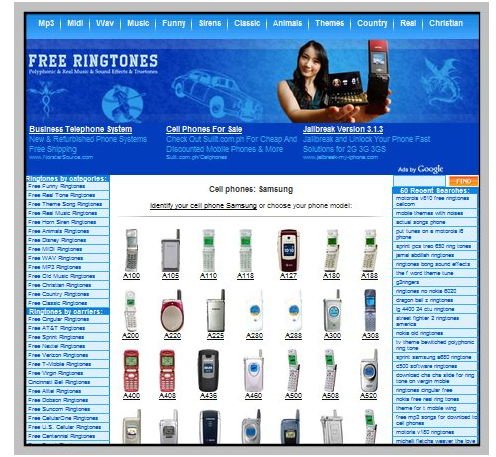 Free Ringtones lets you choose your phone model first before showing you a WAP link where you can view the available ringtones for your particular phone model. This is convenient for users because the site contains a multitude of ringtones and some of them may not be compatible with a particular user's phone. This saves users the time of filtering out the ringtones that are not compatible with their cell phone. Once given the WAP link, users will then have to access the WAP site to see the available ringtones compatible with their phone. Once they have chosen a ringtone, they can then download it directly over the air, straight to their phone.
Phonezoo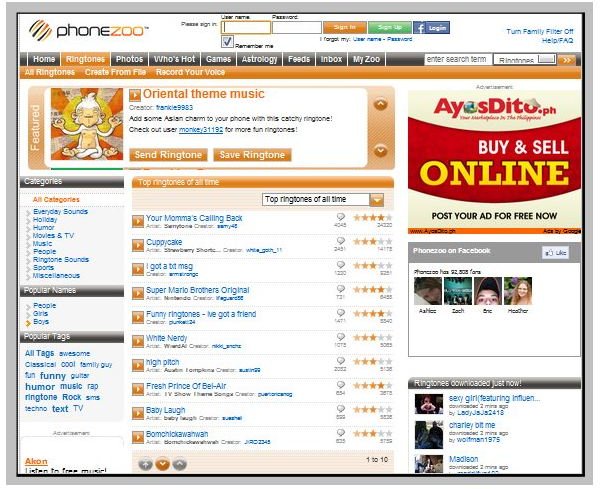 Phonezoo is a unique source of free ringtones. Users create accounts so they can create ringtones using existing MP3 files or their own voice recordings. After successfully creating a ringtone, the user can then send it to their mobile phone for free. Users can rate, comment on, share and download other users' ringtones. In essence, Phonezoo is a user-generated mobile content site. It's an innovative idea that should thrive for the foreseeable future because of the web's momentum into user-generated territory.
Mobango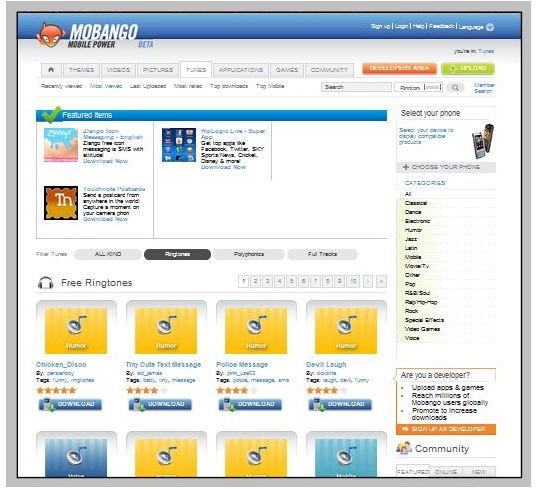 Mobango offers free ringtones Samsung phones can play. These ringtones are organized into categories like humor, voice, electronic, Latin and others. Aside from ringtones, polyphonic tones and full tracks are also available for download. Aside from the option of downloading the ringtone straight to your phone or your PC, you also get the option to embed it on a web page. Plus, you can share it through several services like Facebook, Twitter and MySpace.
Check also the Samsung Propel Free Games and the Best Games for Samsung Tocco LIte.