Samsung Conquer 4G Review: Can it Conquer the Entry-Level Market?

4G phones, being the new and wonderful phenomena that they are, are very expensive. Most unlocked 4G phones can easily cost somewhere between $200 (off contract $400) to $350 (off contract $650), this leaves users who want the latest and the greatest, but only have $100 to spare in a bit of a pickle.
So Sprint has decided to do something about this unforgivable oversight. By offering an Android phone with 4G capabilities. Please welcome the Samsung Conquer 4G. Stocked with the latest single core processor and Android 2.3.4 (Gingerbread), is this cost effective phone a good or a bad idea? Let's find out.
Design (4 out of 5)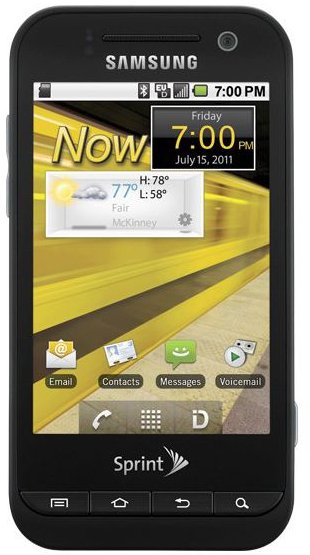 Cheap usually means badly built, not so in the case of the Samsung Conquer. The mostly plastic and rectangular phone feels solidly put together and made of a rather durable plastic, which is rather surprising as this is a phone made by Samsung, who are infamous for the quality of their plastic.
The 4.57 x 2.38 x 0.46 inches (116 x 60 x 12 mm) phone will fit your palm comfortably, and as it weighs 4.10 oz (116 g). It is one of the lighter and better made smartphones around, sort of feels like holding an iPhone really.
The front of the phone is dominated by a capacitive 3.5 inch HVGA screen with a resolution of 320 x 480 pixels and is capable of supporting 26 million colors. This is the first indication of a cost cutting measure, as all of its brethren have at least an AMOLED screen. Beneath the screen we have the four physical buttons of Settings, Home, Back and Search. They have a nice clicky feel and are easily thumbable. Above the screen you have an LED light, 1.3 MP camera, proximity and brightness sensor. The screen has one significant upside – it has some pretty good viewing angles in direct sunlight, you won't need to use your hand as a shade.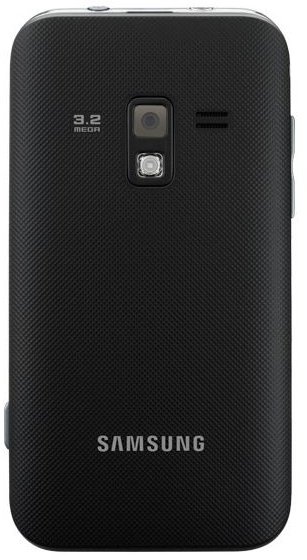 The phone's sides are sparsely populated, as the left side contains the volume rocker, while the right side holds the double-dip camera shutter key. Up on top you'll find the Power/Lock button and the 3.5 mm headphone jack. The bottom has the open microUSB port and the microSD card is under the battery cover. The back, of course, has the 3.2 MP camera, flash and loudspeaker.
User Interface (4 out of 5)
The HVGA does takes it toll, if you're used to sharper and brighter displays, you'll find the screen cringeworthy. The screen seems as if it is trying to hide a slight presence of screen noise, icons appear slightly pixelated and there is a feather light grainy appearance on the screen. It's not a deal breaker, but it is there nonetheless. Other than the screen, the Conquer is an absolute pleasure to use. The five available home-screens zoom and flip past without any lag, and the Gingerbread UI has been left mostly intact.
The only significant change is the special ID tab next to the dialer and app drawer icons. The ID tab takes you straight to the Sprint's ID service website, where you can download "themes" for your phone. These themes include several wallpapers, a selection of ringtones and of course the overall theme itself. These themes are not free, but they are an easy way to decorate your phone, though the ID service as of now contains only several dozen themes.
Of course you have unlimited entries for all your contacts, with video, audio and image tagging all available. Syncing all your contacts with your social networks is as easy as it can get, it even offers to look up names correlating to Facebook accounts. You can search your contacts via first or last names, store multiple numbers, emails and pretty much anything else you like.
Messaging on the 3.5 inch screen might feel a bit cramped, as the Android keyboard is nowhere as good as iOS's despite both being on screens that are the same size this time around, but the pre-installed Swype feature should smooth things over. Otherwise you have all the staples of MMS, SMS, Email, IM (instant messaging) and pretty much whatever else you can fancy.
Features (4 out of 5)
The Samsung Conquer 4G, as the name suggests, is a 4G capable device. You can expect download speeds of 9 MB/ts and upload speeds of 2 MB/ts. You also have the latest Bluetooth version 3.0, Wi-Fi and microUSB 2.0. Calls are handled via CDMA 800 and 1900, while if you end up needing to use 3G, EV-DO Rev.A is on hand to help you out.
The engine that runs the Conquer is a second generation single core 1GHz Qualcomm MSM8655 CPU, 512 MB of RAM and 1 GB of internal memory.
The phone's 3.2 MP camera is a bit of a letdown, while colors are reproduced faithfully and it has the ability to stay focused even at a distance, foliage shots always end up looking like badly done oil paintings. Shadows also tend to overpower pictures, a result of the rather weak flash. Even a slight shadow will appear pitch black and dim the rest of the photo.
The good news is, the problem can easily be solved with some tinkering in the settings, it seems the default settings are not the best settings after all. Speaking of settings, macro mode, manual exposure adjustment, a lot of scene modes, auto exposure, center weight, spot metering, 3x digital zoom and auto focus are all there. Shot modes include– multi-shots, night-shot, and geo-tagging. You also have access to various editing modes and finally online image uploading. Just adjust the auto-exposure meter and that should take care of most of the phone's picture quality based problem.
Snapping special moments is pretty much a breeze with the double-dip shutter key, press halfway for focus and then press all the way down to capture the picture.
Videos are shot at 30 FPS in VGA at a maximum resolution of 640 x 480, and at best they can be termed 'respectable". The frame rate drops and picks up randomly, while videos appear choppy but not completely awful. It's best to keep videos taken with the Conquer 4G on the Conquer 4G.
The music player is stock Android, and it's pretty good. You get the usual features such as playlists, auto-shuffle, genre, preset equalizer and many, many more. Other than stellar sound quality, the music player supports a huge library of music file formats. They include MP3, WAV, eAAC+, M4V, OGG, AMR, AWB and MIDI.
The video player, on the other hand, is the only video player I know of that will only play one half of the DIVX/XVID coin, as in it will play MP4, 3GP, WMV and XVID encoded videos, but not DIVX videos. Videos otherwise play smoothly without flaw at a maximum resolution of 640 x 480.
When it comes to the list of available features, there are few un-installable apps courtesy of Sprint, such as the Sprint Zone, Mobile Wallet and of course ID, while ThinkFree Office, My Files, Adobe Flash and Qik are un-installable but handy to have nonetheless. Otherwise you have the norms of Gtalk, Gmail, Google Maps, YouTube, GPS, JAVA, an organizer, Picasa integration and a lot more besides.
Performance (5 out of 5)
Now we test the phone's true mettle, as we review the Conquers's call quality, browsing capabilities and battery life.
Well, good call quality is a hard thing to find these days in mobile phones, but fortunately you'll find it here. Calls sound deliciously crisp and clear, with the slightest hint of static if you're in an area with low coverage. The loudspeaker continues the good work, with calls loud and clear, it won't do much good in a crowded hall or mall, but in a park, or in a cab you'll have no trouble hearing calls on the loudspeaker.
The HTML web browser, with its perfect pinch-to-zoom functionality and Flash 10.2, is another top scorer. Full desktop pages load in about 12 seconds on 4G, while the average of 15-20 seconds applies in the case of 3G speeds. However, if you're playing a Flash game and you exit the web browser suddenly, this produces a significant lag for about 3 seconds in the main menu or homepage.
The Li-Ion 1500 mAh battery proves to be an adequate provider of power. You get six and a half hours of talk time, up to 5 hours of full blown entertainment, and about 10 hours of juice on average use. So all in all a satisfactory performance for an Android device in the battery department.
Verdict (4 out of 5)
The Samsung Conquer has not scored beneath "Good" in any section, need I say more? If you want a 4G device and have $100 to spare, the Samsung Conquer 4G is a very good phone to pocket. It has a few faults, the camera is not the best, it lacks a top of the line screen, the camera flash is weak, it has a single core processor instead of a dual core one, though whether these are big problems or not depends on personal preference.
Otherwise, if you can't afford the best, then rest assured the Conquer 4G isn't too far behind the pack.
References