Samsung Convoy 2 Review: Rugged Phone at Verizon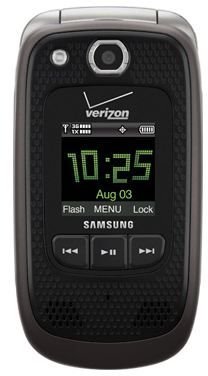 Rugged phones are a dime a dozen out there, most of them from Verizon, so it's time that the weak masquerading as the strong get separated from the truly rugged. Today we endeavor to do just that with our review of the Samsung Convoy 2 from Verizon.
With a price tag of $79.99 with a two year contract and a $50 mail-in rebate, is this phone an improvement on its predecessor? Or just another semi-rugged phone playing the doppelganger as the real deal? Put on your working gloves and helmets, as we find out.
Design (4 out of 5)

The Samsung Convoy 2 is a virtual clone of its predecessor, the Samsung Convoy. With the exception of the missing sturdy rubber sides and overall casing. That's right, the Convoy 2 is made entirely out of durable plastic. The phone weighs a sturdy, but not very heavy 3.90 oz (111 g), with some pretty chunky dimensions of 3.89 x 2.01 x 0.85 (99 x 51 x 22 mm). The phone is made of very hard plastic, but the lack of rubberized sidings does make for a less waterproof phone overall.
Speaking of resisting the elements, the Convoy 2 is fully 810F compliant and proofed against dust, shock, vibration, and cold temperatures. While being resistant to water, ice, fog, sludge/mud and fire. Keep in mind the water resistance of this phone is minimal, dunking it in a bucket of water for over 15 minutes will kill it, but if you need to wash it under a tap then it's good to go.
The phone's front consists of a 1.2 inch CSTN screen capable of supporting 65,000 colors. The screen can be used as a shortcut to messages, contacts, the flash (substitutes as a torch) and the music player. The dedicated music buttons are big and chunky, and serve as navigational shortcuts in the menu when the phone is shut. Above the mini-screen is the camera lens and of course the flash.
Flip open the phone and we have a 2.2 inch QVGA screen with a resolution of 240 x 320 pixels which is capable of supporting 262,000 colors. The keypad is made up of a semi-round navigational pad, two soft keys, a flash light and loudspeaker shortcut to the right and camera and settings shortcut to the left. Beneath the shortcuts keys are the Send and End keys, and between those two keys is the Clear key. The dial pad sports some very large and comfortable keys, with very bright backlighting and a soft but sturdy press. In short – perfect for gloves.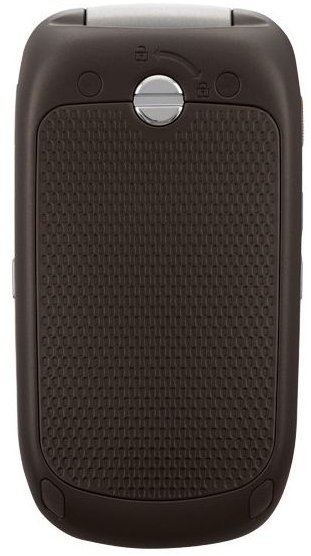 The left spine holds the red PTT button, which can be customized as a quick launch button, the volume rocker and microSD card slot. The right spine has the power button, the 2.5 mm headphone jack, another flashlight shortcut and the microUSB port. Why does Samsung insist on the outdated 2.5 mm headphone jack on a rugged phone? It's complete folly.
The back, of course, has the screw based mechanism, you can easily open it with your fingernail or a coin. The diamond textured back provides for a very steady and sturdy grip.
User Interface (4 out of 5)
The 2.2 inch screen is pretty bright, and reproduces colors wonderfully. The grid based menu looks wonderfully bright and crisp, and moves like a dream. You get nine options in the main menu, which are – contacts, messages, call register, the browser, media center, mail, shopping, compass and finally settings.
The phonebook is well stocked at over 1,000 contacts. Each contact is capable of holding multiple phone numbers, three email addresses, an IM nickname and a single photo ID. Caller groups are present and you can select from over 21 ringtones (attachable to individual contacts). There is also a silent mode and the ability to customize message tones as well.
Messaging is well stocked, with PTT at an extra $5 a month, SMS, MMS and email. Though you can only use the POP3 functionality with a pre-installed Verizon app and your own client.
Features (3 out of 5)
The Samsung Convoy 2 comes with an average set of connective options, and an unusable EVDO rev.A. Apart from the two 2G CDMA network frequencies of 800 and 1900, you get Bluetooth 2.1 and a microUSB port. The EVDO is for PTT calls, no 3G here people.
Or Wi-Fi, but no one was really expecting there to be any Wi-Fi. The phone's internal memory is a paltry 96 MB, but with a microSD card slot that can accommodate up to 32 GBs of extra memory, so 96 MB shouldn't be an issue.
The phone's 3.2 MP camera is pretty good, easily on par with the Samsung Monte's 3.2 MP shooter. You can shoot in four resolutions, from 3.2 MP all the way down to VGA. You get five preset balances, four flash settings and a zoom feature. There is no auto focus, and the camera needs to be held very still for a shot to turn out well. But pictures do come out brightly and with good color representation, details are sharp, except on fuzzy objects. Nighttime shots are also pretty good, thanks to the powerful flash.
The camcorder, on the other hand, seems to be another story. The 15 FPS (Frames per second) VGA shooter produces barely discernible videos. At best, use the pre-set 56 seconds recording limit to send a video MMS.
The music player is excellent, sound wise. The 2.5 mm headphone jack is a real pain to find earphones for, at least where I live. But on loudspeaker or through a Bluetooth headset, sounds filter through perfectly loud and crisp, with a slightly screechy effect on full volume. You can only play MP3s unfortunately, so not much in the way of format support it seems.
Playing videos, on the other hand, is a pretty much average experience. Make sure your videos are encoded in either MP4 or 3GP formats at a maximum resolution of 320 x 240 pixels, and everything should work out fine.
The phone has a good selection of additional features. The Verizon based apps are as follows – VZ Navigator, VCast Video and Storefront for purchasing various JAVA apps, though you can get tons of free JAVA apps as well. Otherwise you get proprietary features such as Samsung's back up feature and emergency numbers, Bing and Uno. The staples of a calendar, calculator, alarm clock, stop watch, world clock and memo pad are available as well.
Performance (4 out of 5)
Now we come to the main show, we're about to see if the phone has what it takes to survive our call quality, web browsing and battery life checks.
Call quality ranges from average to good, never does it sway towards excellent. Calls sound natural and very loud, with hints of cut outs just before someone says a new word. The loudspeaker is very loud indeed, you won't have trouble listening to conversations in a crowded mall or on a construction site. It's a pity the call quality negates the loudspeaker's excellently loud volume, callers sound wooden and there is a second of lag before they say the next word. So for example– if someone says "hello" you'll hear "ello". But the call quality is satisfactory. As long as you're not on the loudspeaker.
The browser, a pre-installed Opera Mini 5, is of course excellent. Pages load quickly, you have multiple tabs at your disposal, the ability to download files and view pictures. It displays HTML and WAP pages in about 30 to 40 seconds, and sometimes up to a minute.
The Li-Ion 1300 mAh battery can easily last for nine hours on medium use, while staying alive for 5 hours on heavy use. The phone will easily last the day on average use while providing over six hours of continuous talk time.
Verdict (4 out of 5)
The Samsung Convoy 2 is a marked improvement upon its predecessor in terms of features, while being a less rugged phone than the original Convoy. If you want a phone that will do all the basics, and can be washed once in a while, and you still want it lying around several years from now, the Samsung Convoy 2 is a fair deal. Go ahead and buy it.
If you want something truly rugged, the Casio G'zone Ravine is a much better choice. If you want a rugged Android phone, then the Casio G'zOne Commando should be your port of call.
References