Samsung Vitality Review: Budget Android Smartphone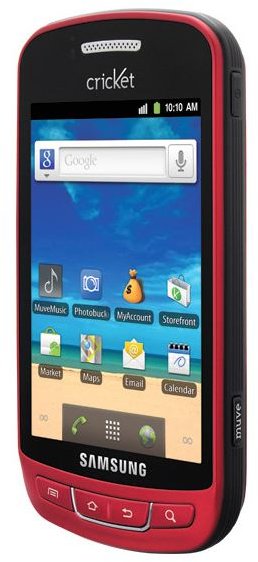 MetroPCS's Samsung Admire is pretty much a failure as a phone, bad call quality, slow 3G, stutter prone interface and cheap build quality all worked against it. Also the phone had very little to offer that similarly priced phones didn't do better.
Now Cricket has arrived on the scene, with a new but almost identical version of the phone up for sale, namely the Samsung Vitality. Has anything changed? Have any of the changes been for the better? Well the answer to the first question is yes, there have been some changes, but are they any good? Read on as we find out.
Design (3 out of 5)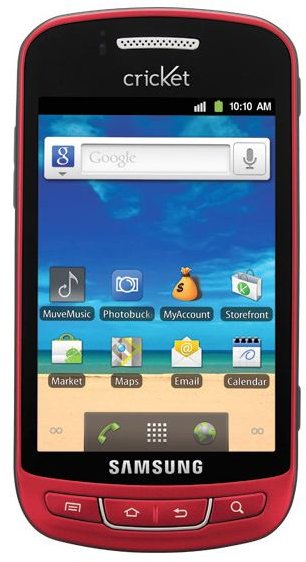 Well since this is the Samsung Admire with a new name and an added feature (more of that in the User Interface section), we have the same cheap and completely plastic build, the same dimensions of 4.56 x 2.38 x 0.46 inches (116 x 60 x 12 mm) and the same weight of 4.14 oz (117 g). The ribbed sides provide for a comfortably textured grip, and so does the diamond backed shaping. The phone is not sturdy by any stretch of the imagination, so be careful not to drop it.
On the left side you get the 3.5 mm headphone jack, volume rocker and microSD card slot, while the right side holds the Power/lock button and the proprietary MuveMusic button, which replaces the traditional camera shutter key. The bottom of the phone holds the open microUSB port and mic hole.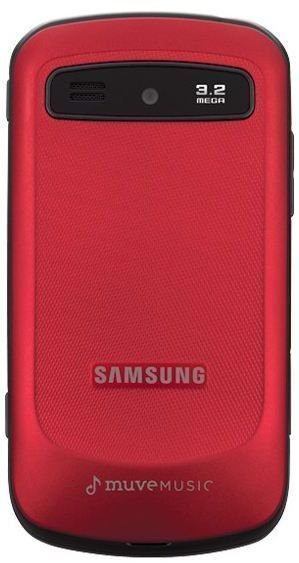 The front, of course, is dominated by a capacitive 3.5 inch HVGA screen. It has a resolution of 320 x 480 pixels and is capable of supporting 262,000 colors. The screen on the Vitality does seem better than the Admire's, colors are more life like and exuberant. A slight but noticeable improvement over the Admire's screen. Beneath the screen there are the physical buttons for Settings, Home, Back and Search, the lack of proper backlighting, a problem that persisted in the Samsung Admire is present here as well. But they have a very comfortable feel when clicked, and are easy to navigate by feel alone.
The back of course has nothing but the small 3.5 MP camera lens, the loudspeaker grill and the MuveMusic logo.
User Interface (3 out of 5)
The Vitality runs on the same stock Android version 2.3.4 (Gingerbread) as the Admire, but thankfully the jittery movement of the previous incarnation has been dealt with. The typical water-like smoothness that characterizes a smartphone is back in the Vitality, somehow making the name appropriate. Of course the occasional lag or freeze is still a problem, but less pronounced.
You get the usual five home screens, and you get to flick through them without fear of stutters or freezes, unlike the Admire. Fortunately, this time around you get nearly 200 MB of user memory for contacts, with space in each contact to add multiple phone numbers, an email address, a street address, company names, URLs, IM nicknames and finally notes. Unfortunately you can't sync your Facebook contacts automatically, you have to do it both manually and individually. Same idea applies to Twitter contacts. It's just much easier to keep your social contacts in their own respective folder and groups.
Again you're saddled with an adequate keyboard, with Swype enabled this time. You can either choose two separate keyboards for numbers and symbols, or just press the virtual shift key and the corresponding number or symbol, as the main keyboard shares symbols and numbers.
Email is fully catered for, with all the traditional email clients supported. However, this time around, you don't get a proprietary email account from Cricket by default, though this being an Android phone means you can set it up easily using the IMAP4/POP3 settings if you need to.
And now…I've been saving the best for last, allow me to introduce the Vitality's grand showpiece. The MuveMusic service, which occupies a completely different UI from Gingerbread.
MuveMusic User Interface (2 out of 5)
Now for an explanation concerning what MuveMusic is, as the name suggests, it's a music service. More accurately, it's a music rental service, that for $55 a month, along with unlimited calling, texting and data, allows you to download an unlimited number of songs from the MuveMusic service. But, not all is well in paradise. First of all, the phone comes with a proprietary 4 GB microSD card, this card cannot be removed, and worst of all, 3 GB of the card is locked onto Muve, meaning you only have 1 GB of space for your photos, apps and movies, or non Muve based music.
It gets worse. The "rental" part of Muve is no joke, miss a single payment, your library (the special microSD card can store 3,000 songs) of songs is lost, and there is no way of recovering them, because the inbuilt DRM (digital rights management) means you can only play the rented songs on the one particular Vitality that they were downloaded on. Absolutely no sharing is possible.
It gets even worse. The menu is somewhat confusing, and the Zune-ish social sharing options are not synced with your contacts, and sometimes the entire MuveMusic UI will arbitrarily crash on you, if you leave a lot of apps running in the background. Also you cannot download songs over Wi-Fi, only over your 3G connection.
It gets… a bit better now. You have access to Shazaam. Record tens seconds of any sound and it will pop up the correct song and artist. You also get to play around with MyDJ which mixes and matches songs for you and finally GetSocial, which allows you to share and connect with people you know on MuveMusic.
So, if you're willing to bite the apple, then MuveMusic is easy (relatively) to use. If you're keen on downloading cheap legal tracks, and are willing to lock yourself into only 1 GB of free memory for your personal stuff, then MuveMusic is perfect for you!
Features (3 out of 5)
The Samsung Vitality has a 2G EVDO network supporting the following frequencies; 800, 1700, 2100 and 1900. In stark contrast to the Admire, full 3G functionality has been restored. The EVDO rev.A speeds are relatively fast, you also get the staples of Wi-Fi, Bluetooth 3.0 and of course microUSB 2.0.
The phone runs on a single core 800 MHz Qualcomm MSM7630 processor, with an Adreno 200 GPU and 215 MB of RAM. The fully accessible internal memory is capped at 200 MB. The phone has a decent amount of bloatware, most of it third-party, and very little from Cricket. Other than MuveMusic, MyAccount and Storefront, you are left in peace.
Now for the 3.2 MP camera, which is a bit better then the Admire's. Pictures still look like they've been taken in the middle of a fog, but the strong overpowering presence of the color white has vastly diminished. While the color bleeding effect is light and barely noticeable. Pictures turn out relatively sharp, with a good amount of detail. The variety of modes is still the same, you get three shooting resolutions, 4x zoom, scene modes, spot metering, five white-balance settings, color effects and geo-location. No flash.
Videos turn out nicely as well, they appear stable and with much less pixelation then before. You can shoot videos at 24 FPS (frames per second) in either MP4 or 3GP formats.
The excellent musical file support for the excellent Android stock player once again makes an appearance. As a recap the phone can play MP3, WMV, AC+, OGG and many others.
The video player once again can only handle 3GP, MP4 and M4V formats, at a maximum resolution of 640 x 480. Though you can leave several apps running in the background this time – the video player can handle a good deal of stress.
As for pre-installed apps, you get – ThinkFree Office which offers limited document viewing and editing options. Google Books, GTalk, Google Maps with voice navigation, YouTube, Google Places and finally Google Latitude.
Performance (3 out of 5)
The last time we visited this section, it was pretty bad. The phone's MetroPCS version scored pretty badly on call quality, web browsing and battery life, is it any better on the Cricket version? We're about to find out.
We'll start with call quality, and straight up, the answer is no! The phone's previous shortcomings of bad call quality, constant fluxing of sound and static are now further compounded by low call volume. Particularly over the loud speaker, which requires the still silence of a coffin inside a grave to be of any practical use. Dracula would find the loudspeaker just to his liking, now that I think about it.
As for the web experience, apart from the inclusion of a jittery pinch-to-zoom (a feature missing from the MetroPCS version) function, features are still the same, which means no Flash. But webpages open up much faster now and the experience still remains averagely good as before, so it is overall a better browser than before. By a bit only.
Whatever was draining the Li-Ion 1600 mAh battery in the MetroPCS version is behaving itself better this time. The battery can easily last the whole day on average use, while heavy surfing and video watching will kill the battery life in about 7 hours. Overall it will last you the day without any issues. The talk time of 3 hours has not improved, oddly enough, I'm beginning to suspect that the talk time is somehow tied to the call quality.
Verdict (3 out of 5)
I cannot in good conscience recommend the MetroPCS Samsung Admire, but it seems Cricket is a different prospect, and I can say that the Samsung Vitality is not a bad phone, as long as you don't intend to make phone calls. Which defeats the point of having a mobile phone right? But if you can stomach the call quality, then you have an averagely good Android phone at $160 with a $55 monthly subscription fee for unlimited data, calls, texts and that god-awful MuveMusic service.
It's not bad, much better than before, but you can do much better is what I'm saying.
References