Best Samsung Galaxy S 2 Apps: Evernote, Google Maps, FourSquare and More!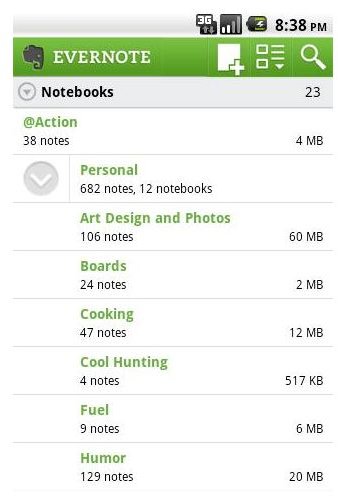 Evernote
Evernote for Android is an excellent cloud-based note-storing service that offers an amazing platform to file text, picture, video and multimedia notes into separate folders. Each folder that you create is stored on Evernote's server where everything is indexed using tags, titles or keywords. You can easily search and find what you are looking for on any platform that Evernote supports. It also allows you to modify existing notes.
Evernote is a free app that simplifies daily processes. With an excellent cloud-based note service and a clean interface, you have no reason to leave Evernote off your Samsung Galaxy S 2.
WhatsApp Messenger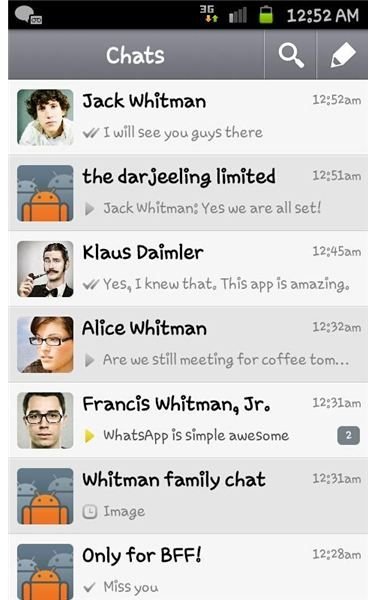 The WhatsApp Messenger allows you to chat with anyone who has a BlackBerry, an iPhone, or a Nokia phone right from your Android phone. In order to exchange text messages you just have to install the app on your mobile device. WhatsApp either uses 3G or Wi-Fi to send messages. This service is free for the first year and then you will have to pay a yearly subscription fee of $1.99.
The annual fee might be a turn off for some people as there are plenty of other apps in the Market that allow you to chat across different platforms for free. However, this app allows you to transfer files where most other messaging applications may not have this ability. Overall, it's a great app.
Slice It!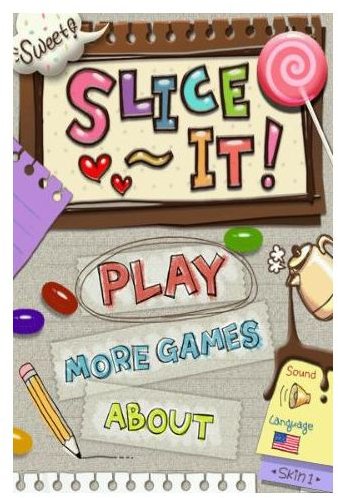 Slice It! is an ingenious puzzle game that presents you with a basic shape and your goal is to slice/divide it into the required number of equal pieces using a fixed number of moves. Every move consists of a swipe across the shape that marks where the slice will occur. Usually it gets difficult to precisely divide the shape via this method, so there's another easy multi-touch method that allows you to mark the slice using two fingers.
Apart from circles and squares, which can be evenly sliced, you are also presented with asymmetrical polygons that are impossible to divide into even pieces. The puzzle also has its share of obstacles like the red areas that cannot be sliced and mirrors that very tactfully mirror your slicing angle.
Overall, Slice It! is an amazing game that's hard to crack. That being said, it's a fresh concept that will surely prompt an obsession amongst those who are up for the challenge.
Google Maps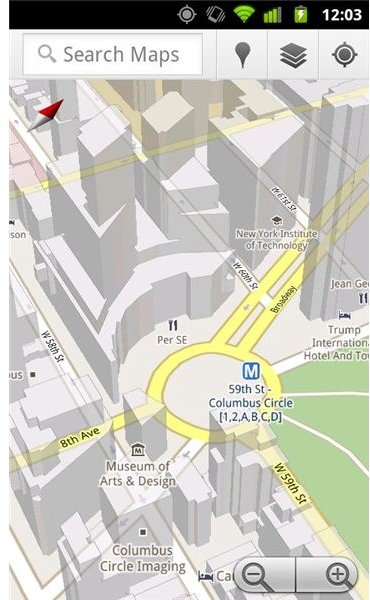 Google Maps now features 3D capabilities and offline access. Rather than downloading the flat, north up maps, Google Maps now makes use of vector graphics to dynamically draw maps. This permits tilting when you drag down with two fingers and rotation when you twist with two fingers. Along with pinch to zoom and compass mode, you can easily navigate across 3D maps.
Google Maps 5 also automatically starts caching areas on your Android device that you visit the most, allowing you to use these maps in areas without Internet connectivity. To learn more about this free app, check out our guide on Google Maps.
Foursquare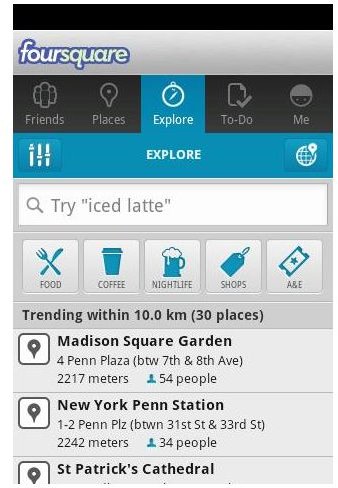 Foursquare is an easy to understand application that allows you to check-in to places and earn points and badges, all while stalking your friends! It even allows you to become the mayor of the venue, if you check-in more than anyone else. Some businesses like Starbucks even offer discounts for you being the mayor.
This Samsung Galaxy S 2 application uses your GPS location to find venues around you and if you check in to a venue that's very far away from your location, then no points are awarded. Hence, you cannot game the system. Although not really useful, it's an addictive app that you will love. You can download it for free from Android Market.
Pulse News Reader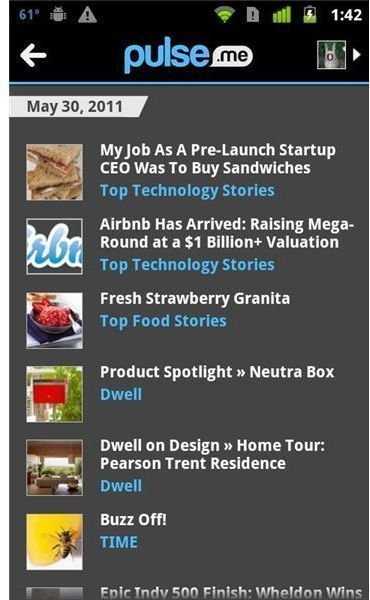 Pulse News Reader is a free Android app that takes RSS feeds and newsfeeds and displays them in a clear and accessible manner in the form of a colorful mosaic. The app syncs directly with your Google Reader account and allows you to read between your computer and your Android device, seamlessly. You can easily scroll through news articles and choose what you want to read. Pulse News offers featured feeds from Wall StreetJournal, NewYork Times, Business Week, Fortune Magazine, TechCrunch and others.
DoubleTwist AirSync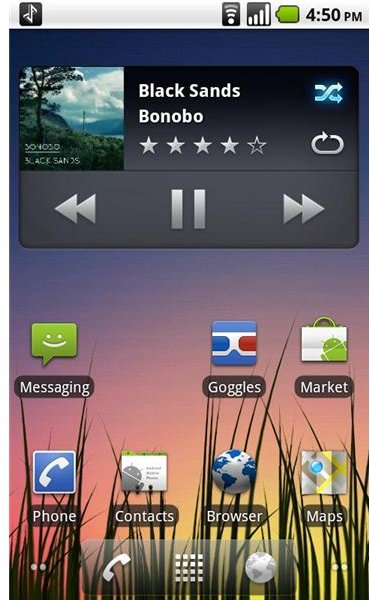 DoubleTwist AirSync wirelessly syncs songs from iTunes via your computer to your Samsung Galaxy S 2. The app also allows users to connect Android smartphones to media devices or computers over Wi-Fi.
AirSync is a paid extension to the doubleTwist service and probably one of the first Android applications that can take advantage of AirPlay like functions. The app streams media on an Android device and turns it into a remote control for all sorts of Internet connected televisions. It also has a Bump like feature that lets users share a video or song with one another by tapping Android devices together. Overall, DoubleTwist AirSync is one power packed service available in the Android Market for $4.99.
TweetDeck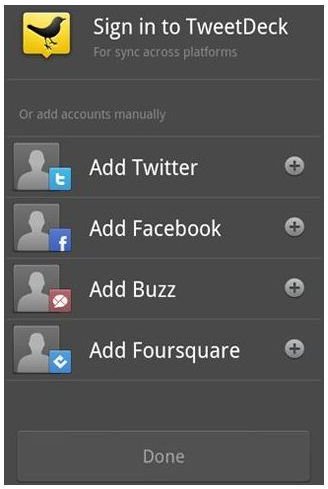 This is one of those Samsung Galaxy S 2 apps that will appeal to social network addicts. The TweetDeck Android app combines your Facebook, Twitter, Google Buzz and Foursquare accounts into one application. The app has a very clean interface that displays all of your tweets, data, updates, post, etc. for each account in separate columns on the main screen. If you want to deal with all of your social networking in a single, handy location then this is the app for you.
Google Goggles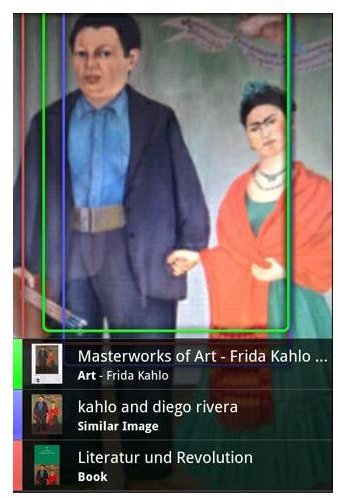 Google Goggles is a visual search app that uses a picture of an object instead of text to bring search results. Once you take a picture of the object from your Android device, the app tries to recognize the object and display relevant search results.
This impressive app, still in its infancy stages, is capable of recognizing DVDs, books, landmarks, artwork, logos, businesses, barcodes, contact information, products and even text. One of the best features of this app is its ability to translate the text from the pictures of text in a foreign language. This can really help save you from ending up in the wrong places in a foreign country. Though it's a cool app, it's limited in its scope right now and maybe a little ahead of its time.
SoundHound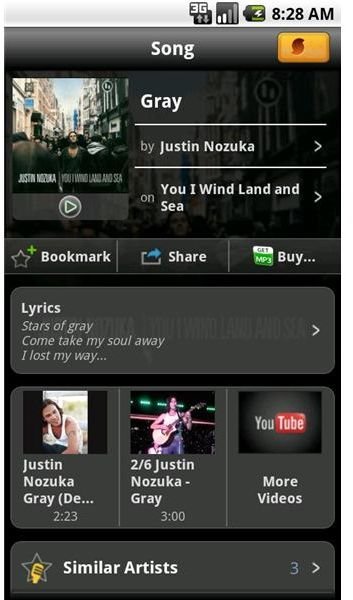 SoundHound is the world's fastest music recognition application that recognizes the name of the song playing from a speaker or you singing or humming in just 4 seconds. It identifies music by allowing the phone to listen to it. Once the song is identified and tagged, it provides a wealth of information about the song, artist, related songs, purchase options, lyrics and more. Overall, SoundHound is a WOW app that identifies music pretty accurately.
The free version of the app allows you up to 5 tags a month whereas the one time $4.99 paid version offers unlimited tagging. This app requires Android 1.5 and up and can be downloaded from the Android Market.
Know of any other excellent Samsung Galaxy S 2 apps? Post a comment and let us know.
References