Samsung Galaxy S 2 Versus All Comers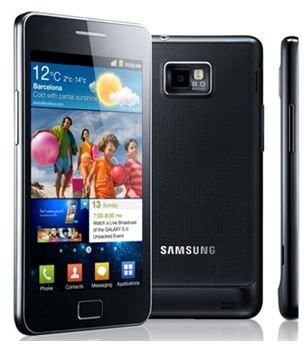 Samsung had a smash hit success with the Samsung Galaxy S which was arguably the most successful smartphone of 2010. It was inevitable there would be a follow up in the series and here it is in the shape of the Samsung Galaxy S 2. This is a seriously desirable device with a fantastic form and bountiful features. The question is – can any other smartphone compete?
Design
Virtually all modern smartphones feature a similar style nowadays. They have a candy bar design dominated by a large touch screen. Occasionally you'll get a slide out keyboard but it often adds bulk to the device and with a decent sized capacitive touch screen you don't really need one. The Galaxy S 2 is quite large at 4.93 x 2.6 x 0.93 inches (125.3 x 66.1 x 8.5 mm) and it weighs a surprisingly low 4.09 oz (116 g). It is larger than the original because the screen size is slightly bigger and it has a more squared off look instead of rounded corners. It is slimmer and lighter than the iPhone 4.
The S 2 is a gorgeous looking device in jet black and it looks quite angular and subtle. There are two touch sensitive buttons at the bottom of the screen, menu and back, and in the middle there is a square home button which is the only thing that interrupts the smooth face. The screen sits in a metallic casing which has a textured plastic panel sunk into the back. The volume controls are on the left, power/lock key on the right, and you'll find a 3.5mm headphone jack up top and the microUSB port on the bottom (there's an adaptor for HDMI out).
The closest competitors in terms of the design are the iPhone 4 and Sony Ericsson Xperia Arc, but the S 2 is lighter and slimmer than both.
Display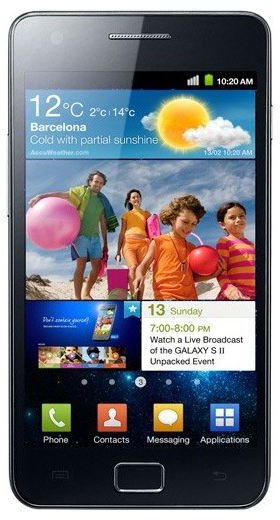 The Super AMOLED display of the original Galaxy S was the biggest competitor for the iPhone 4's retina display, but Samsung have gone one better here. The Galaxy S 2 has a Super AMOLED Plus display, which is 4.3 inches, can display 16 million colors and supports a resolution of 480 x 800 pixels. The iPhone 4 display supports a higher resolution at 640 x 960 pixels and the Motorola Atrix manages 540 x 960 pixels, but looking at either one side by side with the S 2, there's no doubt that Samsung's screen technology is amazing. The Samsung Galaxy S 2 has the best looking display in terms of size and quality.
Hardware and User Interface
The processor is a dual core 1.2 GHz ARM Cortex A-9 with 1 GB of RAM. You've also got the choice of 16 GB or 32 GB internal memory and it can be expanded by another 32 GB with a microSD card. You won't find anything more powerful right now, although the speed the smartphone industry is moving at means these specs will be overshadowed within a year. Still it performs beautifully and is completely lag free.
The Samsung Galaxy S 2 ships with Android 2.3 and the TouchWiz 4.0 overlay. It is an absolute pleasure to use and you can customize your home screens exactly how you want them with widgets and folders for your apps. You can even resize your widgets easily. For me the TouchWiz UI isn't quite as easy to use and attractive as the HTC Sense UI, and for accessibility both are still slightly lagging behind the iOS. There really isn't much in it though.
Camera
Another major improvement over the original Galaxy S is the camera. The Galaxy S 2 ups the standard 5MP to 8MP. It is very easy to use and offers the usual array of face and smile detection, touch focus, image stabilization, geotagging, and autofocus backed up by an LED flash. It can't compete with the Nokia N8 which has a 12MP camera, but it blows away most of the rest of the competition including the iPhone 4. It is reasonably fast, but you're still looking at a slight delay between shots. It also has an excellent 2MP front facing camera for video calls.
The Samsung Galaxy S 2 offers 1080p video recording at 30 frames per second. That's a big jump up from the 720p offered on the iPhone 4. Full HD recording is becoming more common and you'll find it on a handful of other recent Android smartphone releases as well. Thanks to the large display and HDMI out, watching your footage back is easy and fun.
Other Features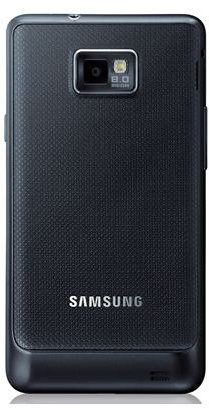 There are plenty of other features here and the Galaxy S 2 has few competitors when it comes to watching movies. The large, gorgeous display and virtual surround sound make it ideal for watching movies or TV. It's also a great music player and it has FM radio with RDS support. With Samsung's DLNA client you can stream audio and video to and from your phone, to your PC or compatible TV.
It is great for browsing the web and the Flash 10.1 support is a step up on the iPhone. It also handles e-mail, messaging and calls with ease. There's nothing really standout here compared to other top smartphones, but the S 2 has no real weak points either.
Performance
We've already discussed the processor speed and the fact that the Galaxy S 2 is lag free. It really does feel like a step up from the standard 1 GHz Android smartphones and you'll have no complaints about its performance.
Battery life is another matter. All modern smartphones have problems with battery life, partly because they cram in so many features. Naturally if you use the phone a lot then you'll need to charge it every day. It does have a Li-Ion 1650 mAh (it was 1500 in the original Galaxy S), and Samsung's technology is smart about preserving that battery life by adjusting the display settings on the fly. The highest spec battery in the current generation is probably the 1930 mAh beast found in the Motorola Atrix.
How Can You Resist?
The Samsung Galaxy S 2 is the smartphone to beat right now. It has a very good chance of being one of the most popular devices of 2011. Is there a better smartphone? If you're hitting the shops today then no, this is definitely the phone you should buy right now.
Think there's something better? Post a comment.
References
Samsung, https://www.samsung.com/global/microsite/galaxys2/html/