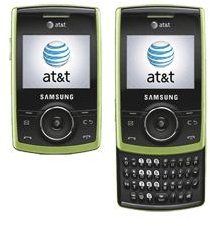 Introduction
Sliding QWERTY keyboards, they seem like a bit of a novelty, however, if this is a novelty you desire, the Samsung Propel just might be the phone for you. A sliding QWERTY on a portrait style phone seems like a gimmick… and it is. It only serves two purposes, saves a bit of space (if you have a small pocket) and might impress a naive friend or grandmother.
However, the Propel does offer high speed connectivity and for texting fans, well the keyboard says it all right?.
Design (3 out of 5)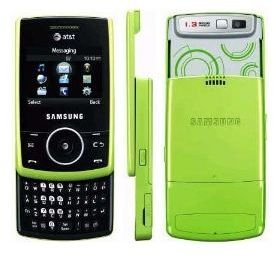 The Samsung Propel has a squat and brick like design, whether the keyboard is slid out or not. However, it feels comfortable and easy to handle, the slide mechanism is smooth and solid. It also will not stretch your pocket (small or large).
The Propel's dimensions are 98 x 59 x 15 mm and it weighs 107 g, not that light but adequate enough to carry around in your pocket or purse, hanging it around your neck though might prove to be a uncomfortable experience.
Now, let us slide open and investigate the keyboard. The QWERTY is a traditional four-row keyboard with dedicated buttons for web access, the camera, profiles and AT&T's Video service.
The keyboard has varying levels of comfort depending on which area you are typing on, the outer keys and first row are uncomfortable, the inner keys around the second row are comfortable, but the phone's ridges make typing uncomfortable. The third row is relatively comfortable and hassle free, the fourth row has just a few buttons and they are comfortable to type with. It should be noted that the overall typing experience on the Propel feels cramped and slippery, thanks to the glossy keys and small space. Keyboard travel is narrow and keys do not have enough raise, but in time you can get used to the keyboard.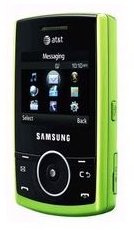 Now slide shut the QWERTY and let us take a look at the rest of the phone. Navigation on the Propel is handled by a big round four-directional button that looks like a dial, with a smaller confirm button in the centre decorated with AT&T's logo, which can double as the Internet launcher after a slightly long press. Onto the left of the navigation button is a soft key, a dedicated message button and the receive call button. Onto the right we have another soft key, the dedicated backward button and the end call button.
Now for the screen, we have a 2.2 inch TFT screen with a 220 x 176 pixel resolution capable of supporting 65,000 colors only, what a disappointment. On the left side we have the microSD card and volume rocker, while to the right we have a slew of shortcuts and the shared microUSB and charging port, again… what a disappointment. The shared port means you have to choose to either charge the phone, listen to music, or connect the phone to a laptop. Also the phone does not come with microUSB charging.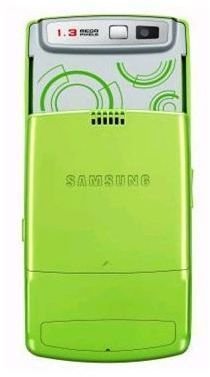 On the back we have (once the phone has been slid up) a 1.3 MP camera and self-portrait mirror.
User Interface (1 out of 5)
The Propel comes running an outdated AT&T UI, it is clunky and feels like driving over a pile of sharp rocks in terms of smoothness.
The phone deals well with pictures and wallpapers, however, icons look pixelated and grainy. The phone has a spacious enough 1,000 entry phonebook capacity, with options for IM, two phone numbers and ringtone tagging available.
The menu can be customized with three additional slots provided at the end of the main menu. The navigation key generally serves as a shortcut to various functions.
Despite the fact the phone is geared towards texting fans, it does not perform very well as a texting phone. SMS's and MMS's are handled very well, e-mailing on the other hand is where the phone starts to show its flaws. There is no account set up for Gmail, Yahoo and AIM have native clients, but cannot sync their separate e-mails together into a common inbox.
It also lacks the capability of showing a pop up to alert you to a new e-mail, which is odd because the Propel is filled with pop ups and messages to inform the user of every little thing the phones does. It gets very annoying.
Menus are deep and dysfunctional, simple functions can take forever to dig up through menus and sub-menus. Instant messaging on the other hand is handled fairly well, it is not the fastest IM, but it does its work well and the UI is minimal.
Features (2 out of 5)
The Propel comes with some good features, some good but unexpected features and some truly disappointing features as well.
Let us start of with connectivity, we have a 2G GSM network that supports the following frequencies; 850, 900, 1800 and 1900. The phone is fully geared towards international traveling. For high speeds we have a 3G UMTS connection with the two following frequencies supported, 850 and 1900. Local connectivity is catered for by Bluetooth v2.0 with AD2P and microUSB, no Wi-Fi at all.
The Propel comes with a very miserly 50MB of internal memory, but you can expand up to 8GB with a microSD or microSDHC card.
It also has A-GPS complimented by AT&T Navigation, which cannot be used if the phone's keyboard is slid shut. Other AT&T applications are; AT&T Music, AT&T GPS, AT&T Video, AT&T Radio, AT&T Video Share and MusicID. The phone has a full suite of organizer applications which include; Calculator, World Clock, Notes, Memo, Currency Converter, Calendar, To-Do list, Voice Recorder, Java and Alarm.
Now onto the camera, which is a 1.3 MP snapper, it has video shooting capabilities and 3X zoom as its main features. Other camera features are night shot, a timer, single to multi-shot, light settings, panorama, image customizations (black & white, sepia, and negative). Pictures in general are barely worth looking at, it seems Samsung added on the camera at the last minute. Pictures have a wide range of issues, from being blurry to fading, from pixelation to lack of detail and various other problems. Under the best of conditions, pictures turn out to be clearer than the usual blur of colors, but slight blurring and lack of depth or detail is still an issue.
Now video shooting is almost as bad as the picture quality, videos are very pixelated and anything faster then a tortoise will cause the frame rate to go haywire.
In the entertainment department, we have a music player that constantly attempts to direct you towards AT&T's paid musical services, but if you can ignore that, then you have a bare-bones music player that can handle the following formats; MIDI, MMF, WAV, SMAF, and AAC+. The music player is capable of displaying album artwork as small thumbnails and can do the basics such as playlists, shuffle, repeat and back/forward.
The video player is horrendous, although technically capable of playing MP4 formatted videos, it fails almost every time, the only format it can play without problems is 3GP.
Performance (3 out of 5)
We have arrived at the part were we review the phone call quality, web browser and battery life.
First the call quality. In areas with strong coverage the phone performs almost flawlessly, even when paired with a Bluetooth headset. The only noticeable problem is some slight static. The phone's loud speaker is loud without being uncomfortably so, but people tend to sound sort of squeaky on the other end. The Propel has FDN for out going calls monitoring. It should be noted that the Propel lacks voice dialing, but conference calling is on-board and works well.
Now for the web experience, which when compared to the rest of the phone so far, is a rather pleasurable experience in terms of speed and page rendering ability. However, in terms of user experience and placement logic, the browser seems to have been invented by a chimpanzee. Most mobile pages render without a problem, although pictures do look pixelated (has any one kept count of how many times the word "pixelate" has been used?).
If you wish to open any page other than the native AT&T page, you need to open up the menu option, navigate your way through two sub-menus and then finally you can get to another webpage directly. Download speeds are generally fast on 3G, with 4MB file downloading in about 1 minute and 30 seconds. There is no Flash support.
Now finally onto the battery life, which is far beneath its quoted talk time of 7 hours, most users will managed 5 hours of talk time and heavy duty talkers who have their 3G turned on will manage 3 hours. The phone has a 1000 Li-Ion battery, with standby a time of 250 hours.
Heavy users will be charging their phone once a day and light users about once every three days.
Verdict (2 out of 5)
What is our verdict of the Samsung Propel SGH-A767? Guilty.
The phone could have been so much more than it was made into, almost everything on the phone works poorly, every service is an effort to get the user to spend money in the AT&T store, from the music player to the web browser and video player. All of the phone's navigational buttons (except the navigational disc) are flat and glossy, keyboard is cramped in some areas and open in others.
The Samsung Propel is like a beautifully iced cake that is hollow inside. Just save your money, bide your time and try another phone.
Good alternatives out there include the Samsung Sangria and Samsung Rant. There are plenty of options out there, keep looking.
References