Samsung Solstice 2 Review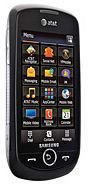 Introduction
Let us take a look at the Samsung Solstice II for AT&T carrier network coming in at the contract price of $29.99 for a two year period.
The Solstice II is a low end, capacitive touchscreen, budget phone from Samsung aimed at mainly text savvy users who are on a very tight budget. This phone's strength is mainly in texting, and that is all it really does well.
Design (3 out of 5)
Visually, the Solstice II looks like hundreds of touchscreen phones made by Samsung. It isn't ugly nor is it particularly eye catching and it comes in black only.
The only slightly noteworthy feature looks-wise is the plastic silver matte that goes around the whole side of the phone.
Made wholly of plastic and weighing in at 95g with rounded corners and only 12mm thick, this is a lightweight phone and it sits very comfortably in the palm without any difficultly. However, it feels as cheap as the price tag would suggest. The back panel is very prone to scratches and the screen is prone to finger prints and considering this is a texting phone this is going to be a messy screen sooner rather than later.

Left side of the phone is home to the easy to press volume rocker button, and the micro USB port. Right side houses the dedicated camera button, the task switcher, and the sliding phone lock button. Front buttons are simply the call and end call keys, plus a big round back/end button.
There is no dedicated music 3.5mm jack, or any other dedicated music plug in options. The back end is solely occupied by the 2 megapixel camera, it should be noted that the micro SD card slot is inconveniently placed under the battery and is not hot swappable.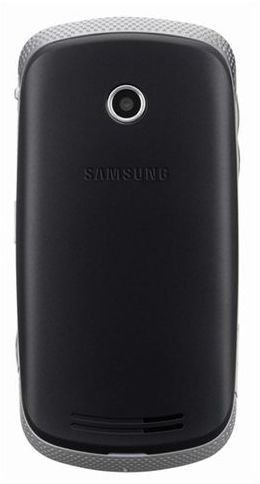 The screen resolution is 240x400 pixels while its length is 3 inches.
User Interface (2 out of 5)
The Solstice has one of the lowest color supports ever seen on a touchscreen, only 65 (65 K) thousand colors in comparison to the 256 (256 K) thousand colors of most low end touchscreen phones in the same price category.
Running on the previous version of Samsung TOUCHWIZ incarnation 2.1 (not the current version of 3.2) this phone looks and feels averagely smooth thanks to its capacitive touchscreen, not the best ever seen but not the worst either, as per the phone's unofficial motto "it's just average and then slightly less".
Despite only supporting 65 K all colors look bright and vibrant, especially when the phone's brightness is turned up to the maximum. As per the TOUCHWIZ tradition users are presented with three home screens with various widgets placeable on them and three menu screens. An accelerometer is available for turning the text from D-pad into a full QWERTY keyboard.
All apps and menus are laid out in a flat grid format so not much digging through files except when going through the MY STUFF file. Icons are generally big and easy to touch, QWERTY keyboard is relatively big and rather easy to type with. The D-pad is easy and fast when teamed up with the T9 feature. Samsung has one of the easiest camera interfaces out there even if it is a bit plain, so the by default Solstice's camera interface is easy to get used to.
Features (3 out of 5)
All of the phone's features are typical of low end phones with the sole exception being the 3G/HSDPA 850 / 900 / 2100 capabilities. Media-wise the phone supports WAV, MP3 music formats and MP4 video format recorded at 320x240 resolution (maximum) and vibration. There is no radio.
JAVA, Bluetooth, GPS with A-GPS support, WAP/XHTML/HTML web browser, AT&T e-mail client and chat client, SMS (threaded view) IM chats and social network integration are all available on the phone. Phonebook has a 2,000 entry limit, but with multiple fields (home number, birthday, field, work, etc.) supported. Call logs show 90 numbers last dialled, received and missed.
Internal memory peaks at 256 MB, so if you're going to take pics and watch videos you will need an micro SD card. The phone can support up to a 16 GB card. Hardware-wise you have a 2 MP (megapixel) camera and with a resolution of 1600x1200 pixels and video shooting is only 15 FPS (frames per second). There is no light sensor or proximity sensor.
Performance (3 out of 5)
Performance ranges from average to truly terrible, the only really great performer is the texting input and format which makes sense as that is all this phone is any good for.
Camera: there are some very outstanding 2 MP snappers out there that go beyond the call of duty so to speak, this phone is not one of them. The photos taken outdoors feel too soft and all fine detail is completely erased. Indoors the noise is so high that photos look terribly pixelated and once again no details are viewable. Video recording does not fare much better, at 15 FPS videos start to get pixelated at any hint of a sudden movement, this is not a phone to record some of life's spontaneous moments or take snaps of them.
Phone: the occasional lag or stutter is present and can sometimes get very annoying especially when the phone is new or handling too much data (for example when the micro SD card starts to fill up), but after some time they become a rarity. The phone feels slightly smoother than most phones in its price range, so no complaints there.
The Internet browser is very sluggish, so installing Opera Mini is very strongly recommended. Speeds are truly frustrating on the 2G network but relatively fast on the phone's 3G network, which can support up to 7.2 Mbps speeds. There is no kinetic scrolling or Samsung's famous one touch zoom or any fancy zooming options at all, just the tap to zoom in/out feature.
Calls: call quality varies depending on location and signal strength, although this is true of all phones most try to keep a certain level of quality no matter the circumstance, not so on the Solstice, if you're in a bad reception area get ready for some static and cracking voices. In places with a strong and clear reception, calls are mostly clear and in no way hinder your conversations, even if there is a hint of noise in the background. The loud speaker offer a decent loud volume, but it can get a bit hard to hear if you're in a crowded area.
Music player: the music player looks basic, there is not much eye candy or too many options on it. But it is functional, has a decent range of optimization options available and can fully replace any basic MP3 player out there. On high volume the music becomes just a loud screech, so the best listening quality is attained at average volume.
IM: instant messaging, social networking and texting are this phone's strong point, as such there is a full and capable easy to use suite of these features. AIM, YAHOO and MSN instant messengers come pre installed, most other clients can be downloaded.
Battery: Samsung quoted battery time is 5 hours talk time on a single charge, the actual time for the Solstice is 6 hours on a single charge. Standby time is 250 hours. On average the phone's battery is a… well average battery. Most people will have to charge it every night or so.
The Verdict (2 out of 5)
The Samsung Solstice II is both, cheaply made and cheaply priced.
The range of features is strictly low end which makes sense as this is a low end phone, but the key to making a great low end phone is to not make them feel cheap which is something Samsung have failed at this time round. Almost everything performs on the scale of bad to average, the only high point being the 3G speeds, texting capabilities and finally the battery life.
This phone is not bang for buck in my opinion, there are many similarly priced phones (most made by Samsung) that offer better service, feel and look good despite being cheap, and ultimately are much more worthy of the money spent on them. The demographic this phone is aimed at is text addicted youngsters with a tight budget wanting a fast 3G touchscreen phone.
My advice is to either be patient and save up money to get a better phone, or just keep looking for something more worth your hard earned money.
If you do pick one up be sure to check out our top ten Samsung Solstice II apps round up.
References