Motorola Verizon Cell Phones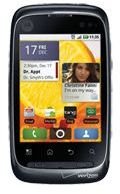 Introduction
Motorola has a long history of producing quality electronics since 1928, when it first opened in Chicago, Illinois. In recent years, Motorola has split its large corporation into two entities - Motorola Mobility and Motorola Solutions. The company is known for its wireless technologies, such as its wireless telephone handsets, wireless networks, and cell based towers.
For those long time fans and users of Motorola products, especially their cell phones, the new line of phones that are offered from the nation's largest cellular phone company, Verizon should be of interest.
Motorola Verizon Cell Phones
The line up for Motorola Verizon cell phones is varied, though there's more Droid listings and variations than anything else. All of these phones, however, are currently being offered with free shipping, as well as an online discount if a phone and plan is purchased via the Verizon website. All phones mentioned are offered for a two year contract – that's the basis on which the discounts apply.
Motorola Citrus
The Motorola Citrus is one of the introductory smartphones offered by Verizon, offering the popular Android OS platform, as well as
a small form factor which allows the cell to sit comfortably in your hand or fit into a pocket or purse. Other features include an onscreen virtual keyboard, a 3 megapixel camera, a pre-installed 2GB SD card, and Skype mobile.
With all discounts applied, the Citrus is being offered for free on Verizon's website. More information can be found in our Motorola Citrus review.
Droid Pro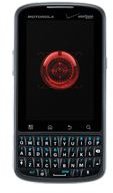 The Droid Pro is a high end smartphone, similiar in look and feel to competitor RIM's BlackBerry range and built for those business professionals who need a cell for both personal and business needs. Another offering for the Android platform, the Pro features a 5 megapixel camera, with DVD video capture options, front and virtual QWERTY keyboards, and several e-mail, text, and social messaging integrated options.
The Pro is retailed at $179.99 with a two year contract or $49.99 for a certified pre-owned version. Further information can be found in our Motorola Droid Pro review.
Droid X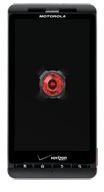 Another Motorola Droid offering, the Droid X was made for the video elite. The large 16:9, 720p HD screen is great for those who also use their cell phones to share pictures and videos. The X also features an 8 megapixel camera, an HDMI output in order to share your videos and pictures from your phone to your home TV, Adobe flash player installed, Skype mobile, and of course the many features involved with the Android cell platform.
The Droid X is being offered for $149.99 with a two year contract or $99.99 for a pre-owned model. More information can be found in our Motorola Droid X review.
Droid R2-D2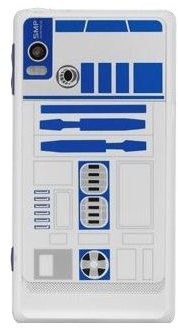 Star Wars fans rejoice! Show your droid pride by carrying the R2-D2; inspired by one of the most popular droids and characters in the Star Wars universe, the R2-D2 features a back resembling the small droid, along with a 5.0 megapixel camera with DVD video capture, runs on Android 2.2, and hosts several Star Wars related materials, such as the "Best of R2-D2" video and live wallpapers.
The R2 is being offered for $99.99 with a two year contract. More information can be found in our Motorola Droid R2-D2 preview.
Motorola Barrage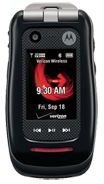 The Barrage is for classic cell phone users who want a simple flip phone that does what it says on the tin - allows you to make phone calls. Featuring a 2.0 megapixel camera, the Barrage also features push to talk capabilities, as well as a media center with V cast videos.
The Barrage is currently offered for $129.99, either with or without the camera.
Droid 2 Global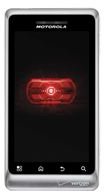 Built on the Android platform, the Global offers a 5 megapixel camera, with video capture, featuring both on screen and a slider keyboard, and is global ready. It is also the first smartphone featuring a 1.2 Ghz processor.
The Global is retailed for $199.99 under a two year contract. More information about the phone can be found in our Motorola Droid 2 Global review.
References
Images and content via Verizon Wireless, https://www.verizonwireless.com