A Guide to BlackBerry Data Plans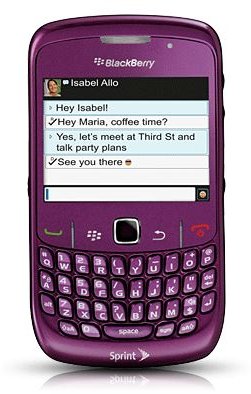 Developed in 1999 by the Canadian company Research in Motion (or RIM), the BlackBerry smartphone has become one of the most
used and most popular, especially when used by business professionals. As with many smartphones, the BlackBerry acts as a personal digital assistant, allowing for users to check e-mail - both personal and professional - their calendars, contacts, and even a task manager.
When looking at the newest, or even older smartphones, BlackBerry plans need to be considered as well, especially in terms of data use. Here, we'll look at the top US phone carriers, as well as a couple of non-US providers, to help you find the best BlackBerry data plans for your needs.
BlackBerry Plans - Unlimited Data
For the best BlackBerry data plans, you should go for the carrier that offers unlimited data. This means that you are not charged for checking e-mail, surfing the net, or posting updates on Twitter or Facebook. If you plan on getting a smartphone for the ease of checking e-mail or anything while on the go, it's important that you know about any extra charges you'll get.
Sprint plans

Sprint is probably the best carrier when choosing a BlackBerry. The Everything Data plan begins at $79.99 for 450 minutes of talk, but offers unlimited data and mobile to mobile minutes. The only extra charges you need to worry about are for calls from or to your smartphone from a landline, and of course if you go over your 450 minutes. If you use your smartphone as an actual phone, you can upgrade to the 900 minute plan for $99.99.
These prices have gone up a little over the past year, but they are still reasonable in comparison to other top brands.
To view the current plans for Sprint and BlackBerry phones, see the Sprint page here.
T-Mobile Plans
Like Sprint, T-Mobile

has unlimited data plans that you can choose from, starting at $79.99 and going up to $124.99 (unlimited talk and data) for the individual plans.
The only downside with T-Mobile is actual coverage. There may be areas in which T-Mobile isn't covered or where you may not get service in certain places. It's important that you not only check the online coverage map, but when looking at plans and phones, ask a representative about that coverage, especially if you travel a lot. Make sure to ask about areas that you frequent on your travels.
To view T-Mobile's line of BlackBerrys and plans, see their main website here.
Verizon Plans

Verizon is of course one of the most popular cell phone carriers, due to their large coverage all over the United States. They are also one of the premiere companies to receive new phones and upgrades. For a basic plan covering one smartphone, including unlimited talk and text plus 2GB of data you're looking at $100.
If you end up using more data than that you will be charged. Of course, you can bumb it up to 4GB of data for just $110 a month. Verizon does not offer an unlimited data plan. And, of course, this does not cover the cost of the phone.
To view Verizon's listing of BlackBerrys and current plans, see the Verizon main website.
AT&T Plans
AT&T combines the long distance the company is noted for plus the rollover minutes acquired when the company bought out Cingular.

The rollover minutes is a great way to make sure you aren't charged for talking over your monthly limit or not talking on your monthly limit.
In terms of data plans, AT&T is a downer for anyone who uses their phone more than their computer. AT&T offers several data plans for individuals, starting at 200MB and going up to 5GB of usage, with the 5GB starting at $50 a month. This of course is if you just use 5GB of data usage for the month, there are additional charges if you use 5GB of data a day, which can make a relatively low priced plan very high.
You can view all the current BlackBerry phones for AT&T here. There is also a data usage chart that you can use to find out how much data you use for the month or the day, which will help you decide on which BlackBerry plan is right for you.
Outside the US
There are several cell phone providers outside of the United States that offer reasonable BlackBerry plans, as well as a selection of phones.
Canada
For folks living in Canada, there are the three choices of Rogers, Telus, and Bell. All three offer smartphone and data plans, though Telus and Bell seem less expensive, Rogers has a more varied choice of both plans and phones.
UK
For those in the UK, there are six different carriers, including a UK T-mobile, all offering different phones and pricing plans.
When choosing a BlackBerry data plan, it's important to look at not only coverage, but also what you will get for your money. If you aren't going to use the web or e-mail, perhaps choosing a text data plan is worth it; however, if you travel a lot and need to keep in contact with various people (friends, family, co-workers) then getting an unlimited plan is the best choice.
All plans listed are for individual users and do not take into account family plans or those offerings for business. Keep in mind that depending on your business or company, you may also receive a company phone at a discount.
References
BBGeeks, https://www.bbgeeks.com/provider-reviews/
Image content via AT&T, T-Mobile, Verizon, and Sprint.