In-Depth Motorola Grasp Review: An Eco-Friendly Smartphone By Motorola
Motorola launched yet another smartphone, in 2010; this one is called the Motorola Grasp. It looks like a BlackBerry phone, but doesn't have an eye-catching design. Staying in touch with friends and family is very easy with the Motorola Grasp, as it provides organized and convenient messaging with a large QWERTY keyboard and an advanced contact search feature.
The phone has special characteristics, being made of 100% eco-friendly material. Motorola must be appreciated for manufacturing a phone with pollution free materials. It has been claimed that the entire phone is recyclable. If you are eco-conscious, you will feel good about using this phone.
Design (3 out of 5)
The shape of the Motorola Grasp is similar to the candy bar style of most BlackBerry phones, but it doesn't posses a beautiful design at all.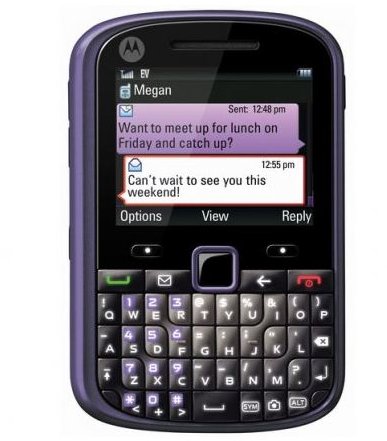 It is 3.7 inches long, 2.4 inches wide and 0.51 inches thick, and the plastic shell is made of 100% recyclable material.
The phone has an LCD screen, which measures 2.2 inches diagonally. Under the display you'll find two soft keys, an optical track pad, the Send key, a messaging key, the Back key, and the End/Power key. The optical track pad is similar to the one found on most BlackBerry phones, and beneath that the full QWERTY keyboard can be found, along with a camera key.
On the left side of the ph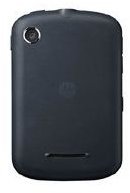 one, the volume and speakerphone keys are located, while on the right hand side, there's the voice command keys. On the top of the phone are a 3.5mm headset jack, and a key guard lock. The camera lens is on the back and the microSD slot is located under the battery cover.
Images from motorola.com
User Interface (3 out of 5)
The display and the keyboard are offset a little to the right, which makes the phone appear a little cockeyed. However, this doesn't affect usability at all. The keys have a curved shape, and are slightly raised above the surface. Texting is quite easy on the Motorola Grasp but the keys are bit hard to press, which slows you down a bit during text entry. Backlight, brightness, clock format, main menu layouts and font sizes are easily adjustable.
The display has a low resolution of 220x176 QCIF pixels, and supports only 65,000 colors. Due to the low resolution, graphics look a little dull and text doesn't look smooth.
Features (3 out of 5)
The key features of the Motorola Grasp are text and MMS. The phone offers threaded style messaging, and the pre-installed Google SMS feature allows you to quickly access sports, weather, news, directions, etc. Other features of the phone include speakerphone, vibrate mode, a calculator, date record book, world clock, notepad, stopwatch, and an alarm clock. There is also a voice command feature and Bluetooth support. The phone book can store 1,000 entries, and each of them can have 5 numbers, 2 e-mails, a birth date, residential address, anniversary date, URL, and notes. Photos and ringtones can also be assigned to the contacts for easy identification.
Motorola Grasp Features (continued from page 1) (3 out of 5)
The Motorola Grasp offers basic multimedia features and there is a media player that supports MP3, AAC, AAC+ enhanced, AAC+, MIDI and WMA file formats. The phone has 512 MB of internal memory, and you can use a microSD card with maximum of 8GB memory
The handset comes pre-loaded with a few games that you can play in your spare time. The phone camera is also basic at just 1.3 MP. The camera is capable of capturing images in three resolutions 1280×1024, 640x480 and 320×240. The camera features color effects, brightness, self timer, shutter tones, white balance and picture frames settings. The image quality is not good as images appear grainy and a bit dull. The Motorola Grasp also has a built-in video recorder that can record short clips for storage or for MMS purposes.
The phone also features GPRS, an internal antenna and a USB port that you can use to conveniently transfer your files to and from a computer. The phone doesn't come with a web browser, but you can download it from U.S Cellular's Easyedge store.
Performance (3 out of 5)
The phone has good call quality, but reviews suggest that some people did experience little crackles at times. People who made video calls on this phone also complained that the experience wasn't very satisfactory, and they also felt the voice was a bit dull.
The built-in speaker phone shows good results and it is also loud enough to be heard from far away. The phone has good EV-DO speed for internet surfing. The battery life of this phone offers 17.9 days of stand by time and 5.3 hours of talk time.
Image and video quality isn't terrible but it certainly isn't great. Therefore the Motorola Grasp is a basic smartphone, best for texting and multimedia messaging only.
The Verdict (3 out of 5)
The Motorola Grasp offers plenty of basic phone features but lacks many multimedia features. The phone gets an extra point because of its eco-friendly design. One major drawback of the phone is that its screen has a low resolution of only 220x176 pixels, which is very disappointing. The phone supports EV-DO, and has plenty of easy messaging features. This makes the phone a great choice for people who want to stay in touch with their friends and loved ones throughout the day.
Overall, the Motorola Grasp is a versatile phone with a sophisticated shape and color. And, for eco-friendly people, the Motorola Grasp surely is one of the best eco-friendly smartphones available.
References