Motorola Bravo Review: Get Details on the Specifications, Design & Hardware
Motorola has been launching some very impressive Android smartphones lately like the Motorola Droid X, Droid Pro, Motorola Defy and now the Motorola Bravo.
The Motorola Bravo is a new mid-range Android smartphone by Motorola which is priced quite reasonably. It offers almost all the features that any high end smartphone would offer. It runs Android 2.1 Eclair, powered by an 800 MHz processor, 512 MB RAM and it comes with a 2 GB internal ROM.
Specifications
Dimensions: 109.5 x 63 x 13.3 mm
Weight: 122 gms
Display: 3.7 inch TFT capacitive touchscreen display, 480 x 854 pixels
OS: Android 2.1 Eclair
Processor: TI OMAP 800 MHz processor
RAM: 512 MB RAM
Memory: 2 GB internal ROM, up to 32 GB microSD card support
Camera: 3.15 MP camera, 2048 x 1536 pixels with autofocus
Radio: Stereo FM radio with RDS
Connectivity: Bluetooth 2.1 with A2DP, GPRS, EDGE, 3G HSDPA, and Wi-Fi 802.11 b/g/n with DLNA
GPS: GPS transceiver with A-GPS support
Battery: 1540 mAh Li-ion battery
Design (4 out of 5)
In terms of specifications, the Motorola Bravo is very similar to the Motorola Defy and has stylish loo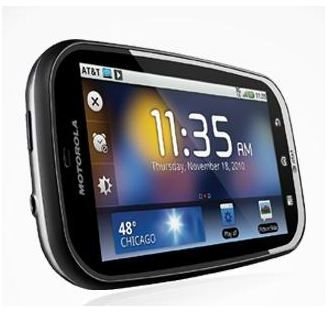 ks. Both the phones have similar dimensions but the design is very different. While the Defy has a rugged design, the Bravo has a shiny, smooth look. It has rounded edges and feels very compact with dimensions of 109.5 x 63 x 13.3 mm and a weight of 122 gms.
The Bravo has a 3.7 inch TFT capacitive touchscreen display just like the Defy. It has a resolution of 480 x 854 pixels. The display is adequately bright and offers good contrast. Below the display, there are three touch keys - Menu, Home and Back. On the top, there is the power button and the audio jack while the microUSB port is on the left. The right side houses the volume rocker. The back has the 3.15 MP camera in the center and the battery compartment which houses the 1540 mAh battery.
image from motorola.com
User Interface (4 out of 5)
There isn't anything new to review here. The Motorola Bravo, like the Motorola Defy, runs Android 2.1 Eclair with the MotoBLUR UI. The OS is outdated, considering every new phone now comes with Android 2.2 Froyo. Google has already launched Android 2.3 Gingerbread as well. The Bravo should probably get the Android 2.2 Froyo update soon. It comes with Android Market support which gives you access to more than 200,000 apps and games. The MotoBLUR UI is also quite good and offers social network integration by way of widgets. The user interface is very responsive and fast.
Multimedia (3 out of 5)
"Bravo" is the one word you definitely won't say when you get to know the multimedia fea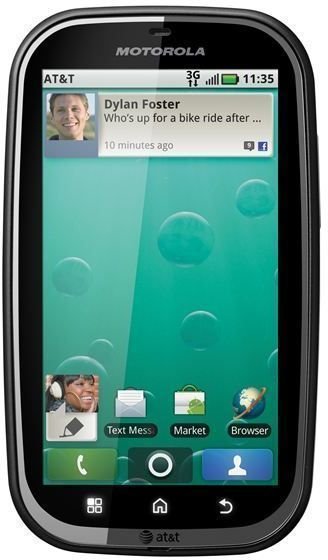 tures of the Motorola Bravo. It has a 3.15 MP camera with an image capture resolution of 2048 x 1536 pixels. The image quality is strictly average, and will suffice only for casual shots. The camera interface is very intuitive though.
Even the video recording capabilities are mediocre. It can record only CIF resolution videos at 30 FPS, when most other phones do HD video recording. It has a nice video player which can handle MP4, 3GP, WMA and H.264 videos and comes with a stereo FM radio. The audio quality is very good, which makes the Bravo a great substitute for a PMP.
image from motorola.com
Connectivity (5 out of 5)
Connectivity is one area where the Motorola Bravo totally impresses me. It comes with all the connectivity options you might have heard of - it has GPRS, EDGE as well as 3G HSDPA connectivity. It also includes Bluetooth 2.1 with A2DP and Wi-Fi 802.11 b/g/n with DLNA. MicroUSB 2.0 support is included as well. The device comes with the Webkit based browser with Flash Lite support. It is one of the best mobile browsers you can find.
The Verdict (4 out of 5)
The Motorola Bravo is a very good budget option for those who want to buy an Android phone with a stylish design. It is available for just $129.99 direct from AT&T with a plan but you can get it even cheaper than that if you shop around. It offers almost everything you would need in a phone, with the exception of a good camera. One concern is that it runs Android 2.1 which is a bit outdated, but it will likely get the Android 2.2 upgrade soon. I would definitely recommend it. If you need more options to choose from, you can check out our list of the best Android smartphones and the best budget Android smartphones. The LG Optimus One P500 would also be an excellent option, if you want a cheaper phone.
References
Motorola Bravo Fact Sheet, https://mediacenter.motorola.com/Fact-Sheets/Motorola-BRAVO-Fact-Sheet-343b.aspx