Motorola Defy Review - Specifications, Design and User Interface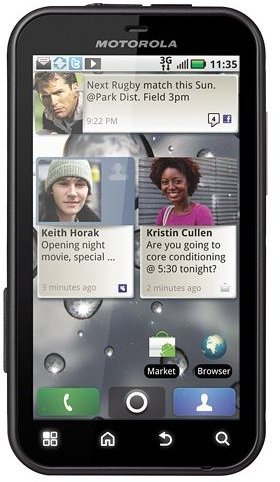 Motorola has completely redefined itself as a premium smartphone brand with Android. With the Motorola Droid, it came out in the open as an Android backer, and has only made phones based on the Android platform since.
With the Motorola Droid X and the Droid Pro, it has managed to make two of the most popular Android phones. With the new Motorola Defy, it is probably trying to fill a particular niche in which no other company has made a move yet - a rugged Android smartphone. This Motorla Defy review will cover the specifications of this Android device as well as its feature set and whether it does the job of being a rugged Android phone.
The Motorola Defy has great hardware specifications and runs Android 2.1 Eclair, which is a bit outdated, but Motorola has promised an update to Android 2.2 Froyo soon.
Motorola Defy Specifications
Dimensions: 107 x 59 x 13.4 mm
Weight: 118 gms
Display: 3.7 inch TFT capacitive touchscreen display, 480 x 854 pixels
OS: Android 2.1 Eclair
Processor: TI OMAP 800 MHz processor
RAM: 512 MB RAM
Memory: 2 GB internal storage, up to 32 GB microSD card support
Camera: 5 MP camera, 2592 х 1944 pixels with autofocus and LED flash, VGA video recording
Connectivity: GPRS, EDGE, 3G HSDPA, Wi-Fi 802.11 b/g/n with DLNA, Bluetooth 2.1 with A2DP
GPS: GPS transceiver with A-GPS support
Battery: 1540 mAh Li-Po battery
Design and Display (4 out of 5)
The Motorola Defy sports a standard candybar design which is common in touch-screen phones. Being a rugged phone, I was expecting it to be quite bulky, but it was surprisingly compact. It has dimensions of just 107 x 59 x 13.4 mm and weighs only 118 gms, which is very pocketable. It is also quite good looking and has excellent build quality. It is dustproof and scratch resistant.
It comes with a 3.7 inch TFT capacitive touch-screen display made of Gorilla Glass. The display resolution is 480 x 854 pixels, the highest in the current breed of Android phones. The display size is a bit smaller than the standard 4 inch displays in most new smartphones, but the display quality is great. It is adequately bright and the contrast is good too, though not as good as SuperAMOLED displays. Below the display are the 4 standard Android keys - Menu, Home, Back and Search.
On the left, there is a microUSB slot while the right side sports the volume rocker. The top has the power button and the audio jack. The back of the phone houses the 5 MP camera and the battery compartment. The phone in itself is quite sturdy and feels durable.
Hardware and User Interface (3 out of 5)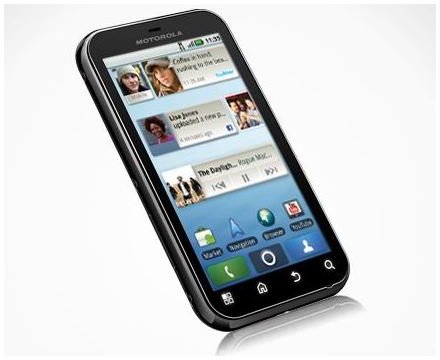 When it comes to hardware, there isn't much new that the Motorola Defy has to offer. It comes with a TI OMAP processor clocked at 800 MHz and 512 MB RAM. It has 2 GB internal storage and supports up to 32 GB microSD cards.
What's different from other phones is the user interface. It comes with Android 2.1 Eclair and the MotoBLUR UI, which sets it apart from other phones. MotoBLUR is one of the better Android UI shells out there. It offers you social network integration within the UI. Again, not much to say here. It's very similar to what you have seen in the Droid X or the original Motorola Droid.
Multimedia (4 out of 5)
The Motorola Defy comes with a 5 MP camera which can capture still images at a maximum resolution of 2592 х 1944 pixels. It comes with autofocus and LED flash and the image capture quality is good. The camera interface is very easy to use too.
It can also record VGA videos at 30 FPS, which isn't much compared to the HD video recording offered by many other Android cell phones.
It also has a stereo FM radio built in and comes with a video and music player. The video player is basic - it plays MP4, WMV and XviD videos at low resolutions. The music player is quite good and the audio quality of the phone is also superb.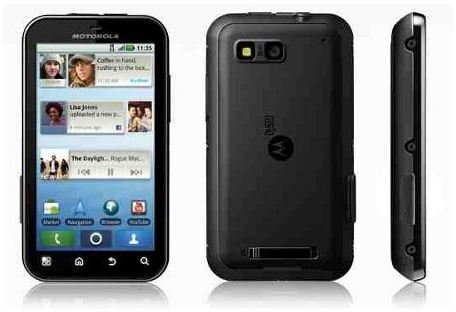 Connectivity (5 out of 5)
Like all other Android smartphones, the Motorola Defy also sports all the latest connectivity options. It has GPRS, EDGE, 3G HSDPA, Wi-Fi 802.11 b/g/n with DLNA, Bluetooth 2.1 with A2DP as well as microUSB 2.0 support. It also has a built in GPS transceiver with A-GPS support.
The default Webkit browser supports Flash and multitouch gestures. The social networking support integrated into the UI is also quite good.
The Motorola Defy is powered by a 1540 mAh Li-Po battery which lasts for about 1.5 days with moderate usage.
The Final Verdict (4 out of 5)
The Motorola Defy is a very good Android option if you don't have very deep pockets. It has almost everything, and is priced very reasonably at $99 with a 2 year T-mobile contract. I would definitely recommend it, if you cannot spend much, and would like a good Android smartphone with superb build quality. Even the unlocked version is priced at just $379, much lower than other Android phones.
Also check out our list of the best Android smartphones if you need more options to choose from.
References
Motorola Defy Product Page, https://www.motorola.com/Consumers/XW-EN/Consumer-Products-and-Services/Mobile-Phones/MOTOROLA-DEFY-XW-EN