Motorola Citrus Review - Verizon's Entry Level Android Powered Motorola Smartphone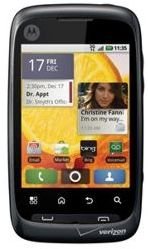 The Motorola Citrus, released on Verizon on November 11th, 2010, is an entry level Android powered handset. Motorola has done a fantastic job capturing the high end market with the Droid, Droid 2 and Droid X, and has attempted the hit the business market with the Droid Pro. They have made attempts in the mid tier market, and now it looks like they're aiming lower towards the entry level market with the Motorola Citrus. With so much competition in the smartphone market in the U.S., Motorola has made a fantastic decision to aim toward the entry level market using an Android powered device. Utilizing a cell phone carrier as large as Verizon, who has put quite a lot of faith into Motorola products, was yet another good choice for the Motorola Citrus.
Motorola Citrus Specifications:
Dimensions: 4.09 inches x 2.32 inches x 0.59 inches (104 x 59 x 15 mm)
Weight: 3.88 oz (110 g)
Display: 3.0 inch LCD capacitive touchscreen display, 240 x 320 pixels
Memory: 100 MB, 2 GB microSD expandable to 32 GB
OS: Android OS 2.1
Processor: 528 MHz Qualcomm MSM7625
Camera: 3 MP camera with resolution Digital Zoom and Fixed Focus
Connectivity: CDMA 850/1900
Bluetooth: Bluetooth 2.1, Stereo Bluetooth
GPS: GPS with A-GPS
Battery: Li-Ion 1150 mAh
Design and Display (2 out of 5)
The Motorola Citrus has a nice 3 inch LCD capacitive touchscreen display. For a smartphone priced at $49.99 on contract, the Motorola Citrus still has a fairly bad display. The design is cute, small and light, but the display is very hard to read at times. The resolution Motorola chose is horrible for the Citrus. Text comes off as too jagged and large and sometimes pages don't load correctly. A definite annoyance when trying to surf the web.
Below the 3 inch LCD display are the standard 4 Android keys, settings, home, back and search. Below that are two more buttons to dial and end call, a very rare addition to any Android powered handset. To the left hand side of the phone is the microUSB for charging, up top is the 3.5 mm headphone jack alongside the power/lock key, and on the right hand side is the volume toggle. Behind the display is a 3 megapixel camera and interestingly the 'Backtrack' optical trackpad that was also put on the T-Mobile Motorola Charm. The 'Backtrack' optical trackpad may be an addition exclusive to lower end entry and mid tier Android phones from Motorola. The AT&T Blackfip was another mid-tier Android handset that had this trackpad.
Overall, the design makes the Motorola Citrus look like a stone, or pebble, very similar in shape to the Palm Pre. It's a good sized phone but sadly the bad resolution choice really knocks it down a notch. The selling point for the Motorola Citrus isn't just the cheap price but also the fact that it's made of recycled plastic and is environmentally friendly.
Hardware and Software (2 out of 5)
The Motorola Citrus has half the processing power of most of the newer Android handsets. The 528 MHz Qualcomm MSM7625 processor is definitely not the most powerful processor for any Android handset, but even at a low cost, one has to wonder if it's worth it. There was definitely lag when switching from screen to screen and delays when loading applications. The Motorola Citrus runs on Android 2.1 with graphics that look similar to MotoBLUR, but does not actually run the entire MotoBLUR overlay, most likely because the hardware can't handle it.
It may have been a better idea for the Motorola Citrus to actually avoid using Android and using a separate operating system that was less intensive, not that Android is extremely intensive, but it was a bad decision to put Android 2.1 on a phone that just doesn't to be able to handle it. Overall, one word describes the hardware and software on the Motorola Citrus, sluggish.
User Interface (3 out of 5)
The user interface to the Motorola Citrus is very similar to it's high end brethren.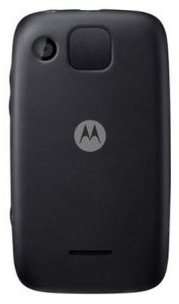 The MotoBLUR-lite makes it look and feel like a Motorola branded Android, but the sluggishness brings you back to reality. The added buttons for calling and ending calls are a nice addition, it's a bit refreshing to see. The "Backtrack" optical trackpad on the back of the phone is an interesting addition. The trackpad allows you to move around the screen without having to cover the screen with your hand. However, at times, if your finger brushes up top while you're surfing, you can lose your place as the screen shifts. It's not too much of an annoyance but at times it does happen. Similar to the Motorola Charm, the optical trackpad is an interesting addition and you'll either love it or hate it.
Features (2 out of 5)
The Motorola Citrus really doesn't excel or even meet average expectations with features. The 3 megapixel camera is pretty horrible and brings back memories of when cameras were first introduced to handsets. One other feature to note is that Verizon has replaced the default Google applications with their Microsoft counterparts. That's right, the default search engine on the Google powered Android handset has Bing as the default search engine. Bing Maps also replacing Google Maps, which is a bit of a disappointment. As an all out Google user, it's a bit of an annoyance to use Bing rather than Google.
Final Verdict (2 out of 5)
Overall the Motorola Citrus is actually quite a disappointment. Though it does have a low price point of $49.99 on contract, it's still a very underwhelming Android handset. The sluggish interface, horrid resolution and fairly useless 3 megapixel camera all combine to make a less than mediocre Android handset. One thing to note is that it is an entry level smartphone and therefore it is somewhat justified that it has lower specs that the current Android powered handsets. The Motorola Citrus could have actually been an average entry level smartphone if it had used a non-Android operating system or had just a slightly better processor and camera. The Motorola Citrus was released along side the Motorola Droid Pro on Verizon on November 11th, 2010.