Motorola Adventure V750- Rugged Phone with Casual Design
Introduction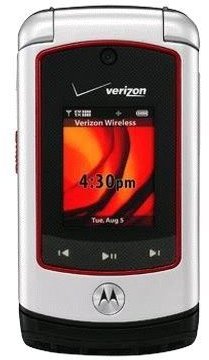 Released in July 2008 for Verizon Wireless, the Motorola Adventure V750 is a clamshell mobile phone that, as its name suggests, is specially crafted for the adventurous user. A successor to the W755, the rugged handset meets the U.S. military's MIL-STD-810F standards for withstanding extreme conditions such as dust, shock, vibration, solar radiation, high and low temperature operation, high-temperature storage, and altitude.
Though jam-packed with oodles of features like a 2.0 MP camera including digital zoom and video shooting, large QVGA main display, dedicated music playback buttons on the outside of the phone, large external display, stereo Bluetooth, GPS navigation, micro-SD card slot, Advanced Speech Recognition, and voice command, the feature of Push-to-Talk service and high-speed Evolution-Data Optimized Revision A technology functions as its strong point.
The V750 is Verizon's first phone that uses the latest generation (PTT) Push to Talk over CDMA EV-DO Rev technology that allows for quick 2-way communication with a group of people or a person. This feature of instant talk resembles the iDEN service of Sprint, but with an enhanced and improved 3G network quality.
The V750, with its 1.6-inch external display and a large 2.2-inch high-resolution internal display, allows users to easily make out their available friends and colleagues and speak to them. Besides, with 65k hues of Glossary Link LCD display on a 240x320 Glossary Link resolution screen, users can simply send out their SMS or Glossary Link MMS messages through this handset. The V750 weighs 3.94 ounces and, on being closed, measures 4.0 x 2.0 x 0.65 inches. The extra-loud speaker and no-slip surface of the handset make it tough and functional. The integrated extra-loud speaker helps users hear conversations better at nightspots, busy streets, and work sites.
Apart from that, the V750 also offers support for extra services like V CAST Video and turn-by-turn mapping through VZ Navigator.
The Adventure V750 is available to grab at a price of $99.99 after a $50 mail-in rebate in the Verizon Wireless Communications Stores.
Design (4 out of 5)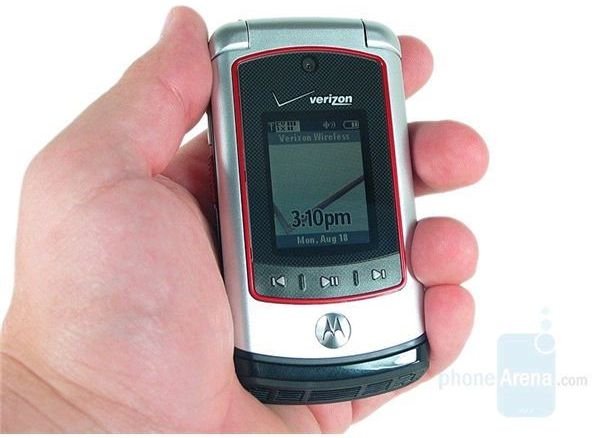 Design wise, the ruggedized PTT phone looks a lot like the Razr line; though wide, along with a marked hump at its bottom, it is thinner than the lineup of Moto Razr. Besides, it also has a sliver with black interior outer housing. The interior reaches to the hump. Plus, around the front display and on the side buttons, you find the scarlet accents, whereas its gray-hued battery door is textured with nubs. The whole handset has plastic construction, but it is mostly solid and strong construction. Plus, it has a flimsy battery door that most of the time doesn't properly seal.
Below the 1.6 inch and 120x160 pixel external display there are 3 media controls for fast-forward, rewind, play and pause, while the 2.0 MP camera lies above the screen. On its left, you've the textured PTT button and volume rocker, in scarlet color with a supposed LED light that in fact, is nothing but a black vertical strip amid the key. The PTT button is user-friendly as opposed to others. The microUSB data/charging port has been offered on its left side, while, the Smart Key and Voice Command, with the 2.5-mm headphone jack, are on the right. The bottom's hump is slightly angled to the user and packs in the speaker.
After flipping open, the phone divulges a 2.2 inch QVGA display in a black housing. Both of the screens just support 65K colors and they lack depth and clarity, and get dull in open sunlight. The keypad features all circular and slightly-raised keys, making navigation quite simple. The keys, on being pressed, feel soft, but proffer a little click as comfort. The scarlet ring directional pad has a black OK button. Besides, there are 3 vertically set buttons to each side; the left side has the soft keys like video, camera, and Send, whereas the right side has the soft keys, such as End and Clear. All the keys are well spaced from each other.
Though the design shouts RAZR, the carbon and scarlet fiber accents help the V750 be a nice-looking phone and it is surely a true value for money if you don't hold it responsible for its poor PTT performance.
Features (4 out of 5)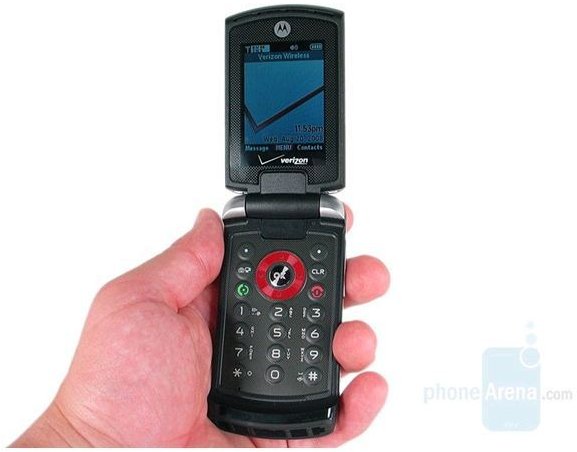 On the features front, the Adventure V750 has got a lot to boast of. Its 1,000-contact phone book can store up to 2 e-mail addresses, 5 phone numbers, and notes for each entry. The contacts can also be organized into caller groups and also paired with one of twenty polyphonic ringtones, alert tones or a photo. Plus, a separate phone book is also available for PTT contacts that users can use to set caller groups. Further nitty-gritty of the V750 includes: call timers, a vibrate mode, multimedia and text messaging, a calendar, a calculator, call recoding, a world clock, an alarm clock, a notepad, a speakerphone and a voice recorder. And, of course, on the higher end, the phone sports USB mass storage, PC syncing, instant messaging, Web-based email, speaker-independent voice commands, and full Bluetooth along with a stereo profile. The e-mail is not as easy-to-use as we like; in order to use it, you will have to be in the web-browser.
Other than that, the Adventure's 2 MP camera can capture images in 4 resolutions. Users can also fine-tune the settings of white balance and brightness. They can also utilize self-timer, a digital zoom, 3 color effects, 4 shutter sounds and 9 fun frames, however, there is not any silent option. The camcorder can shoot clips with sound in 2 resolutions. Editing feats are slim, but users are provided with some options such as adjustable white balance, brightness, and the settings of the color effect. Videos intended for multimedia messages are set at 35 secs; or else, users can continue shooting till the existing memory allows. In addition, there isn't any camcorder or flash light, and as said above, the phone does not have any camera shortcut on its outside. Thus, you will have to open the phone and start the camera before closing it for a vanity shot.
User Interface (3 out of 5)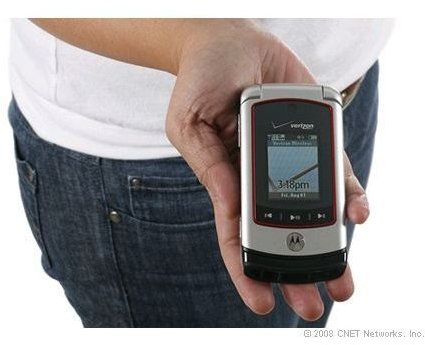 The Adventure V750, unfortunately, has the normal Verizon UI, although it has been skinned a bit by Moto. The default Vapor theme works smoothly and offers cool effects till a user goes 1 level deep into any menu. The spared themes are nothing but variants on the UI and do not have much to do for us. Besides, the users are also able to set short-cuts for all 4 D-pad directions, as well as opt to hide or show the shortcuts on the main display.
Now, so far as the media of the V750 is concerned, it's functional with VCast TV and Music alongside Rhapsody, and it allows users to side-load their own video and music content on 8GB micro-SD cards. Users are also able to download games, ringtones and BREW apps from the content deck of Verizon. The V750 is functional with Field Force Manager and VZNavigator GPS solutions.
Performance (3 out of 5)
Performance wise, the Adventure V750 can be touted as a good performer because while testing, it was found to provide pretty good voice quality. The voice of the caller, at both ends, was quite clear, crisp and loud. There wasn't any muffling or distortion. Reception, in general, was pretty cool; even the infrequent fluctuation in signal indicator could not mar its performance. The built-in battery lasts for around 230 minutes in talk-time mode, while, in stand-by mode, it goes up to 83 hours.
Verdict (4 out of 5)
Overall, the Motorola Adventure V750 is a good performer, but on being tested with PTT service of Verizon, it disappoints users with its poor performance. The Adventure is well-suited for the adventurous user, as it meets U.S. military's MIL-STD-810F standards. The Adventure V750 is also perfect for buying as it sports decent sized screens, a roomy keypad, good quality speakerphone, and long battery life. So, the Moto V750 will be an ideal choice if you're on the lookout for a straightforward and basic phone with a stylish look.