Motorola Clutch i465 Pocket-Friendly Budget Phone
Introduction
Just a couple of years back, Sprint's iDEN service was considered to be dead, but when the maligned service came under Dan Hesse, the newest CEO of Sprint, it was revitalized, in a way. Initially, it had a slower pace, but with the launch of the i576 and i776, the service became functional and it became speedier. Both the devices, though, were small in size as compared to the ones seen on iDEN. They were followed by an executive flagship device, known as the BlackBerry 8350i. Right after them came Motorola's i9, and now we have a text-message-friendly device, the Motorola Clutch i465.
This is the first non-RIM iDEN device, which comes integrated with a decently-sized full QWERTY keyboard and a VGA camera that meets military specs for shock, vibrations and dust. Plus, you will also find a microUSB AC charger and a lithium ion battery in the box.
Design (3 out of 5)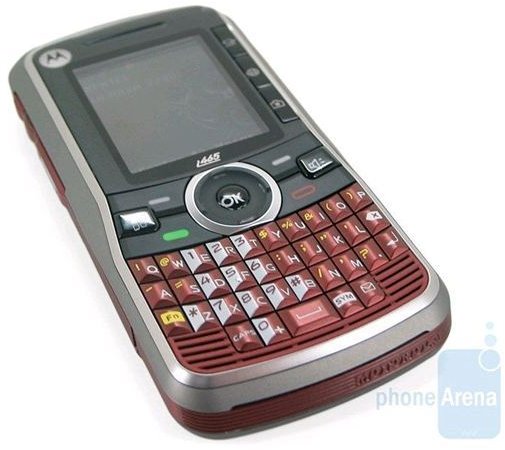 Design wise, the Motorola Clutch i465 has imposing dimensions as it measures 2.1 x 4.4 x 0.6 inches, and weighs about 96g. Thus, it is a pocket-friendly handset that can be carried around anywhere you want. Plus, the device also boasts of a 1.79 inches 64k TFT display screen, which offers a resolution of around 128 x 160 pixels.
Additionally, the keypad of the Clutch is enshrouded with a number of shortcut keys that allow for a trouble-free and uncomplicated experience for texters. Other than that, it also includes software upgrades like IM-style texting that allows users to read and respond to messages with a lot of ease and comfort. Since the phone meets all the standard military specs, it can easily stand up to any kind of adverse conditions, whether it is vibration and shock or dust and solar radiation. And in order to make the Clutch i465 so robust and strong, the company has taken special care with the design.
Features (4 out of 5)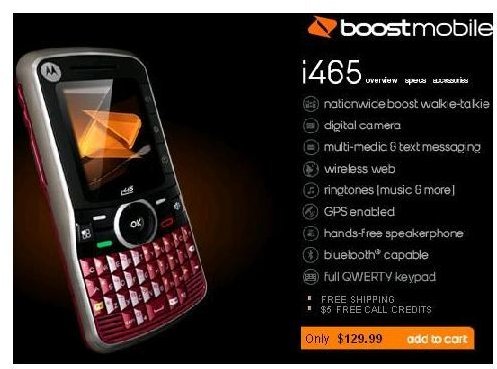 On the features front, the Clutch i465 is remarkably well endowed. Its 600-contact phone book is capable of storing up to 7 phone numbers, notes and an email ID in each entry. Users are also allowed to save contacts to PTT Talk Groups, and can also pair those contacts with 1 of 12 polyphonic ringtones. Further basic features include: a data book, a speakerphone, a memo pad, a vibrate mode, call timers, a voice memo recorder, and Bluetooth. And, yes, you are also provided with Boost's walkie-talkie PTT service support.
Though multimedia and text messaging are the Clutch's prime features, it also offers support for a lot of POP3 email accounts. There is a plus point in the threaded texting, but e-mail needs a web-enabled interface. The Clutch doesn't render support for IMAP4 e-mail, IM and Outlook Exchange server syncing.
The VGA camera is able to capture images in 5 resolutions that is; from 640x480 down to 160x128. The options of editing have 2-quality settings, 2-shutter sounds, a 4x-zoom, a self-timer, and changeable brightness. The camcorder also brags of an equal set of editing options. Clips, intended for multi-media messaging, are set at 16 secs, but can be shot for a long time in standard mode as well.
The VGA camera offers a pretty good quality of photos, with natural colors, but blurred a bit. Given that, the Clutch has no flash, you'll require ample light to capture your images. In addition, the camera doesn't offer good video quality. You can save your work with 20MB shared memory, and a handy meter keeps you aware of the remaining space.
The Motorola Clutch can also be personalized with a number of themes, wallpapers as well as clock formats. The Clutch is also compatible with Java apps.
As to its connectivity options, it is attuned with Bluetooth 1.2, micro USB, a 2.5-mm audio jack and 5-pole. The Clutch also offers compatibility with MP3, MIDI, and WAV, so allowing you to listen to your favorite songs while on the move.
User Interface (3 out of 5)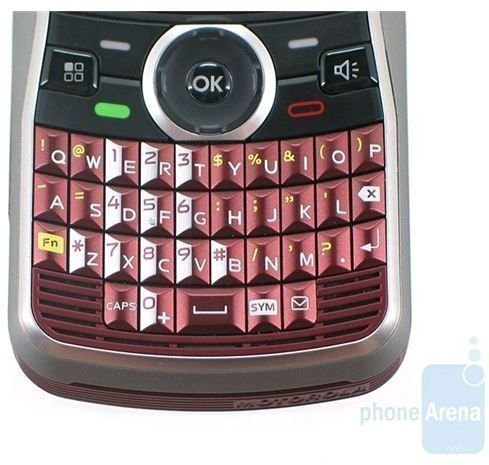 Well, similar to other entry level handsets, the Motorola Clutch i465 doesn't have an attractive interface. The menus are sometimes unreadable and too compact due to the low resolution display, and words like 'contacts' and 'messages are shortened to 'Contcs' and 'Mesgs' by the home screen itself.
Nevertheless, the black color scheme, all over the apps of phone, is worth tolerating, and its main menu allows zippy and fast access to all the phone's apps. The animated icons of the device are great. In addition, the crowded buttons on the phone's front allow fast access to almost all the most important functions and apps on the phone.
Performance (3 out of 5)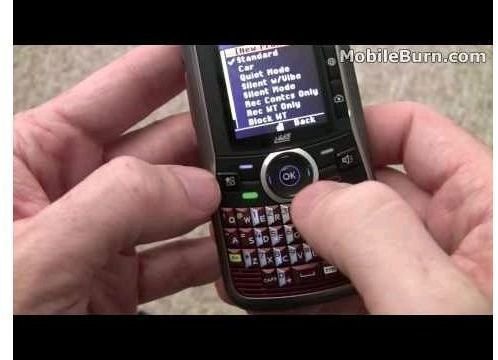 Performance wise, the Motorola Clutch i465, on being tested, was found to offer pretty good voice quality. The voice of the callers was quite clear, crisp and loud, with no distortion or muffling. The speakerphone, as is expected from iDEN models, sounded relatively clear, even in the noisiest environments. The voice quality impressed the callers to such an extent that it should be rated 4 out of 5 ratings.
When the device was tested out for the feature of international Direct Connect, it did leave us in awe. Though, initially, it takes a little longer for call setup, once you are used to it, it gets done in a jiffy. Plus, there is also no drop or lag in the voice quality, and even with a little longer setup time, the service was as fast as lightning. Kudos Sprint!
Battery life (3 out of 5)
The iDEN models usually have a pretty weak battery life and the Clutch i465 is not any exception here. The device offers a rated talk time of about 3.4 hours that's better than some previous units but doesn't reach the industry average of up to 5.5 hours. It also offers lower than average standby time, that is just around 4 days.
Verdict (4 out of 5)
The Motorola Clutch i465, all things considered, is a pretty good pocket-friendly handset that boasts full QWERTY and push-to-talk technology together. The phone is meant to satiate the needs of talkers and texters. And with military specs it can withstand rigorous conditions. Though its keys are small, the QWERTY keyboard is comfy to operate. The display, web and color scheme, however, leave much to be desired. Even then, as a low-end phone meant for the young texters, it does a good job for an iDEN handset. The Clutch, at $40 contract or $130 for Boost prepaid, isn't really a bad little phone in the right hands, I mean if you don't have large fingers.