Motorola Admiral Review: Rugged Android Smartphone for Business Users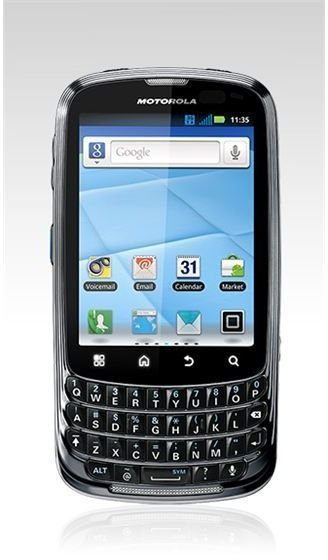 Motorola has released a number of smartphones aimed at the business market and they produce some pretty rugged devices as well. The Motorola Admiral combines the two into a portrait QWERTY Android device. This is an upgrade to the Motorola Titanium and it's the first Push-To-Talk smartphone on Sprint's 3G CDMA network. On a two year contract with a $50 mail-in rebate you could snap the Admiral up for $99.99. Is it worth it?
Design (4 out of 5)

The Admiral is quite an attractive smartphone and it looks like the most compact device from Motorola yet featuring this form factor. It measures 4.68 x 2.44 x 0.48 inches and weighs 4.71 ounces. There have been many releases that copy the classic BlackBerry design and this is one of the best so far. It combines a 3.1 inch portrait capacitive LCD touch screen with a resolution of 480 x 640 pixels with a full physical QWERTY keyboard.
This is a comfortable smartphone to hold with a textured plastic back cover for grip. It's easy to hold and type one-handed and the keys are responsive. On the lower right spine you also have a dedicated camera key which is handy. Up top you have the power and mute keys and a 3.5mm headphone jack with a rubber cover. On the left spine you'll find the volume rocker, Direct Connect key (for PTT) and microUSB port.
This phone also adheres to military spec 810G which means it is dust, shock and vibration resistant and it can withstand low and high pressure and solar radiation. It's not water resistant, but it is pretty tough.
User Interface (3 out of 5)
The phone runs Android 2.3.5 and unfortunately it has the Motoblur interface on top. It runs smoothly thanks to the 1.2 GHz processor backed by 512 MB of RAM. The Motoblur interface isn't great, it combines all your contact messages and social network updates, which is probably not desirable for most people. It doesn't look fantastic either, but it is customizable and it works well enough to be perfectly usable and accessible for newcomers.
Features (4 out of 5)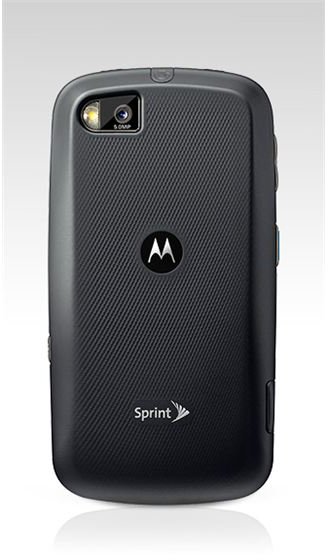 The Admiral has a single core 1.2 GHZ Qualcomm MSM8655 processor with 512 MB of RAM and 4 GB of built-in storage. There is also a microSD card slot so you can expand that memory by up to 32 GB.
It has a pretty decent 5 megapixel camera with an LED flash and it can also record 720p HD video. It's the usual story with the camera – you'll capture good shots when the lighting is optimal, when it gets dark the results are not so great even with the flash.
Connectivity is good with Bluetooth 2.1 EDR, Wi-Fi 802.11 b,g,n, DLNA and A-GPS support.
You've also got the usual Android services including the stock Android browser which offers a good web browsing experience with support for Flash. On top of that there are some Motorola apps and some Sprint apps. Quick Office Pro is a nice inclusion, some of the others aren't so useful and you can't uninstall the majority.
There's also support for music or audio files in the MP3, AAC, eAAC, AAC+, eAAC+, OGG formats. For video you'll find that the WMV, MP4, and 3GP formats are covered, but the screen isn't ideal for watching movies.
Performance (4 out of 5)
The call quality is excellent and the speaker is very loud which makes the Push-To-Talk feature great to use. This isn't a 4G phone so you won't be getting amazing data speeds but the 3G network is pretty decent.
One of the best things about the Motorola Admiral is the battery. This is a 1,860 mAh beast and it should easily last you a couple of days between charges. You'll get around 9 hours of talk time and around 3 days on standby.
Verdict (4 out of 5)
The Motorola Admiral is an ideal device for anyone considering switching to Android from BlackBerry. After the last outage who could blame you? If the physical QWERTY keyboard is important to you then you'll love the form factor, the battery life and call quality are great, and it's a fairly rugged smartphone. Android is very easy to grips with and the app and messaging options on the Admiral should tick all of your boxes.
This isn't a real top of the line device, but that's reflected in the price. It does offer a nice set of features that will attract a specific crowd and it's nice to see a rugged PTT Android device with a decent set of internal specs.
References