Motorola Barrage Review: Unbreakable Phone With GPS, PTT and More
The Motorola Barrage was released in 2009. Although it has a bulky design, it is durable and offers a rich feature set that is useful and functional, making it a very good choice for people who love the outdoors. This phone is built to withstand punishment. You can get one for free with a new Verizon contract.
Design (4 out of 5)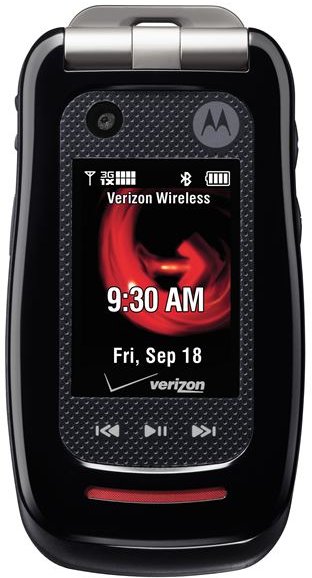 The Motorola Barrage is a super-durable and waterproof flip phone. It is covered in a rubberized coating and has an oversized, strong metal hinge. The phone is 3.77 inches long, 0.96 inches thick and 2.08 inches wide. With these dimensions and its design it looks bulky but it is not quite as heavy as it looks. The device weighs 4.2 ounces, making it a little heavier than most phones. The phone offers a 2.2-inch display that has a resolution of 176 x 220 pixels, and support for 262,000 colors. There is also an external display that looks very nice on the phone's front. It measures 1.6 inches, supports 65K colors and is bright.
When the Motorola Barrage is open, you'll see a 4-way toggle with an OK button in the middle and a clear button, 2 soft keys, a camera key, Power/End and the Talk buttons on either side. The left spine contains a push-to-talk button, a volume rocker and the micro USB charging port, while the right spine houses a voice dialing shortcut key, a 3.5mm headphone jack and the speakerphone button. The microSD card slot is located behind the cover and there is nothing on the top.
User Interface (3 out of 5)

The user interface of the Motorola Barrage is customizable. The phone comes preloaded with 14 wallpapers and three display themes that can be used according to your preference. The clock format, screen brightness, backlighting time, and font size for dialing and menus can also be adjusted. The external display is bright and vibrant and you can set a wallpaper of your choice. The external display shows you the time, date, photo caller ID, signal strength and battery life. This makes life easier as you can get this information quickly by simply glancing at the external display. The rubberized keypad is very easy to use and feels great when typing. The keys are spacious and raised, making it easier to write a text message or call while on the go.
Features (4 out of 5)
The Motorola Barrage offers a 2.0-megapixel camera that features five resolutions, five white-balance settings, three shutter sounds, digital zoom and nine fun frames. There is no flash but you can take self-portraits using the external display. The phone can store up to 1,000 contacts and each contact can have five phone numbers, notes, a street address and an e-mail address. The contacts can be saved to groups and a unique photo ID and ringtone can also be assigned to each contact.
Motorola Barrage Features (4 out of 5)
Media like pictures, videos and sounds can be saved on the built-in 132 MB of memory. A microSD card up to 16 GB can also be used to extend the internal memory. The phone has push-to-talk (PPT), which means you can use it as a walkie-talkie to talk to someone who has a phone with the PPT feature. The preinstalled WAP browser offers fast browsing and has a simple interface. The phone can handle instant messaging, SMS, MMS and e-mail with POP3 support.
The Motorola Barrage comes preinstalled with a few ringtones, and additional options can be downloaded from Verizon using the built-in web browser. Unfortunately there are no applications or games on the phone, but you can download them from the Internet. The phone offers the full range of Verizon 3G services including V Cast with Rhapsody and V Cast streaming video. Other features of the Motorola Barrage include a stopwatch, Bluetooth, voice commands, PC syncing, to do list, calculator, GPS, VZ navigator, calendar and notepad.
Performance (4 out of 5)

Call quality on the Motorola Barrage is clear and undistorted. The volume could be a little louder, but no complaints about the audio quality. Bluetooth functions perform admirably and the speakerphone is loud and very clear. The browsing speed on the Motorola Barrage is quite fast, as it is an EVDO compatible device. Almost all pages open fast so the net surfing experience on this phone is very good. Video quality is average, clips never freeze, but realistically this isn't a great phone for watching video on. The Motorola Barrage has talk time of up to 6.5 hours, and standby time up to 22 days, which is quite decent. As with any phone, the battery life will vary with the level of usage and will also depend on charging cycles.
The Verdict (4 out of 5)
The Motorola Barrage serves as a phone, music player and navigation device. It is a little bulky but that will not be an issue unless good design is the most important thing to you. This is really intended as a tough outdoors device and it has a reasonable set of features for the price. If you're after a tough phone check out the best rugged phones from Samsung before you make up your mind.
References
Motorola, https://mediacenter.motorola.com/content/detail.aspx?ReleaseID=11910&NewsAreaID=22