Detailed Review of the Motorola KRZR K1
The Motorola Krzr K1 has beautiful construction and looks more attractive in reality than it does in pictures. It comes packed with a good number of applications and features, which enable you to enjoy a superior mobile phone experience, with style. It is not a very high performance phone but it is a decent feature phone with good specs. Its flip design is lightweight and slim and very comfortable to carry and use. The Krzr comes in various color varieties and it is available at Amazon. The price starts at $87.99 and goes up to $139.99 for a contract free phone.
Design (4 out of 5)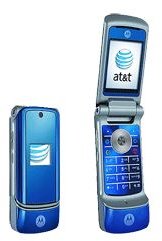 The Motorola Krzr K1 measures 4.05 x 1.73 x 0.67 inches. Although it looks thicker from the sides, it is very comfortable to hold or carry in the pocket and when closed, it is easy to reach the side buttons. It weighs 3.6 ounces, looks fashionable and should appeal to fashion-conscious people. The glossy body looks nice, but unfortunately it easily picks up scratches and fingerprints. The phone looks similar to the Motorola RAZR but it is slightly longer, thicker and more durable. The front of the phone reflects light just like a mirror and a small 65K color display is on the outside that shows incoming calls and service information. Above the display is a 2 MP camera, almost hidden in the phone's surface.
When the phone is closed, it doesn't have any controls except the side keys. The keys are of good size and even users with fat fingers will not have any problems pressing them. The top and bottom of the phone are also free of any connector or key and the microSD card slot is situated below the battery cover. Instead of a typical silver keypad, this phone has a blue keypad that matches the phone color. The whole keypad is similar to the one on the Motorola RAZR V3 or V3i. The only difference is the horizontal and vertical lines that divide the keypad in columns and rows. The phone has some hidden lights, situated at the left or right sides of the external screen and they are only visible when flashing. These lights flash when Bluetooth is on or the phone is charging. The phone was initially available in blue but now it is also available in black, pink, cherry, red and white colors.
Image from motorola.com
User Interface (5 out of 5)
Motorola didn't create a totally new interface for the Motorola Krzr K1, rather its interface resembles that of other Motorola phones. Setting up a caller ID or ringtone while entering a new phonebook entry is very easy and there is an additional birthday field that may be useful for some users. You can group the contacts and searching through the contacts is simple and straightforward. Using the calculator, adding a note, an event, etc. is easy and if you have used the RAZR or other Motorola phones before, you will notice that navigating the interface is familiar.
Pressing the centre key of the D-Pad shows the main menu in a list or 3x3 grid of icons. The pad is customizable and you can assign shortcuts to each of its direction. You can also customize the brightness, contrast and appearance of the interface by applying different themes, which may give a better effect, that is more to your liking.
Features (4 out of 5)
The Motorola Krzr K1 has two audio players. One is a simple app with a plain interface and the other is a bit more advanced, created in Java. The audio players play songs in MP3, AAC, and AAC+ formats. You can listen to the music through the phone's speaker, headphones or wireless headset. The phone also supports MPEG4 video capture and playback.
The phone comes preinstalled with some Java applications and you can easily download and run other applications that you want. The 2 MP camera supports a 1600x1200 pixel resolution and does not offer advanced video recording capabilities. Photos are poor quality and video is even worse. The screen can display 262K colors at 176 x 220 pixels which is far lower than the minimum 320 x 240 pixels, found on most phones nowadays.
The phonebook can hold up to 1,000 contacts, and each can hold additional numbers, an e-mail address, and the contact's birthday. The messaging features of the phone are SMS, MMS, E-mail, Instant Messaging and EMS. The built-in browser supports xHTML and WAP 2.0 but it's not an advanced browser, so you shouldn't expect many configuration options from it.
Other features of the Motorola Krzr K1 include voice dialing, speakerphone, voice recorder, vibrate mode, PC syncing, calendar, alarm, and e-mail. The connectivity options available on the phone are GPRS, EDGE, HSDPA and Bluetooth. The phone includes 12MB of memory, which is not large enough but fortunately a microSD card slot is provided so users can insert a memory card to store their large collection of music, videos, or pictures.
Performance (3 out of 5)
The signal strength is not great but you won't have any real problem making calls unless you are in a basement or a steel building. The voices sound clean and realistic, even in noisy environments. The keypad is better than the one on the V3 or V3i and the keys offer a good tactile response. The 2 megapixel camera takes five seconds to open, which is very slow. The phone is powered by a 700mAh battery, and the battery life is very good. You get up to 300 hours of standby time and up to 6 hours of talk time.
Verdict (4 out of 5)
The Motorola Krzr K1 is a nice phone and an entertaining device that allows you to make the most of your time. It has a good set of features that set it apart from other feature phones in this price bracket. If you are looking for a sleek flip phone that not only looks smart but also helps you get comfortable when you hold it, the Krzr K1 is for you. It is like an updated RAZR and there's a reason why the RAZR was so popular for so long.
References