Read Our Motorola ES400S Review: Great Phone for Business
The Motorola ES400S is a business centric phone that comes preinstalled with many business level applications. It is termed as an EDA – Enterprise Digital Assistant, as it targets industry workers, sales, marketing, retail and healthcare professionals. It is a great choice for business users who need to carry out many of their business functions through the phone. Overall it is a good looking smart phone offering high durability, business and security features, especially for business uses.
Design (5 out of 5)
This phone measures 5.07 inches in length, 2.37 inches in width, and 0.66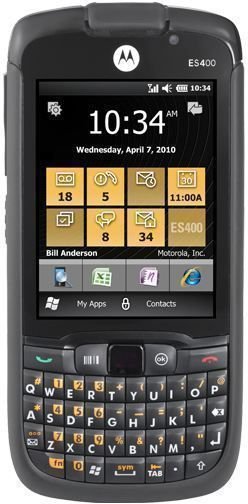 inches in thickness, and weighs 5.4 ounces. The thickness is because of the rubber padding that makes the phone safe and durable to be used in rough environments. Due to this padding, the phone can survive a four feet drop and can even function up to 104 degree Fahrenheit. The outer surface of this phone is resistant to vibrations, drops and even water.
The display screen measures 3 inches and covers a large portion of the phone. Underneath the screen is the navigation array, the talk and end keys, OK key, bar code scanner keys, and a touch pad sits in the centre. Below all these is the QWERTY keyboard. The left side of the phone has charger and headset sockets, covered in a rubber flap to avoid water damage, and the push-to-talk key. The right side has the camera key and volume rocker, the top of the phone has a small power button, and the backside consists of a camera lens, LED flash and a fingerprint scanner.
User Interface (3 out of 5)
This phone has a highly bright screen that is very good for people who like to have a phone with vibrant graphics and crisp text. The screen orientation and font size can be adjusted, and there is a built in accelerometer that can change the screen orientation as the phone is rotated. The phone also has a stylus that helps in selecting tiny buttons and increases accuracy. The main menu is honeycomb styled and the main screen is customizable. The primary home screen has many "pen tiles" that act like shortcuts to the most frequently used applications like e-mails, calendars, contacts, etc.
The navigation array under the display is large and easy to use, making it especially user-friendly for those with big fingers. Below that is the QWERTY keyboard, which is compact and the keys are raised above the surface, which makes typing quick and easy.
Features (5 out of 5)
Motorola ES400S has all the functions of a Windows mobile and includes Mobile Internet Explorer, MSN Messenger, MSN Weather, Bing, My Phone backup service, MSN Money and Microsoft Office. You can configure IMAP and POP3 email accounts, and this can be done in minutes. Remote Desktop, MSP Agent, SMS Staging, AirBeam Client, Rapid Deployment Client, Sprint's directions application, and Sprint Navigation are also present. The usual mobile phone features like calendar, address book, speaker phone, tasks, voice command, calendar, calculator, conference calling, notebook, SMS and MMS are also there.
Features (5 out of 5)
The phone is compatible with both the CDMA and GSM networks s_o you can_ use the phone absolutely anywhere in the world. The connectivity options on the phone are Wi-Fi, EV-DO and Bluetooth with A2DP. The phone comes with 256MB of memory, and you can also extend it with a MicroSD card (max 32 GB). The windows media player of the phone supports formats like MP3, WMA, AAC, AAC+, MPEG4, MIDI, WMV, and H.263. There is a 3.2 mega pixel auto focus camera that works as a video camera as well. The phone runs on the Windows Mobile 6.5 operating system and can run most of the business applications being used in the corporate world.
Performance (5 out of 5)
This phone has a fantastic call quality with very clear and sharp voice quality. The voice and audio player quality is so good that even in a noisy environment you won't have a problem listening to a call or music. The phone has a fast 600 MHz ARM 11 processor so you will not experience much slowdown when using your Motorola for multiple applications at the same time. Web access is no trouble as the EV-DO speed is good.
The 3.2 mega pixel camera takes average pictures in three resolutions and three quality settings. It's an auto focus camera that can take snap shots, as well as record video, but the images sometimes seem a little dull and colors are a bit dark too. The phone has a battery life of six hours of talk time and eleven days of standby time.
Verdict (5 out of 5)
The unique selling point of this phone is that it is made to attract only businesses. Inventory tracking, new order placing, bar code scanning are just of the many functions this phone can perform, so if you have a business and are looking for a portable, durable and fast digital assistant, then this phone is for you.
References