Motorola i886: Rugged PTT Phone Reviewed
This rugged release from Motorola supports push-to-talk with Nextel Direct Connect support. It has a slide out QWERTY keyboard, GPS, Bluetooth and a 2 megapixel camera. It is a fairly typical feature phone, until you come to the user interface which appears to be Android based….but wait a minute, this isn't a touch screen phone and it certainly isn't a smartphone. Let's take a closer look at the Motorola i886 and see what we can find out.
Design (3 out of 5)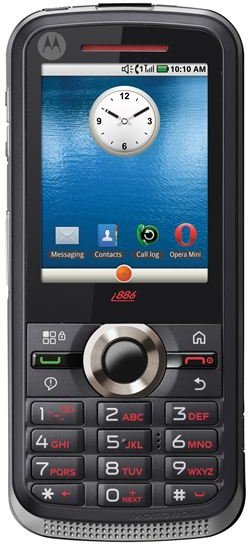 The Motorola i886 won't be winning any beauty contests. The black and grey color scheme is joined by some silver accents and a splash of red for the speaker grill, with secondary lettering on the keys. It's a candy bar phone which measures 4.58 x 2.01 x 0.73 inches, and weighs in at 4.98 ounces. Considering the inclusion of the full four row QWERTY keyboard which slides out to the side, with the help of a spring mechanism, this phone is actually fairly compact. It is also military certified to specification 810G, which means it can withstand dust, shock, vibration, low pressure, solar radiation and extreme temperatures.
The display is a QVGA measuring 2.2 inches and it supports 262,000 colors. Beneath the display you'll find a central d-pad. To the left of it there are keys for menu, send and notifications. To the right of the keypad you have keys for home, end and back. Below the d-pad there's a standard number keypad with 12 keys.
The top of the Motorola i886 has a 3.5mm headphone jack and a speaker key. The right side of the phone has the camera control and a micro USB port for charging, and the left side has the volume rocker and a Direct Connect key. The 2MP camera lens can be seen on the back. The keyboard slides out to the left and is easy to use, thanks to good spacing for the keys. The keys are a little stiff though.
User Interface (3 out of 5)
Android users may have noticed the standard buttons mentioned above – menu, back and home are found on every Android device, although they are usually accompanied by search instead of notifications. Motorola have described the platform as a proprietary OS, but it is clearly recognizable as some variant of Android. There are three home screens, a typical icon system, and the pop-up menus look just like Android.
Obviously it is not a touch screen device, so navigation is not as smooth as it usually is on an Android device, but the d-pad works fine. There is also no Android Market, but you do get access to the GetJar app store for Java apps.
Features (4 out of 5)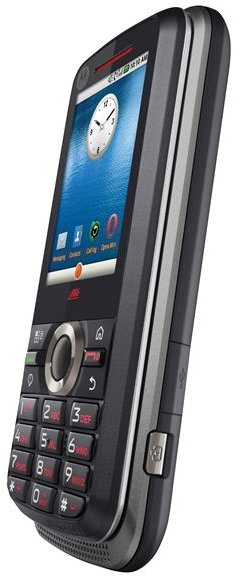 The Motorola i886 has a decent range of features. Text and multimedia messaging supports threaded conversations. The e-mail client is easy to configure and offers support for Exchange ActiveSync. The phone book allows you to enter multiple numbers, e-mail addresses and IM handles for each contact along with a postal address, company name, notes, nickname and a website URL.
The music player supports album art and visualizations and there is an equalizer with nine settings. You've also got shuffle and repeat options. Since the onboard memory is only 62MB if you want to listen to a lot of music then you'll want to get a memory card and you can expand the memory up to 32GB by doing that. In terms of formats it supports MIDI, WAV, MP3, AAC, AAC+, WMA, AU, AMR, and iMelody.
The Motorola i886 also supports H263, H264, Real Video, and WMV video formats but you won't want to watch video on such a small screen.
The web browser is Opera Mini which goes some way toward making up for the slow iDEN network. There is no Wi-Fi support. There is, however, support for stereo Bluetooth 2.1 and the phone is A-GPS enabled. You can get turn-by-turn directions using Telenav.
The 2 megapixel camera and camcorder is about what you'd expect from a feature phone. The top resolution is 1200 x 1600 pixels and there is digital zoom and some basic photo editing tools. Photos are basic and videos are QVGA resolution.
Some other basic features such as an alarm clock, calculator and audio recorder round out the package.
Performance (3 out of 5)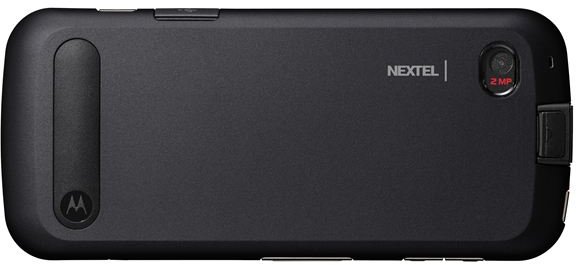 The call quality on the Motorola i886 is very good on both ends and the speakerphone offers great audio quality as well. You'll get a little over 4 hours of talk time from a fully charged battery. The Motorola i886 sports a 1380 mAh battery. It should also run for around 5 days on standby.
The network means web browsing is fairly slow but navigating the menu on the phone is fairly lag free. It could also do with slightly better battery performance, but all in all it is a good little performer.
Verdict (3 out of 5)
If you are in the market for a tough wee phone with good messaging and call performance, then the Motorola i886 could be for you. It is a solid device with a reasonably good set of features for the price bracket. It would be nice to have Wi-Fi and more of the benefits of the full Android OS, but this is a feature phone at the end of the day and not a smartphone.
References