Motorola Spice XT300 Review: First Look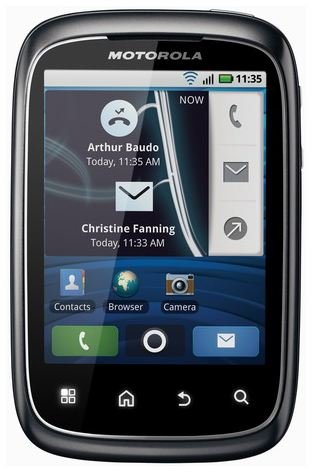 Motorola Spice XT300 Review: First Look
The Motorola Spice XT300 is one of the most unique Android smartphones I have seen in recent times. The design is very new in the Android world and it has a nice set of features which make it a great buy. It reminds me of the Palm Pre and the Blackberry Torch. Motorola has been one of the best innovators in terms of mobile design, and they have done it again.
The Motorola Spice is perfect for business users and for those who don't like a touchscreen. It is suited for one-handed use and looks very stylish. It should be priced in the budget segment and will probably be fairly successful.
Design
The Motorola Spice XT300 sports a very stylish design which will remind you of the Palm Pre or the Blackberry Torch. The form factor is very new among Android phones. It has a 3 inch TFT capacitive touchscreen display with a resolution of 240 x 300 pixels. It also has a Backtrack trackpad on the rear.
But the real USP of the phone is its vertical sliding QWERTY keyboard. It has a nice 4 row QWERTY keyboard like the Palm Pre and the Blackberry Torch which slides out from behind the display. The phone is quite compact with dimensions of 97 x 61 x 16.8 mm and weighs just about 145 gms.
User Interface
The Motorola Spice will run the Android 2.1 Eclair OS, not Android 2.2 Froyo. It will sport the MotoBLUR user interface which offers Facebook, Twitter and Myspace integration.
It will likely have a 667 MHz processor and comes with 256 MB RAM. It has a 512 MB internal ROM and supports up to 32 GB microSD memory cards. The low display resolution might prevent some apps from the Android Market from running on the Spice, but most of them should.
Multimedia
The Motorola Spice is quite average in terms of multimedia features. It has a 3.15 MP camera with a maximum image capture resolution of 2048 x 1536 pixels. It doesn't have autofocus or flash though. The camera can record VGA videos at 25 FPS.
It also comes with an FM radio with RDS and supports all the basic audio and video formats like MP3, WAV, WMA, AAC and MP4, 3GP, WMV and H.264 respectively.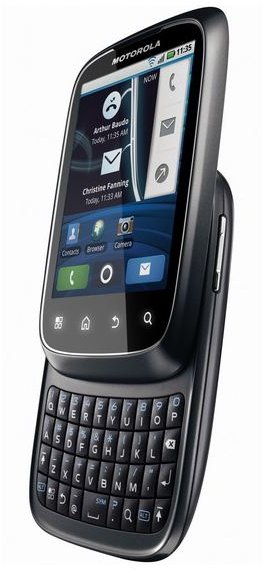 Connectivity
This is one area where the Motorola Spice can match up to the best Android smartphone, but then so can most other phones. It has GPRS, EDGE, 3G HSDPA and Wi-Fi 802.11 b/g. It also comes with Bluetooth 2.1 with A2DP and microUSB 2.0 connectivity. It also has a GPS transceiver with A-GPS support and Google Maps.
Besides that, it also has the default Webkit based Android browser and the UI is integrated with Facebook, Twitter and Myspace.
Conclusion
The Motorola Spice is one of the best budget Android smartphones. Its design and form factor are really good and will likely entice a lot of Palm Pre users to switch to Android.