Preview of the Motorola Sage MB508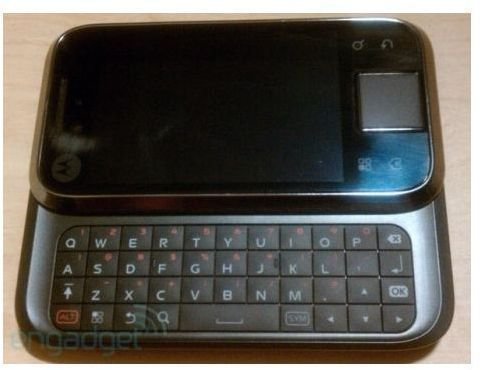 Motorola Sage Review: First Look
Motorola has been one of the greatest supporters of Android since the very beginning. It stopped working on other mobile operating systems and shifted its entire focus to creating high end Android smartphones. That strategy has certainly paid off well; Motorola is one of the most popular manufacturers of Android smartphones. Motorola, HTC and Samsung are the top three in the Android world.
After the hugely popular Motorola Droid and the Droid X, and some other smartphones based on the Android platform, Motorola is now planning to launch the Motorola Sage MB508.
Details of the Motorola Sage leaked out about a month back. It is a QWERTY slider smartphone with a touchscreen display and some really good hardware powering it. It runs the Android 2.1 OS with the MotoBLUR UI.
Image source: Engadget
Design
The Motorola Sage has a nice glossy black design which looks very stylish. It seems pretty compact, in spite of the sliding keyboard. The keyboard seems spacious with good key placement. It has a Backtrack touchpanel as well, like the Motorola Backflip.
The display is a 3.1 inch TFT capacitive touchscreen one, with a resolution of 320 x 480 pixels. It is much smaller compared to the other phones launching in the coming months, but the Sage will also be priced much lower.
Hardware and OS
The Motorola Sage will run the Android 2.1 Eclair OS but will get an upgrade to Android 2.2 Froyo soon after launch. It has the same MotoBLUR UI as other Motorola Android phones. It will support Android Market for apps and games.
It will presumably have hardware specifications similar to the current breed of Android phones, including a 800 MHz or 1 GHz processor and 256-512 MB RAM. It also supports microSD cards up to 32 GB.
Multimedia
The Motorola Sage comes with a 5 MP camera which can capture images at a maximum resolution of 2560 x 1920 pixels. It offers autofocus and geotagging, but doesn't have a flash.
It will sport the standard Android image gallery and multimedia player. It supports video playback for the following formats - MP4, H.264, H.263 and WMV.
Connectivity
The Motorola Sage comes with all the standard connectivity options like GPRS, EDGE, 3G HSDPA, Wi-Fi 802.11 b/g and Bluetooth 2.1 with A2DP. It also offers microUSB 2.0 connectivity. Besides that, it also comes with a GPS chip with support for A-GPS. It comes with the Android Webkit browser which is the best mobile browser in the world, bar maybe Safari. The UI is also integrated with social networking services like Twitter, Facebook and Myspace.
Conclusion
The Motorola Sage seems like a nice option if you want an Android smartphone with a physical QWERTY keyboard. It will be available on AT&T's network soon.
For more options, check out our list of the best Android smartphones.