Detailed Motorola Q Review: Design, User Interface, Features and Performance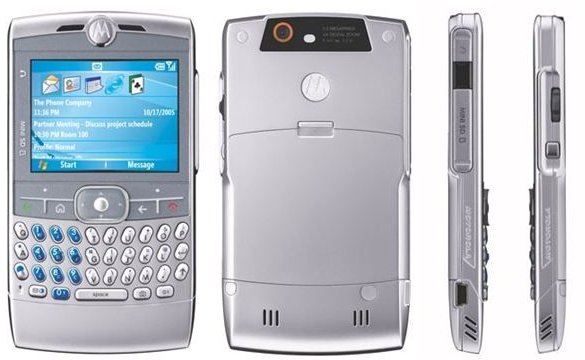 Motorola Q
The Motorola Q is a most recognizable smartphone with its ultrathin form, with its manufacturer even calling it the thinnest device with a full QWERTY keyboard. While the Motorola Q gets a lot of hype for its form factor, it also gets a lot of credit for its good array of features and impressive performance.
Design (5 out of 5)
Without a doubt, the form factor of the Motorola Q is its biggest selling point. It is incredibly thin and it would easily slip in any pocket or bag. It has a measure of 4.57 inches in length, 2.52 inches in width and just 0.45 inches in depth, making it thinner than another popular slim smartphone, the Motorola Razr. The design of the Motorola Q makes it highly coveted especially among users who want a mobile device that will not take up a lot of space. The Motorola Q also comes with a solid construction that feels nice and sturdy to hold.
At the back of the Motorola Q are the camera lens, stereo speakers and flash. On the left side of the device are ports for infrared, mini USB, and mini SD card. On top of the device is a jack for a 2.5 mm headset.
User Interface (4 out of 5)
The screen of the Motorola Q is also impressive, it measures 2.5 inches and is capable of displaying up to 65,000 colors at a resolution of 320x240 pixels. Wider than most smartphones from Motorola, the Motorola Q's screen can display impressively bright, sharp and colorful text and images. The home screen can be customized according to the moods and preferences of the users, with various background images pre-installed in the handset. Alternatives can be uploaded by the user. The user can also change the length of the backlight time, font size, and color theme.
Since the Motorola Q does not have a full touchscreen, scrolling is needed when viewing webpages and documents, although this is quite easy to get accustomed to. A set of controls set just underneath the screen and on the right side of the device allow easy navigation. Two soft keys are located underneath the main screen, buttons for Send and Ending of phone calls, a shortcut for the Home, a Back Key and a navigational toggle.
The QWERTY keyboard is incredibly tactile and has a spacious layout so users won't have any trouble inputting their text messages and other notes correctly and quickly. Noticeably incorporated in the keyboard are shortcuts for camera and speakerphone activation.
Features (5 out of 5)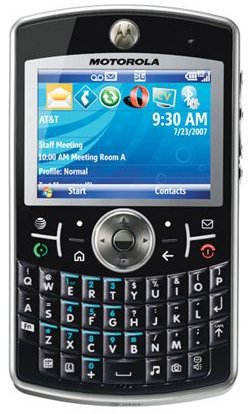 The Motorola Q does not get the same rave reviews as it has with its design. It doesn't have the Mobile Office Suite- meaning there are no applications such as Word, Excel and PowerPoint mobile versions. There is an integrated Picsel Viewer that can be used for viewing files, although it cannot be used for editing them.
The Motorola Q has the Outlook Mobile software allowing full synchronization of messages, contacts, tasks, and calendars. Wireless connections are available such as Bluetooth and infrared, but users may be disappointed with its lack of Wi-Fi. But since the phone is supported by 3G technology, users can still get fast speed on the Motorola Q that can go as high as 700 Kbps for fast downloading of email, data, and files.
The phone also has a duplex speakerphone, smart dialing and modes such as vibrate and flight. The Motorola Q comes with limited address book memory, only capable of holding 12 numbers per entry.
The Motorola Q comes with a 1.3 megapixel camera and an impressive 6x zoom. The camera supports five different resolutions with a maximum of 1280x1024 pixels. There are also tools such as self-timer, flash, white balance and adjustable brightness settings. In the video mode, users can choose from three quality settings with a maximum of 176x144 pixels. The Motorola Q also has a multimedia player that can support all the popular video and audio formats.
Performance (5 out of 5)
The Motorola Q can be relied upon to deliver excellent voice calls, with audio quality superbly loud and clear. Thanks to its spacious keyboard, texting and sending of multimedia messages, as well as composing email, is also a breeze.
In terms of its multimedia functions, the Motorola Q is pretty slick. The multimedia player is capable of playing clear and loud audio. The camera also takes nice pictures, better than those churned out by other cameras with the same megapixel rating. The camera flash also can illuminate subjects in darker environments. There is a slight lag in launching the camera application, but the response time is not disturbing enough to turn off any casual user.
Web browsing using the Motorola Q was a breeze thanks to its EV-DO support. Websites that have too many graphics may take some time to upload but it is definitely faster than non-3G devices.
Verdict (5 out of 5)
The Motorola Q is certainly worth buying thanks to its nice slim design and a plethora of features that can match up with those of other similarly priced handsets.