Review of Motorola Devour: Design, User Interface, Features and Performance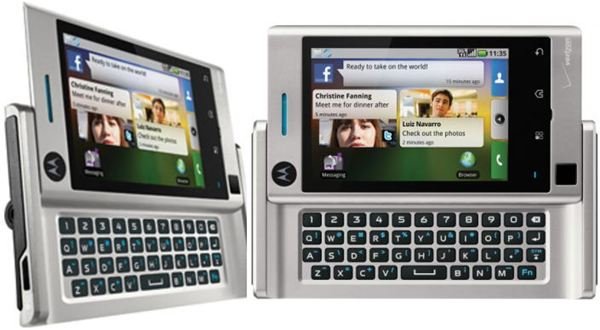 Motorola Devour
The Motorola Devour has taken the mobile phone market by storm. This is the latest Android phone from Motorola, and it features a slew of features in a sleek case that has been getting a lot of rave reviews from mobile phone fanatics.
Design (4 out of 5)
A typical Motorola Devour review starts off by highlighting the design of the Motorola Devour. The Devour has a full touchscreen display with a size of 3.1 inches and a resolution of 320 x 480 pixels. The resolution is similar to the iPhone. The Devour also comes in a sturdy case and has a size of 4.4 inches in length, 2.4 inches in width and 0.6 inches in depth. The phone has a weight of 5.89 ounces. The phone comes in a metal skin adding extra protection and a very nice sheen.
There are also other controls on the right side of the phone such as volume rocker, voice dialer, and camera shutter, while the power button is located on the top end of the device. The camera lens is on the rear side of the phone, the headset jack is on the top end, and the micro USB port is on the left side.
User Interface (5 out of 5)
A typical Motorola Devour review will also indicate the user friendly interface of the handset. The touch controls of the phone are responsive and its thumbpad makes browsing even more comfortable, while allowing users to select options through pressing down or moving between menu and home screen selections by swiping the finger. The thumbpad can also be adjusted according to the preferred sensitivity of the user.
The Devour's capacitive display gets positive reviews for being responsive and accurate. It features an accelerometer and proximity sensor. Users can adjust settings such as brightness and backlighting, and even change the wallpaper. The display cannot be calibrated, but there is a vibrating feedback option. The five home screens are customizable, by adding shortcuts, while the main menu is easy to use with its icon-based design. While the Devour has its physical keyboard, it also has a virtual keyboard.
Features (5 out of 5)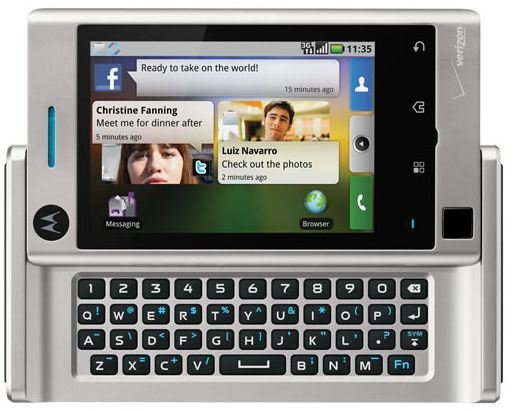 There are lots of widgets on this phone that provide quick access to social networking websites such as Twitter, Facebook, and Photobucket. The phone also comes in handy for email as it supports POP3, corporate email and IMAP4 email accounts, as well as Gmail.
There are a host of Google applications on deck such as Google Talk, Gmail, Google Search, Google Maps, and YouTube. Other features, although more basic, are calculator, voice command, visual voice mail, Wi-Fi, internal compass, and stereo Bluetooth. The browser supports Flash Lite.
The Devour's 3.2 megapixel camera can capture images in three different resolutions, although it pales in comparison with other camera phones as it comes with color effects as the only editing option. However, users can geotag captured images. There is a photo gallery which allows users to manage their photos after taking them.
The camcorder can shoot clips at about 23 frames every second available in four quality settings. The Devour's internal memory is pegged at 224 MB with an additional 8 GB memory thanks to its microSD card. The phone can accommodate more cards for a maximum memory storage of 32 GB.
There is also a music player which has playlist, repeat and shuffle modes. Audio files can be transferred from a PC to the phone through a memory card of USB cable.
Being an Android phone, the Devour has access to tons of apps and games. These can be accessed or downloaded directly on the phone. There are two pre-set apps on the phone that get many rave reviews- the Phone Portal that allows connection to a PC through Wi-Fi and GPS for easier file transfer. There is also the Media Share application allowing more convenient transfer of media files with another compatible device.
Performance (5 out of 5)
The Motorola Devour can be relied upon to deliver clear and crisp audio during voice calls, with a clear signal, even in remote areas.
The web browser also performs well, and is capable of loading web pages in mere seconds. The phone can also download music tracks in less than a minute. Thanks to its 600Mhz processor, the phone runs smoothly, and users won't be experiencing lags in between applications.
The Devour has a decent music player with its external speaker having a loud output, but the use of headset is recommended to experience the best in audio quality. The phone also gets plus points for its Bluetooth function that works better than most Android headsets.
The phone has a battery life of 7 hours talk time and standby time of 18 days.
Verdict (5 out of 5)
The Devour has the right size, user friendly interface, impressive apps and tools, and great multimedia functions that can rival many Android devices in the market.