Read Our Review of the Motorola CLIQ: Android Based Phone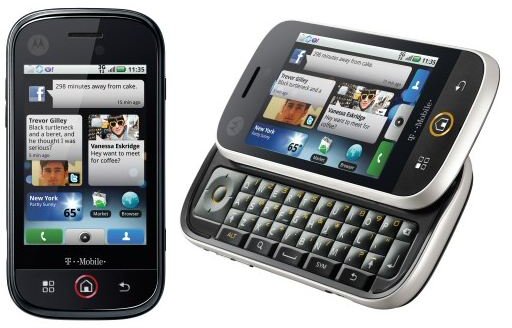 The Motorola CLIQ is packed with features and comes in a user friendly design that is powered by the Android operating system. Many have been calling it the best Android phone, and it is hard to dispute this claim with the phone's great array of features. It should suit a wide variety of users with the full QWERTY keyboard and decent screen.
Design (5 out of 5)
The Motorola CLIQ comes with a full sliding QWERTY keyboard, with a comfortable keypad layout. It has a length of 4.49 inches and depth of 0.61 inches. It is big and solidly built although it still has that feel of portability which makes it popular among mobile phone users. It is available in two colors - white and titanium.
The phone's screen is a decent size at 3.1 inches. Its resolution is pretty high at 480 x 320 pixels and capable of supporting 262,000 colors, so this one appeals to the eyes.
User Interface (5 out of 5)
The Motorola CLIQ has five homescreens that are fully customizable. Users can add folders and short cuts from the main menu, as well as a widget that displays tips on using the device, a weather forecast app, and news feeds.
On the bottom part of the display is a pull-tab, offering unique touches like a shortcut for the contact lists and Talk control that makes it easier to access the dialer. There is also a shortcut for recent calls list, frequent calls list and an option for speed dial.
Users can also customize the brightness of the display, as well as backlighting time and the font size of the email. There are three buttons which are located below the display - home, back, and menu control. The menu control activates the display whenever there is insufficient lighting. There is also a volume toggle control, micro USB port and ring silencer switch located on the left spine of the phone.
The phone has a roomy and ergonomically designed keyboard, with keys raised so it is easier to type in messages with a slim chance of making a mistake. The letters are also large and backlit brightly.
For this great user interface, the Motorola CLIQ gets an excellent score of 5 out of 5.
Features (5 out of 5)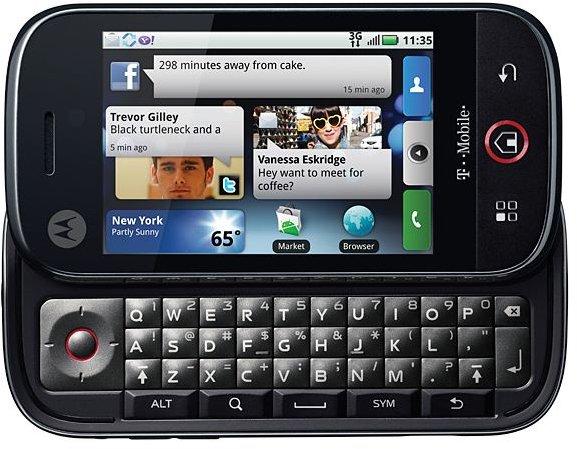 The phone boasts a wide range of texting, calling, web browsing and multimedia functions. It comes with GPS with the integrated Google Maps application. It gives a full GPS experience to its users with its numerous services like the TeleNav app that provides driving instructions, weather updates and even restaurant reviews. It also comes with with an Android Market app that allows users to download apps for free.
The Motorola CLIQ also comes with a multimedia player that not only supports popular music files but also shows album art and is capable of storing playlists. The media player also has functions like repeat, shuffle, and airplane mode, meaning it can even be used in-flight.
The phone has a 5 megapixel camera capable of taking photos in three resolutions. It also has an extensive image editing function where seven color effects are available, as well as auto focus, white balance, and digital zoom, amongst others. There is a handy meter that indicates how many images can be stored. There is also a camera recorder that has the same editing options as those of the camera.
With the web browser integrated in the phone, users will easily access popular sites such as Facebook and Gmail. Users will love the intuitve and responsive web browser, paving the way for a fluid and seamless browsing experience. The phone's accelerometer easily switches between landscape and portrait modes. There are also tools for copying and pasting text, while the browser has tabs for frequently visited portals, history, and bookmarks.
The CLIQ can be personalized with graphics, wallpapers and ringtones, and these are available for downloading from the T-Mobile website accessed through the phone's web browser.
Performance (5 out of 5)
The Motorola CLIQ is one high performing device. The camera alone produces good quality images, with natural colors and minimal blurry shots. Videos using this device were also of exceptional quality compared to those of other handsets.
Voice quality during voice calls is also impressive, with audio volume fine and with limited interference. Calls made using the speakerphone are also okay, with loud volume so users won't have to stand near the device.
Browsing the Internet with this phone is also a breeze given its fast loading web browser. A graphics-heavy portal can load in just 10 seconds, pretty impressive for a mobile device.
Verdict (5 out of 5)
No doubt about it the Motorola CLIQ is one of the most powerful, feature-packed mobile devices on the market today. The sleek design makes it easy to carry around, and the user interface is easy to browse so even grandmothers will have no difficulty in accessing the functions they need. The phone has tons of features so you have a tool for every need - from browsing the net, taking pictures, or getting updated news. Hands down, the CLIQ is for keeps.