Online Sources of The Best Free Ringtones for Motorola Phones
Motorola Ringtones
You can customize your Motorola phone with Motorola ringtones free of charge. Doing this will set you apart from other people who may also be using Motorola phones. You can visit these websites if you want to download Motorola ringtones free of charge.
CoolFreeRingtones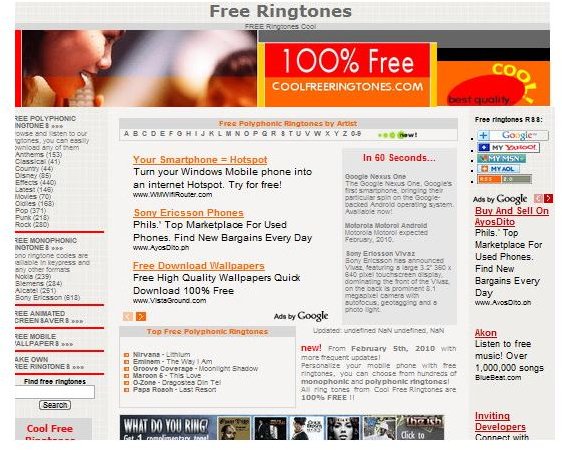 It may be overrun by advertisements and it may not have the best navigation, but CoolFreeRingtones has one of the most extensive collections of free ringtones online. It offers several kinds of ringtones organized into several categories. From the classic tunes made popular decades ago to the most current hot tracks playing on today's radio, this website has it all. The site also offers ringtones that you can compose on your phone using the keypress method. Other types of mobile content are also available, compatible with several kinds of cell phones including Motorola units.
FreeMobileFun.net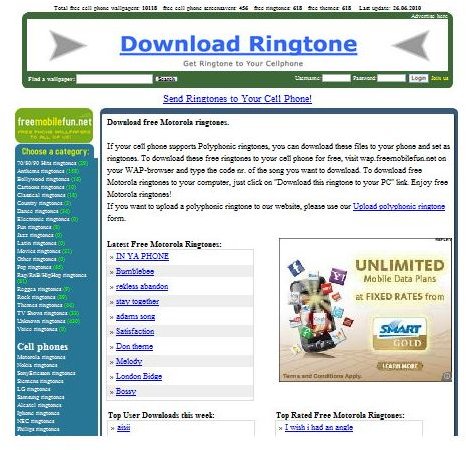 There are two ways to download ringtones from FreeMobileFun.net. First, you can go to their WAP site and type in the code of the ringtone you want to download. This method downloads ringtones directly into your Motorola phone. The second method requires you to download the ringtones to your computer. You can then transfer them to your Motorola phone via USB cable, infrared or Bluetooth connections. They have a decent number of free ringtones in their catalog, which you can contribute to because the site allows users to upload their own ringtones for other users to download.
Mr. Tones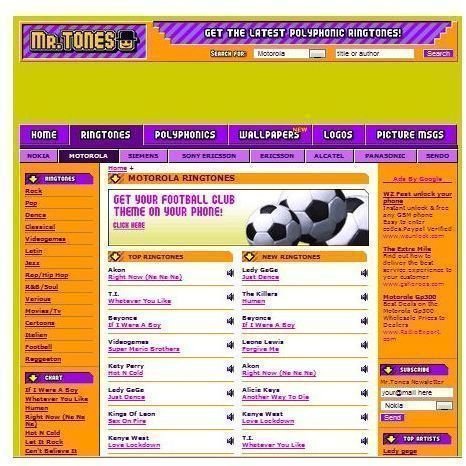 The Mr. Tones website offers an extensive library of ringtones for several kinds of cell phones from different manufacturers like Motorola, Nokia, Siemens, Sony Ericsson, Alcatel, Sendo and Panasonic. Their catalog features more contemporary pop music ringtones than anything else but there are obscure choices available. All you have to do is go through their categories to discover ringtones that you may not have heard of before. The site also offers logos, wallpapers and picture messages. There are not a lot of updated websites out there that offer this kind of mobile content and this makes Mr. Tones one of the really special mobile content sources.
GSM Arena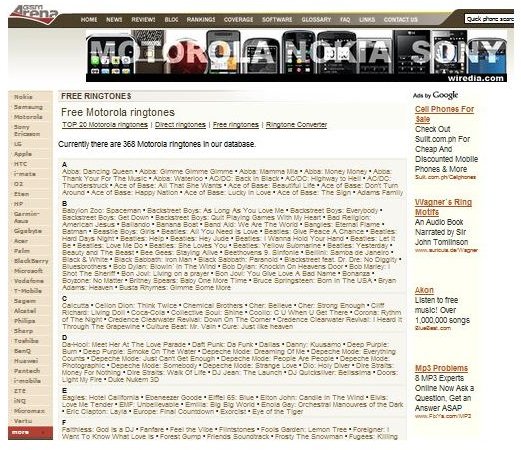 GSM Arena is a website that could use some redesign in looks and in navigation. Their list of ringtones is not very intuitive so it can be a little daunting to search for a particular ringtone. Nevertheless, GSM Arena is a great source for free Motorola ringtones. The ringtones offered here need to be entered into your phone manually via the ringtone composer. It may not be the most convenient source of free ringtones, but it does provide you with other mobile resources like cell phone-related reviews, articles and software.
Free-Ringtones.uk.com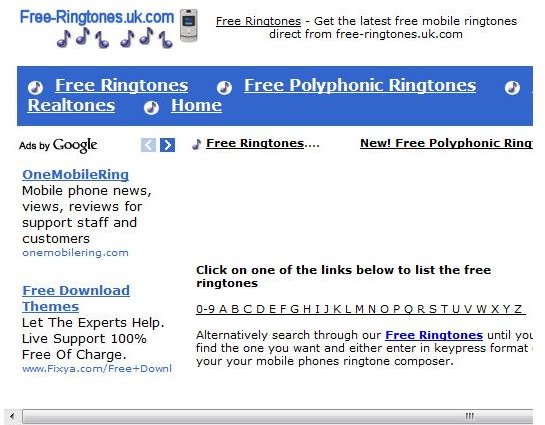 Just like FreeMobileFun.net, you have two ways to download ringtones from Free-Ringtones.uk.com. You can either download them directly to your phone by going to their WAP site or you can download them to your computer and transfer them using USB, infrared or Bluetooth connections. The site features mono and polyphonic ringtones in several categories. The structure of the site is pretty straightforward so it will be very easy to use even to users who are new to using the Internet.
Also, add fun to your Motorola phone by checking out and downloading the top 5 free Motorola games.