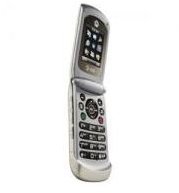 Introduction
A uniquely stylized mobile featuring a flip open, clamshell design, the Motorola EM330 comes in a choice of black or gunmetal grey. It is a dated looking handset with rounded edges, a swirl imprint situated on the back side of the phone and a glossy black panel encompassing the external display.
Image Credit: www.consumersearch.com
Design
Outlined with a brush metal aluminum casing this diminutive clamshell mobile phone showcases an external display with touch-sensitive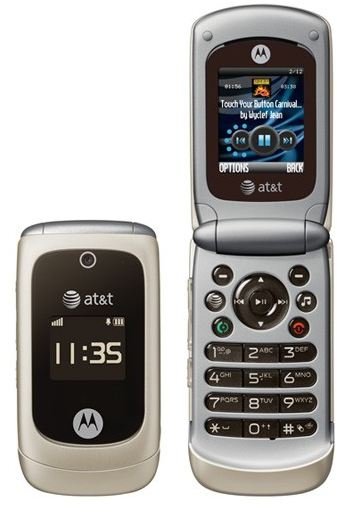 screen. Looking at this highly affordable clamshell phone you do not see a beautiful and opulent pearl but rather a design that lacks culture and beauty. A highly redundant matte black plastic surrounds the screen and control and, though the Motorola EM330 is small and as light as a feather, it does not cover up for its flaws which are quite visible to the user at first glance. The only decent part of the phone is the keypad which features large enough keys for stubby as well as slender fingers, making the phone user-friendly to your touch if not your sight. The five way navigation keys take you to the music section and also present is a prominent red button for easy and speedy access to your music library. The exterior has a cheap finish and the design is simply passé.
Image Credit: www.howardchui.com
User Interface
With great disappointment we can conclude that the Motorola EM330 does not provide the user with the ease and comfort that they yearn for. Showcasing one of the poorest resolutions on the market the Motorola EM330, though affordable, renders the messages and icons illegible. While scrolling through the lists on your phone the EM330 becomes a bit stagnant and does not flow as smoothly as we would like it to. However it must be said that while sending text messages and emails the phone does not lack speed. Featuring a convenient external screen the Motorola EM330 is all too obviously a budget phone and it lags in quality, as cheap materials have been used.
Features
The FM radio on the EM330 is simply astounding featuring a unique new technology where you can record songs while listening to the radio and then create your own remixed version and use it as a ringtone. The radio's sound quality is good but the recorded version somehow seems to supersede the live version. Unlike many other phones available on the market the Motorola EM330 comes with a headphone jack and a standard microSD memory card storage slot, which is surprising given its affordability. Featuring a lot of base level features and technology the Motorola EM330 displays a 1.3 MP camera, three java games and stereo A2DP Bluetooth not to mention the unique device also comes with PIM functions like stopwatch, alarm clock, calendar and calculator.
Performance
Though the sound quality isn't out of this world the Motorola EM330 delivers static free calls and tunes. As for music play back the Motorola EM330 also displays touch sensitive navigation keys that are visible while you are playing a track. It supports a good range of formats including WAV, XMF, 3GP, AMR, H.264, AAC, MPEG-4, MP3, H.263, eAAC+ , AAC+. While it is capable of video capture and still shots the Motorola EM330 offers very poor picture and video quality.The display is only 1.9 inches and it offers a resolution of just 176 x 220 pixels.
Phone calls are loud and clear with a slight imperceptible echo. Another drawback is that the phone has a mind of its own, occasionally you will only have to tap the phone gently for it to process your request but at other times it requires more force which results in a nervous breakdown. Battery life is pretty reasonable and it can provide up to 10 hours of constant back to back tracks and some calls. However on standby the phone only lasts up to 335 hours which is well below the number that Motorola quoted, a jaw-dropping 465 hours.
The Verdict
The verdict goes in favor of the Motorola EM330 because it is an incredibly budget-friendly phone and it manages to offer full multimedia functionality, an FM radio and MP3 player, and a touchscreen music navigation system that automatically pops up on the screen when required. Though the Motorola EM330 mobile phone presents itself as a good buy it's not for people who are tech savvy and crave new features and technologies. This phone will lure in customers that simply want to use their phone for receiving and making calls along with the added feature of an MP3 player. For all its positive features the Motorola EM330 also has plenty of negative points.