Motorola Tundra: Impressive, Tough Design with Basic Features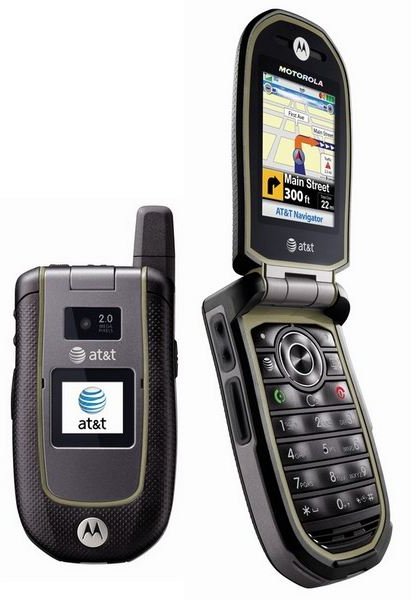 Motorola Tundra
The Motorola Tundra is a rugged mobile phone that caters mostly to outdoor enthusiasts. It has been designed to survive outdoor adventures and with reliability in mind. It packs in a moderately sized array of functions and features that should make it interesting even for casual phone users.
Design (4 out of 5)
This phone is a ruggedly built device weighing almost 5 ounces with a black and gray frame that comes with a stub antenna reaching almost an inch. Both the back and front sides have plastic frames, while rubber covers both the external controls and edges. This makes the phone durable as the rubber and plastic frame protects it from vibration, water, shock, and other external forces.
The phone's robust design is accentuated by its thick, heavy and clunky manufacture. The phone features a 2 megapixel camera which has its lens placed on top of its screen. On its left side is a volume control and PTT key while on the right side is the camera and shutter key. On the bottom part is its mini USB port with a couple of speakers on its sides.
The screen of the Tundra may be small but it contains all the essential information such as signal strength, time, date, and battery life, amongst other things. The internal display is about 2.2 inches with a 320x420 pixel screen resolution, and is able to support 262,000 colors.
User interface (4 out of 5)
The phone features a colorful LCD display with a 2.2 inch frame and keypads well-laid out for easier inputting of text.
The mini USB port located on the bottom part of the phone also doubles as a headphone jack. There is also a micro SD port which offers memory of up to 8 GB and is placed underneath the handset's battery cover. There is no need to remove the battery in removing and inserting the memory card.
The phone boasts a simple but user friendly interface. Like most Motorola units, the phone has the standard design, but clean looking interface. There are notable weaknesses, however, such as sluggish scrolling that makes browsing through the menus quite difficult.
The Motorola Tundra boasts wide and easy-to-push buttons, although the lack of smart keys is quite noticeable.
Features (4 out of 5)
While big and bulky, the phone goes some way toward making up for the ugly design with a good array of features. It comes with 2G support, multimedia functions like music playback of popular music formats like MP3, AAC and WMA, stereo Bluetooth, streaming satellite radio, games, GPS-assisted navigation, text, email, and a 2 megapixel camera.
The Motorola Tundra also features a unique, multi-tasking system that enables users to run other applications like music and business functions in the background. Music can be downloaded through USB connection or by shopping for videos and music files in the Napster Music Store. There are also plenty of EQ settings in this phone.
Performance (5 out of 5)
The Motorola Tundra boasts a good quality and high performing earpiece and speakers good enough for music and voice calls. It makes use of the trademark CrystalTalk technology of Motorola that enhances audio quality during calls by canceling outdoor ambient noise settings.
Contacts are very easy to enter in this phone, although the text is very small despite the presence of enough space on the display. Contact information can be entered such as phone number, email address, address and other personal data. Users also may assign a picture and ringtone for specific contacts. The handset also comes with presets for popular web-based services and messaging systems like AIM.
The 3G support of the Tundra can deliver HTML web pages swiftly, although not as swift as those of the other 3G mobile phones available in the market. The web text however is often tiny even though the display size of the mobile phone is 2.2 inches. Zooming is possible but it frequently does not work.
The 2 megapixel camera provides basic photo capture, with the device's external screen also used as a self-portrait screen even if there is no flash. Users however should not expect the most brilliant pictures with this feature as the phone only carries a basic camera. Shots taken indoors are usually lifeless and dull, especially those taken without flash.
The phone's battery is said to last up to 316 minutes, or roughly 5 ½ hours. However, use of the phone reveals that the phone can only deliver up to 4.24 hours of constant talk time. The standby time, however, is a good 20 days.
Verdict (4 out of 5)
While the Motorola Tundra is not the prettiest and flashiest of mobile phones, it makes up for it with good functions, features and durability. The phone is sturdy enough to resist bumps and bruises, making it ideal for use of outdoor lovers and younger users who may be careless with handling their mobile devices. But for those looking for a more feature-packed phone, this handset may not be the most recommended of items. If you go off on frequent camping trips and need something reliable with good standby battery life and GPS support then you may want to consider the Motorola Tundra.