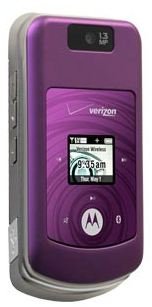 Introduction
Graded as a mid-level entry, featuring the refurbishment of the phone's internal components, such as a higher resolution internal display and camera than the previous W385, the Motorola W755 is a rejuvenating change from the stagnant designs of the RAZR. When it comes down to the phone's competition, the Samsung U550 and LG VX8350 target the same consumers - those who thirst for a user friendly cell phone, which offers style and amazing features, but that will not burn a hole in your pocket.
Design
An everyday run-of-the-mill flip phone that provides a more appealing interface than the V3m, the Motorola W755 is available in two color options namely black and purple. Beautifully finished with soft touch and a silver trim, veteran RAZR users will immediately notice the difference in structure of the W755 from its predecessors. Flip phones can be tricky because careless individuals tend to break them but keeping that thought in mind the Motorola W755 features a secure and robust hinge with efficiently designed keypads and an overall resilient feel.
However, these design improvements come at the cost of having a slightly thicker and heavier mobile device. The RAZR series has a tendency to break the bank but with the Motorola MOTO W755 phone now incorporating more advanced features than most Motorola W series phones, the price tag is within the consumers reach.
Talking about the design of the Motorola W755 we can come to terms with the fact that the RAZR's glamour surpasses all Motorola phones in that particular category but even if it isn't as sleek or magnificent as a RAZR, the W755 manages to pass the style test with flying colors. Flaunting a soft touch surface the W755 consists of shiny metal hinges and sidings. The internal display edge coincides with the shiny texture of the exterior and exudes just enough panache to look great in anyone's hand.
Image Credit: latest-mobilephones.com
User Interface
The keypad, though spacious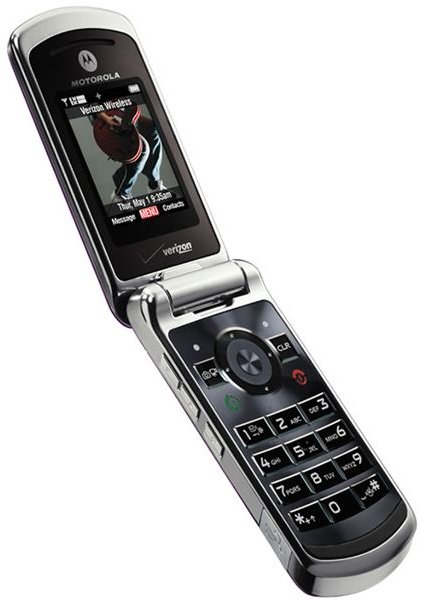 and comfortable, doesn't function too well when it comes to blind dialing. The menu buttons are flat but quite large and easy to use. Also considered as a universal taboo the micro SD slot is inconveniently placed under the battery so you'll have to take out your battery before you can proceed with anything else. Due to ill conceived button placements and the lack of a music shortcut key the Motorola W755 can ward off possible buyers from the Moto aisle. If you are not into mobile music and do not like cluttering your phone with endless playlists the 83 MB worth of storage provided by the W755 will suffice but if you are a music junkie you'll have to purchase a microSD card in order to store a large number of songs in your phone.
image credit: empirecell.com
Motorola W755 Features
For some individuals a mobile phone is more than just a hub for receiving and transmitting voice calls and messages, it also features a certain level of entertainment. If your mobile phone functions on Verizon's V CAST the Moto W755 will help you get down with the in crowd. The W755 offers a music player that can play MP3's, AAC and WMA files with ease and you can utilize the d-pad and the available menu keys to navigate around your music library. Motorola's W755 has a great loudspeaker that is quite good for music playback. It also has a 2.5mm stereo headset but that is one accessory you'll have to buy from the store, as it is not included in the W755 package. If you want to experience brilliant sound and clarity go for the Bluetooth stereo headset which makes listening to music on the Motorola MOTO W755 an unforgettable experience. Also embedded in the W755 is the GPS with Vz navigator support that will always help you navigate. Other features of the Motorola W755 include MMS, EMS, speakerphone, 83 MB of internal memory, picture ID, games, EVDO and usual organizer features like calendar, voice memo, calculator and alarm.
Finally we come down to the most important component of your phone for most of the aspiring young photographers out there, the camera. The first step on the ladder of becoming a professional photographer usually starts with your camera phone and if you are one such individual the W755 features a 1.3 megapixel camera.
Performance
No matter how flashy an advertisement for a mobile phone is never just go out and buy one off the shelf, always do your research. Call quality is bearable but does have the tendency of annoying you every now and then. The results from the outdated 1.3 Megapixel camera are blurry and grainy. There's also an inability to render large HTML pages on its web browser. The Motorola W755 showcases a battery life of up to four hours whereas in some cases it is reported to be lower than that.
Verdict
With the pros and cons outweighing one another on several fronts the Motorola W755 can be termed as an adequate device that flaunts very basic features and low-tech machinery. When it comes down to reviewing the Motorola W755 one tends to showcase a myriad of mixed feelings but regardless of all the negative feedback this mobile phone boasts an amazingly low purchase price with an added bonus of several multimedia features, though we do wish that the battery life could have been slightly better.
References