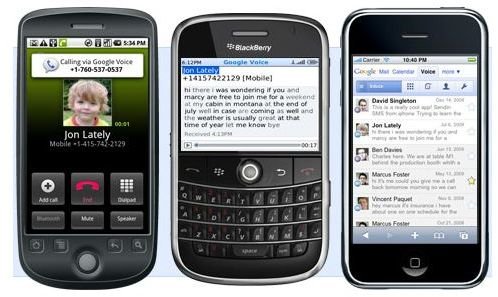 Top Business Apps for the Droid
There are plenty of Motorola Droid apps available on the Android Market. They come in all sorts of categories but in this article we focus on business apps. These handy apps can really boost your productivity and help your business thrive. After all, the point of great technology is to make our lives easier. Check out this top ten list of Motorola Droid business apps for some great ideas.
Google Voice
The Google voice app provides its users with a separate phone number with which he or she can be contacted. That, however, is just the beginning, from that basic feature you can now start setting up custom messages, receive SMS, accept voicemails and receive transcripts of those voice mails, make cheap international calls and much more. Google Voice can easily serve as your mobile communication powerhouse and it just makes life easier for business professionals.
Bump
Bump is an awesome and slick tool for sharing data between smartphones. In fact you don't even have to be sharing between two Android handsets, it also works across platforms with other smartphones such as Blackberrys. It's very cool and definitely offers a very easy way to exchange contact information with business contacts with just a bump.
Stocks
Everybody loves knowing how their stock portfolios are doing in an economy that's rocky! The Stocks app brings you updates on your stock selections by connecting with the Google Finance resource and this helps you to make those important financial decisions. A definite must have for any business professional travelling and away from TV or computer based updates.
Phonebook
Phonebook is a very different and interesting take on organizing contacts and contact information on your Android device. Your average phone book on steroids is how I would describe the Phonebook app for the Motorola Droid. Voxmobili has taken social networking, life streaming apps and instant messaging into a single universe that is Phonebook. The app offers security, integrated communication capability, backups and even more for the discerning business user on the Android platform.
Documents to Go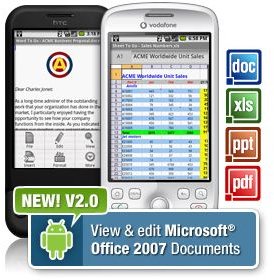 You probably guessed what this app can do! Well apart from allowing you access to your documents on the Android platform, Documents to Go is an awesome MS Office compatible editor and viewer. Say you've received an email with a word document as an attachment, you can open and read the attachment as well as edit and make modifications. Documents to Go can easily change the pace at which you work and is a definite recommendation for any business user of the Motorola Droid.
Sprite Backup
When you're using a smartphone, you've got to be smarter! Make sure that you always backup! It has happened to all of us sometime or other..data loss! It's a big deal when you are a business professional and have no time to handle a mess like data loss. Solution? Backing up your smartphone is now as important as backing up your computer, you don't want to lose all those contacts, emails, SMS messages and all the other data that your smartphone has been accumulating. Sprite Backup for Android helps you backup important information like Contacts, SMS, bookmarks, photos, videos and more.
Seesmic
Ok no marks for guessing that a Twitter app would make it into the business apps list! you've got to accept the fact that Twitter has become a inherent part of our business communication and, in fact, normal life. It's as good as a phone call or an SMS. A business user on Twitter has to have more power at working this medium and the Seesmic client for the Android platform provides that cutting edge tool. The Seesemic client for the the Motorola Droid provides several great features like multi-accounts and crossposting, location sharing, video and photo sharing, background notifications and much more.
Astrid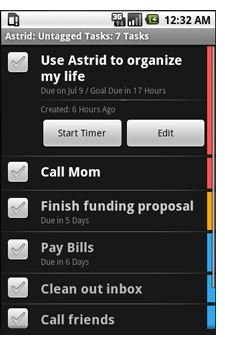 Maintaining your priorities is an important part of business life and nothing's more helpful than an app which will allow you to make a list of stuff you have to accomplish for the day. That's right we all need our To Do list applications and business user have more to gain and lose by missing out on things that they intend to finish or achieve. Astrid is a fabulous Droid business app and therefore, understandably the most popular To do list app on the Android platform. It's unlike any other to do app in its interactivity and ease of use and therefore is highly recommended for business professionals who dont have time to mess around with their apps.
Evernote
Evernote is not just a note taking app though it excels at it. It's a way of thinking and organizing yourself and your lifestyle. For a business professional Evernote on their Android device can make all the difference. Its amazing OCR feature on images that you scan or take pictures of, makes it a cool tool to remember business cards, addresses and much more. You can look around on the Evernote site or the Internet for creative uses of Evernote
Locale
Locale was a grand prize winner in the Google Android Developer Challenge and brings you the advantage of location awareness to control your phone. Locale makes use of the cellular signal, GPS & Wi-Fi to position your phone and then depending on the settings you've dictated changes the behaviour of your phone. Locale can control, not just the profile of your phone like meeting, silent, etc. but can also control Bluetooth, screen brightness, wallpaper and much more. You might think this is just another geeky app but once you start using locale you'll understand how helpful it can be for an everyday professional. You can even setup location aware reminders for everything from meetings to reminders to charge your phone! Get Locale and see how quickly your phone plays a more important role in your business life.